Organisation
NIOZ is composed of four research and two supporting departments. The institute is managed by our director and management team (MT), supervised by the Foundation Board NWO-I, and advised by an Institute Advisory Committee (IAC), a Scientific Advisory Committee (SAC), the University Forum and the Works Council.  
Organisation of NIOZ with its departments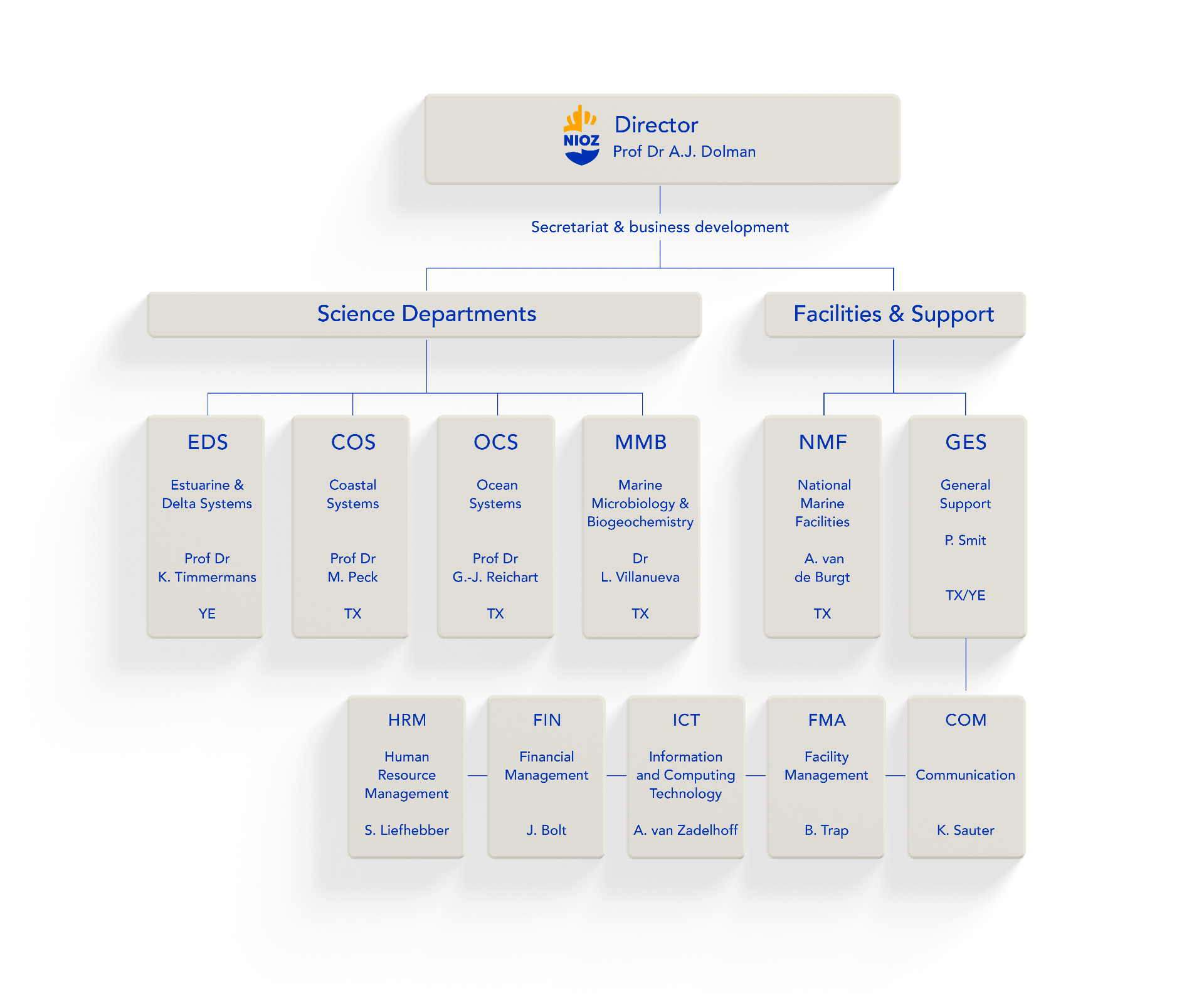 Science Departments
NIOZ is composed of four science departments:
Support Departments and Management Office
NIOZ staff functions are organised in two support departments and a management office:
Management office - prof. dr. Han Dolman
Dept. National Marine Facilities (NMF) - Aarnoud van de Burgt
NMF units:
Dept. General Support (GES) – Peter Smit
GES units:
Browse the full list of NIOZ staff.
Overall organisation of NIOZ within NWO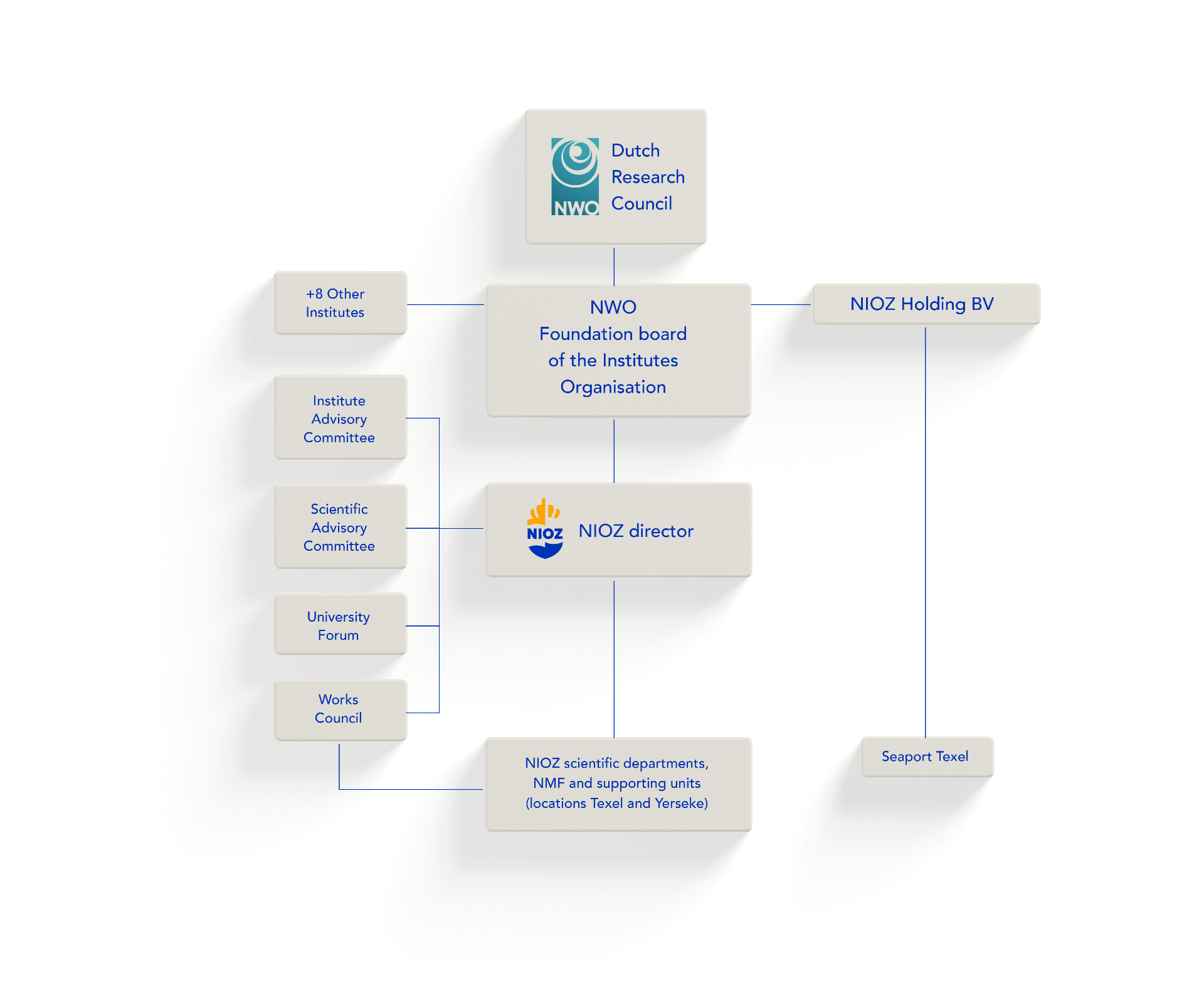 Advisory boards 
NIOZ has a structure of formal advisory and network bodies that help to define and evaluate the strategy and to improve the positioning of the institute nationally and internationally. 
Institute Advisory Committee (IAR) 
The Institute Advisory Committee (IAR) functions as a societal network in the broadest sense. It contributes to maintaining and strengthening strategic relationships with science, corporate businesses, local, regional and national policies, and other relevant national parties within society. The IAR members all have an affinity with the research carried out at NIOZ and contribute expertise and advice from a wide range of perspectives. The IAR keeps the interests of NIOZ in mind and functions as a critical sparring partner for the institute director. The IAR meets once a year, while for specific issues the director consults with individual group members. 
Members
Prof. Gerard van der Steenhoven (chair), Advisor to Government of the Netherlands, professor at the University of Twente 
Dr. ir. Bas Buchner, President of MARIN 
Mr. Ing. Jan Hendrik Dronkers, Secretary-General at the Ministry of Infrastructure and Water Management 
Prof. dr. Jack Middelburg, Professor of Geochemistry, Head of Department Earth Sciences, Utrecht University 
Rob van der Zwaag, Acting Mayor of Texel 
Ir. Henk van Muijen, Market Director IHC Mining of Royal IHC 
Annemieke Nijhof, Managing director of Deltares   
Scientific Advisory Committee (SAC) 
The Scientific Advisory Committee (SAC) advises the institute through the director and management team. It advises on the scientific programme, general strategy, and scientific infrastructure, and annually reviews the scientific developments at NIOZ. The SAC meets once a year. 
Members
Prof. Jef Huisman (chair), Professor of Aquatic Microbial Ecology, Institute for Biodiversity and Ecosystem Dynamics, Faculty of Science, University of Amsterdam 
Prof. Suzanne Hulscher, Professor and Head of the group Water Engineering & Management, Faculty of Engineering Technology, Civil Engineering, University of Twente 
Prof. Achim Kopf, Professor of Marine Geotechnics, MARUM, University of Bremen 
Prof. Katherine Freeman, Evan Pugh University Professor of Geosciences, Department of Geosciences, Pennsylvania State University 
Prof. Corinna Schrum, Professor and Director Institute of Coastal Research, Helmholtz-Zentrum Geesthacht, University of Hamburg 
Prof. Karen Wiltshire, Professor and Vice Director of the Alfred Wegener Institute, Helmholtz Centre for Polar and Marine Research (AWI) 
Prof. Colin Janssen, Professor at Faculty of Bioscience Engineering, Department of Animal Sciences and Aquatic Ecology, Ghent University 
University Forum NIOZ (UF-NIOZ) 
Because of the institute's national role in seagoing marine research and as national platform-provider (NMF), NIOZ installed a new networking body 'University Forum NIOZ' in 2022, to strengthen the links with the Dutch universities involved in marine research. The members of this Forum are at the level of dean, sometimes at the level of professor, at their universities. The aim of the Forum is to enhance collaboration and to strengthen marine scientific research in the broad sense in the Netherlands, with a view to developing joint research programmes and expeditions. 
Works Council NIOZ