43 years on the Navicula: about seabirds, flatfish and pancakes
Publication date: Thursday 09 November 2023
On Thursday 9 November, the RV Navicula returned to Texel from her last planned cruise for the National Research Fleet. Since 1980, she has made a lot of research possible on water movements, plankton, benthic animals, fish and birds in the Wadden Sea, the Southwestern Delta and the coastal areas of the North Sea. Crew and researchers look back on their experiences with 'the little ship'.
~~ For Dutch scroll down ~~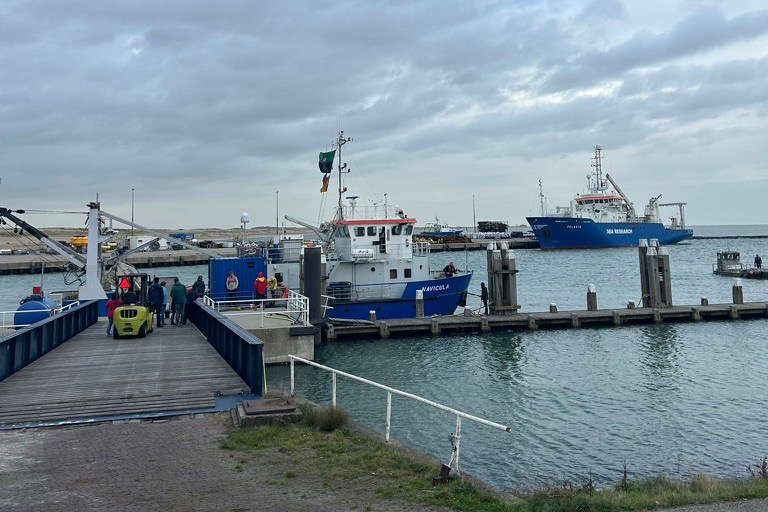 Former head of the Coastal Systems department at NIOZ, Henk van der Veer, and his good friend and former colleague Mardik Leopold, now researcher at Wageningen Marine Research, spent "a lot of time on board the Wadden ship Navicula and had many adventures". Both of them first boarded the then only one-year-old ship in 1981 for their research. Van der Veer studied plaice in the Wadden Sea, Leopold seabirds in the North Sea.
First research vessel for shallow water
Van der Veer: "The Wadden Sea is the nursery of flatfish such as plaice. Every spring, the young fish wash in and out of the Wadden Sea with every tide. For my PhD research, I monitored the numbers." The Navicula was the first vessel built with all the research capabilities for such a specific area as the shallow Wadden Sea. "That was a breakthrough and on top of that: you could also stay at sea a whole working week," he says.
And they enjoyed doing so, especially in those early years. Leopold: "In those days, things were still very easy: if you had a good idea, then you could have the ship. All I wanted was to count seabirds all day. Lunch was an annoying interruption of the counting. At one point, the cook even took my lunch up to the bird station on top of the ship, but that was not a huge success: the wind blew the food all over the back deck."
Washing machine
Leopold claims he is a record holder as a researcher on the Navicula: "I travelled huge distances, from Calais to Helgoland and Esbjerg. I always asked the skipper for the maximum. At some point he would have to sell no, but the crew appreciated that we loved sailing so much." However, cruising with a limited draught of only one meter, did sometimes feel "like a big washing machine" in Leopold's words: "We did experience 8-metre-high waves at times." Van der Veer recalls the German Bight: "Once the television came down there."
On the other hand, they have also been in places that were too shallow, even for the Navicula. Van der Veer: "We once sailed backwards across the mud flats. This made the ship 10 cm more shallow because the propeller pushed the water under the ship. That way you could get further."
Despite these challenges, Van der Veer says it was always responsible on board. "So much was possible because there was always a good crew. As a result, you always had a safe feeling as a passenger." Leopold: "The skippers came from fishing ships and were very capable."
Marine nature reserves
Looking back, the scientific work done from the Navicula has been instrumental in securing Dutch nature at sea. Seabird specialist Leopold: "All that counting of birds on the North Sea side of the Wadden Islands in the 1990s eventually led to the establishment of Natura 2000 area 'North Sea Coastal Zone'. That zone runs from the low-tide line to the -20m depth line, from Bergen aan Zee to the German border. So, the 'signature' of the Navicula is on the sea chart these days!"
Another great example is the SIBES program, in which marine researchers aboard the Navicula sample benthic organisms and sediment at 4,500 locations on the plates of the Dutch Wadden Sea each year. This provides insight into the relationship between food availability and fish and bird abundance. The effects of human activities can also be measured.
Own culture
By the time Hein de Vries came to work on the Navicula as cook in 2002, the ship had been in operation for 20 years. Skipper Bram Fey started in 2011. With machinist Klaas-Jan Daalder, they have formed the current permanent crew on the ship since 2012. Fey and De Vries praise the in-house culture on the Navicula. "Ever since the beginning, I have been baking pancakes every morning," says De Vries. "I start doing that at a quarter past six. And every Wednesday I make an Indian rice table 'de Blauwe Hap'."
In the team, a lot comes down to good cooperation. Fey: "It's a small ship with only three crew members. That only works because we are flexible and we look out for each other. You do have your own role and tasks, but you also do a lot of other things. For example, Hein would first stand on deck with an orange life jacket on and a helmet to help outside, only to quickly dive into the galley afterwards." Together, they have been doing the dishes by hand every evening for years. De Vries: "Mind you, it's a galley so small you can't even pass each other there."
New standards
Over the years, the Navicula has undergone many renovations, according to Fey and De Vries. The biggest change took place in the year 2000, when the ship was lengthened 4.5 meters to make room for extra working space and two extra showers. But even after that, the ship has been adapted several times to ever new standards. De Vries: "It has been emptied inside and the galley has been completely refitted." Fey adds, "a lot changed because of IT, when computers and servers were added."
The ship also got what is known as a whisper set at some point. "Before then, the power generator made such a terrible noise. Once we were kindly but urgently requested to leave in the middle of the night in Dordrecht, when we were next to a retirement home," laughs De Vries.
Campinglife
Currently, with the commissioning of Navicula's successor the Wim Wolff, both crew members are especially looking forward to what they see as a relocation. De Vries: "The last few years it was like the Dutch reality tv program 'Campinglife' on the Navicula. You didn't have your own shower, you had to share everything." Fey: "In terms of wishes for comfort, a lot has changed. The Navicula is becoming too small for that, every square inch of the ship is being used. In recent years, for example, due to lack of space, we could only store canned goods for the kitchen in the technology room. On the Wim Wolff, life will be just a bit more spacious."
In terms of sailing and research technology, too, things have been a bit of a struggle for a number of years. Fey: "So much more is possible now to make the work easier. For example, when we are sampling and I have to keep the ship in one place, I have to push a button continuously, sometimes for hours or even the whole day. If I don't, she immediately turns in the wind and you have to start all over again." Fey won't miss that task at all.
More sustainable successor
Navicula's successor, RV Wim Wolff, will not only be more modern and comfortable, but also a lot bigger than the Navicula. "The Navicula could take eight passengers and the Wim Wolff as many as 12," says Fey. Moreover, the new ship offers opportunities in terms of sustainability. "The Wim Wolff has diesel-electric propulsion and battery packs, allowing us to sail more economically. The fuel is not normal diesel but hydrotreated vegetable oil, which reduces emissions of nitrogen, particulates, sulphur and CO2. And in the future, we will be able to switch to other types of fuel such as methanol, ammonia or hydrogen."
The Wim Wolff will also offer Wadden researchers more research opportunities. For instance, the new ship contains a so-called plankton sampler, which can be used to continuously measure the composition of algae in the water.
Despite the enthusiasm about the new Wadden ship, crew members and scientists agree that the Navicula was a very good research vessel for many years. Henk van der Veer concludes, "So that's why the Wim Wolff is actually a modern copy of the Navicula."
---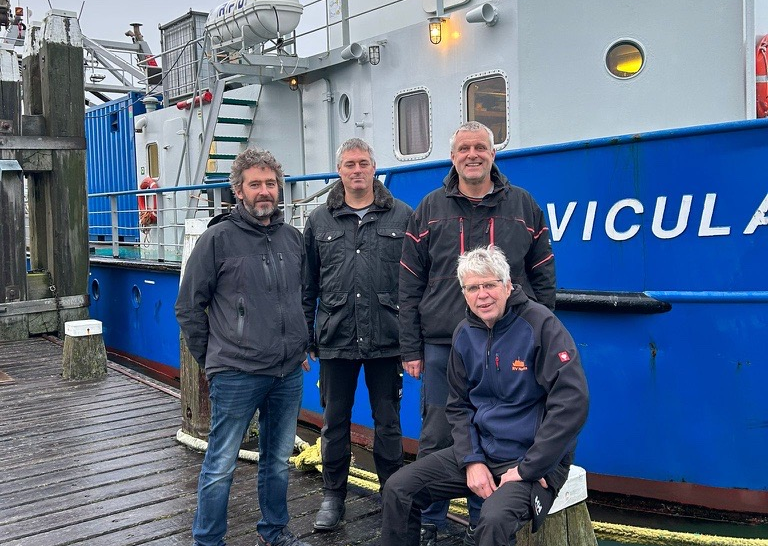 43 jaar op de Navicula: over zeevogels, platvis en pannenkoeken
Op donderdag 9 november is de RV Navicula thuisgekomen van haar laatste reis voor de Nationale Onderzoeksvloot. Sinds 1980 heeft ze heel veel onderzoek mogelijk gemaakt aan waterbewegingen, plankton, bodemdieren, vis en vogels op de Waddenzee, de Zuidwestelijke Delta en de kustgebieden van de Noordzee. Bemanning en onderzoekers blikken terug op hun belevenissen met 'het kleine schip'.
Voormalig hoofd van de afdeling Coastal Systems bij het NIOZ Henk van der Veer en zijn goede vriend en oud-collega Mardik Leopold, nu onderzoeker bij Wageningen Marine Research, hebben aan boord van het waddenschip Navicula "veel tijd doorgebracht en avonturen beleefd". Allebei stapten ze in 1981 voor hun onderzoek voor het eerst aan boord van het toen pas één jaar oude schip. Van der Veer onderzocht scholletjes in de Waddenzee, Leopold zeevogels op de Noordzee.
Eerste onderzoeksschip speciaal voor ondiep water
Van der Veer: "De Waddenzee is de kinderkamer van platvissen zoals schol. Ieder voorjaar spoelen de jonge visjes met elke vloed en eb de Waddenzee in en uit. Voor mijn promotieonderzoek heb ik de aantallen gevolgd." Met de Navicula werd voor het eerst een schip gebouwd met alle onderzoeksmogelijkheden voor zo'n specifiek ondiep gebied als de Waddenzee. "Dat betekende een doorbraak en je kon er bovendien ook een hele werkweek mee weg."
En dat deden ze vooral in die beginjaren dan ook graag. Leopold: "In die tijd ging het nog heel gemakkelijk: als je een goed idee had, dan je kon het schip meekrijgen. Ik wilde alleen maar de hele dag zeevogels tellen. De lunch was daarvan een hinderlijke onderbreking. Op een bepaald moment kwam de kok het zelfs bij mij boven op de vogelpost brengen, maar dat was geen succes: door de wind waaide het eten het hele achterdek over."
Grote wasmachine
Leopold is naar eigen zeggen recordhouder als onderzoeker op de Navicula: "Ik heb enorme afstanden afgelegd, van Calais tot aan Helgoland en Esbjerg. Ik vroeg de schipper altijd het maximum. Op een bepaald moment moest hij dan toch nee verkopen, maar de bemanning waardeerde het dat we zo van varen hielden." Wel voelden de vaarten met het schip, met een beperkte diepgang van een meter, in de woorden van Leopold soms "als een grote wasmachine". Want: "We hebben wel eens 8 meter hoge golven meegemaakt." Van der Veer herinnert zich de Duitse Bocht: "Daar kwam een keer de televisie naar beneden."
Anderzijds zijn ze ook op plekken geweest die zelfs voor het waddenschip eigenlijk te ondiep waren. Van der Veer: "We zijn een keer achteruit over het wad gevaren. Dan lagen we 10 cm minder diep, doordat de schroef het water dan onder het schip duwt. Zo kon je verder komen."
Ondanks die uitdagingen was het volgens Van der Veer altijd verantwoord aan boord. "Er kon zoveel omdat er altijd een goede bemanning was. Daardoor had je als opstapper altijd een veilig gevoel." Leopold: "De schippers waren afkomstig uit de visserij en waren heel goed in staat om zich aan te passen."
Natuurgebieden in zee
Terugkijkend is het wetenschappelijke werk dat is gedaan vanaf de Navicula van groot belang geweest om Nederlandse natuur op zee veilig te stellen. Zeevogelspecialist Leopold: "Al dat tellen van vogels aan de Noordzeekant van de Waddeneilanden in de jaren 90 heeft er uiteindelijk toe geleid dat Natura 2000-gebied 'Noordzeekustzone' is ingesteld. Dat loopt van de laagwaterlijn tot aan de -20 m dieptelijn, van Bergen aan Zee tot aan de Duitse grens. Dus de 'handtekening' van de Navicula staat tegenwoordig op de zeekaart!"
Een ander mooi voorbeeld is het SIBES-programma, waarin zeeonderzoekers aan boord van de Navicula jaarlijks bodemdieren en sediment bemonsteren op 4500 locaties op de platen van de Nederlandse Waddenzee. Dat biedt inzicht in de relatie tussen de beschikbaarheid van voedsel en de rijkdom aan vissen en vogels. Ook zijn de effecten van menselijke activiteiten te meten.
Eigen cultuur
Tegen de tijd dat Hein de Vries in 2002 als kok op de Navicula kwam werken, was het schip al 20 jaar in gebruik. Schipper Bram Fey startte in 2011. Met machinist Klaas-Jan Daalder vormen ze sinds 2012 de huidige vaste bemanning op het schip. Fey en De Vries roemen de eigen cultuur op de Navicula. "Al sinds het begin bak ik elke ochtend pannenkoeken", vertelt De Vries. "Daar begin ik om kwart over zes mee. En elke woensdag maak ik Blauwe Hap, ofwel een Indische rijsttafel."
Veel komt in het team neer op een goede samenwerking. Fey: "Het is een klein schip met maar drie bemanningsleden. Dat werkt alleen doordat we voor elkaar klaarstaan en flexibel zijn. Je hebt wel je eigen functie, maar doet ook veel andere dingen. Dan stond Hein eerst met een oranje zwemvest aan en een helm op aan dek te helpen, om daarna toch nog even vlug de kombuis in te duiken." Samen doen ze al jaren elke avond met de hand de afwas. De Vries: "En dat in een kombuis die zo klein is dat je elkaar er niet kunt passeren."
Nieuwe standaarden
In de loop der jaren is er veel verbouwd aan de Navicula, vertellen Fey en De Vries. De grootste verandering vond plaats in het jaar 2000, toen het schip 4,5 meter is verlengd om ruimte te maken voor extra werkruimte en twee extra douches. Maar ook daarna is het schip nog meermaals aangepast aan steeds nieuwe standaarden. De Vries: "Het is van binnen leeggehaald en de kombuis is volledig opnieuw ingericht." Fey voegt toe: "Er is veel veranderd door de IT, toen er computers en servers bijkwamen."
Ook heeft het schip op een zeker moment een zogeheten fluisterset gekregen. "Vóór die tijd maakte de stroomgenerator zo'n verschrikkelijke herrie. We zijn een keer midden in de nacht in Dordrecht bij een bejaardentehuis vriendelijk doch dringend verzocht om te vertrekken", lacht De Vries.
Campinglife
Momenteel hebben de beide bemanningsleden, met de ingebruikname van Navicula's opvolger de Wim Wolff, vooral veel zin in wat ze zien als een verhuizing. De Vries: "De laatste jaren was het net Campinglife op de Navicula. Je had geen eigen douche, je moest alles delen." Fey: "Qua wensen voor comfort is er veel veranderd. De Navicula wordt daarvoor te klein, elke vierkante centimeter van het schip is benut. Conserven en blik voor de keuken konden we de laatste jaren door ruimtegebrek bijvoorbeeld alleen nog kwijt in de techniekruimte. We gaan op de Wim Wolff net even iets ruimer wonen."
Ook wat betreft vaar- en onderzoekstechniek is het eigenlijk al een aantal jaren behelpen. Fey: "Er is nu zoveel meer mogelijk om het werk makkelijker te maken. Wanneer er bijvoorbeeld bemonsterd wordt en ik het schip op één plek moet houden, moet ik continu een knop induwen, soms uren of zelfs de hele dag lang. Doe ik dat niet, dan draait ze gelijk een slag in de rondte door de wind en moet je helemaal opnieuw aanvaren." Die taak zal Fey in elk geval niet gaan missen.
Duurzamere opvolger
Navicula's opvolger, RV Wim Wolff, wordt niet alleen moderner en comfortabeler, maar ook een stuk groter dan de Navicula. "De Navicula kon acht opstappers meenemen en de Wim Wolff wel twaalf", zegt Fey. Bovendien biedt het nieuwe schip kansen op het gebied van duurzaamheid. "De Wim Wolff heeft diesel-elektrische voortstuwing en batterijpakketten, waardoor we zuiniger kunnen varen. De brandstof is geen normale diesel maar hydrotreated vegetable oil, wat zorgt voor minder uitstoot van stikstof, fijnstof, zwavel en CO2. En in de toekomst zullen we kunnen overstappen op andersoortige brandstof zoals methanol, ammoniak of waterstof."
De Wim Wolff biedt Waddenonderzoekers bovendien meer onderzoeksmogelijkheden. Zo zit op het nieuwe schip een zogeheten planktonsampler, waarmee continu de samenstelling van algen in het water te meten is.
Ondanks het enthousiasme over het nieuwe Waddenschip, zijn bemanningsleden en wetenschappers het erover eens dat de Navicula jarenlang een erg goed onderzoeksschip was. Henk van der Veer concludeert: "Daarom is de Wim Wolff dus eigenlijk een moderne kopie van de Navicula."
Read more +
A last round aboard RV Navicula, by Dennis Mosk
Timelaps of last arrival RV Navicula on 9 November 2023
Old pictures of RV Navicula