Tagging three Bar-tailed godwits
Near Castricum and every spring, bird-ringers catch Bar-tailed godwits on migration, just before they arrive in the Wadden Sea (probably after a non-stop flight from West Africa). This gives us a fantastic opportunity to study these birds during their entire fueling in the Wadden Sea. In addition, it is really nice that we know the arrival condition (body mass) of the birds that are caught. This means that we can also test if condition upon arrival determines the date of departure. On top of that it is very practical that Roeland lives in Castricum, and, during Covid times, works at home.
An early wake-up call
06:30. A quick breakfast and I'm off. A 15-minute bicycle ride through the dunes makes me fully awake and brings me to the bird-ringing station Castricum. Volunteers have caught three bar-tailed godwits, and I'm here to put two tags on each of them: a WATLAS tag and a Motus tag. The birds have been (colour)ringed already. Quickly I get all my stuff ready and a final test ensures me that all tags are working before I put them on the birds. Carefully I cut some feathers on the back of the bird and glue the WATLAS tag with the MOTUS tag on top.
07:15. We release the birds. After takeoff they initially shake their legs, not yet accustomed to the new rings, but then fly straight north. We follow them until they are out of sight. 'Coffee?' 'Yes'
Timing of migration
We study bar-tailed godwits to understand how they mitigate climate change. Bar-tailed godwits of the subspecies taymyrensis breed in Taimyr, Siberia, and spend most of their non-breeding season in West Africa. While migrating to and from the breeding areas, they make a stop, for a month or so, in the Wadden Sea to replenish their exhausted reserves. Due to climate change, these birds need to arrive in Siberia a bit earlier every year to benefit from the advancing insect abundance. Earlier work by our NIOZ colleague Eldar Rakhimberdiev, published in Nature Communications, has shown that the Wadden Sea is crucial for Bar-tailed godwits to advance their migration and breeding. More specifically, food conditions (lugworms and ragworms) in the Wadden Sea seem to determine if birds can depart earlier and in a good condition.
To investigate whether godwits can find resource-rich foraging patches and whether this allows them to depart earlier from the Wadden Sea, we will tag and track 30 individuals and study their habitat use and timing of migration. The WATLAS tags will enable us to study the foraging movements and habitat use of the birds in the Wadden Sea at a very high spatiotemporal scale. The MOTUS tags, deployed in collaboration with Wageningen Marine Research, provides coarse large-scale presence-absence data that will enable us to monitor the departure from the Wadden Sea and timing of migration .
A fantastic opportunity
After tagging the birds near Castricum, an important question was whether the tagged birds indeed go to the western Wadden Sea where we can track them with WATLAS. After their release, the three freshly tagged bar-tailed godwits fly straight north in the direction of the western Wadden Sea. But will they be detected by WATLAS-receivers? Every 5 minutes, nervously, I check the WATLAS website to see if they appear in our monitoring area. Indeed, a few hours after their release in Castricum, I see that all three birds have arrived in The Wadden Sea on Balgzand. What a relieve.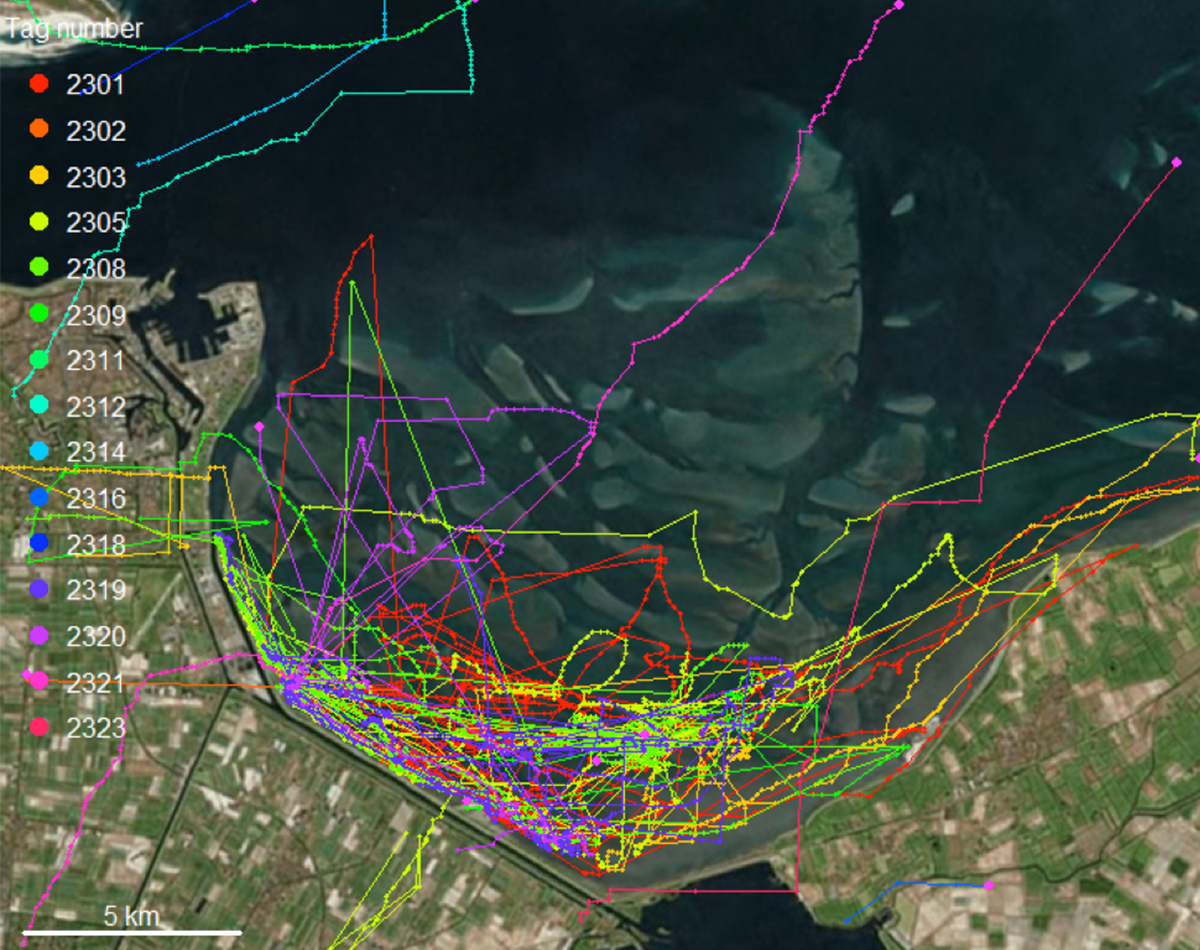 Information
I wake up by the sound of my cellphone
'Hello?'
My head is still dreamy...
'Three birds!' Is the only reply I hear
'OK, I'm on my way!'
Tagging the bird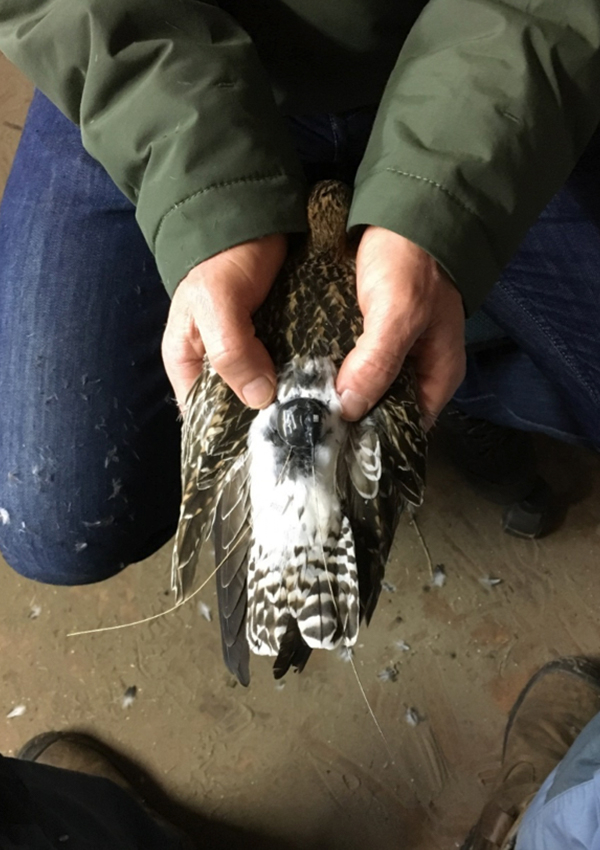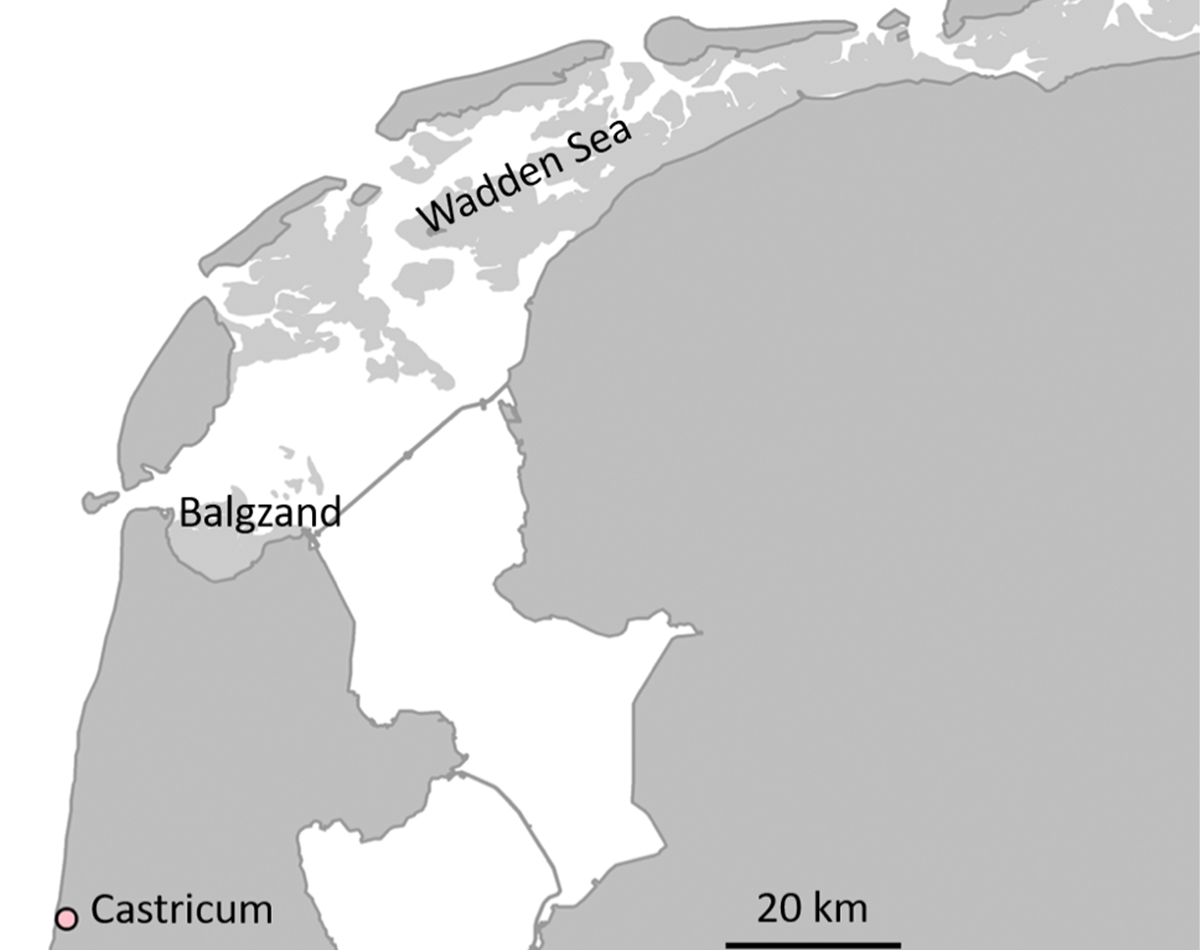 The birds have arrived