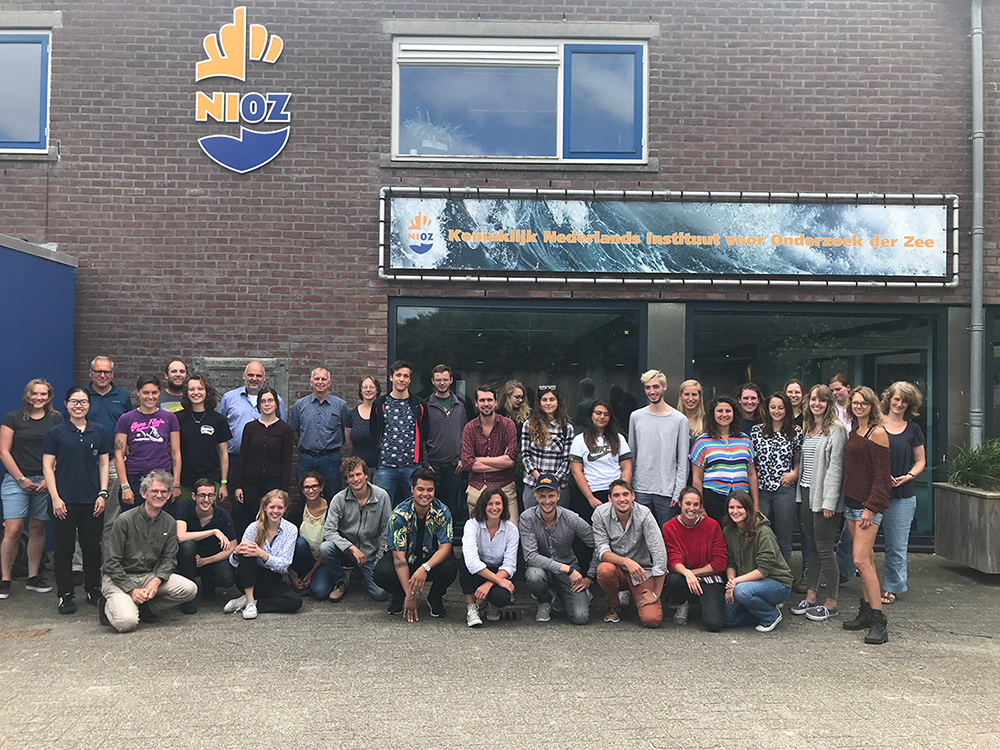 July 7th - A day on the RV Navicula: Science, sun and crossword puzzles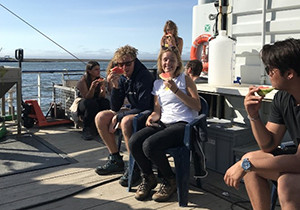 In order to execute science you need data. We collected this data during a whole day on the RV Navicula. Here we were measuring a whole tidal cycle (from 5:00 in the morning till 18:30 in the evening). Therefore the first group of students had to start their day very early. Luckily I was not one of them and after a relaxed morning we boarded the RV Navicula around 14:00. The parameters that we were measuring were things such as water temperature, depth, current velocities, benthic fauna, sediment concentrations and so on. In order to do this we used several methods such as box coring, where you basically take a bite out of the seafloor, water sampling with a niskin bottle and we used acoustic and optic measuring instruments to determine the current velocity and turbidity. A team of NIOZ scientists showed us how it was done and in between measurements we could enjoy the amazing weather, make some crossword puzzles with the crew or hang out on the bridge with skipper Klaas-Jan. In addition to learning a lot it felt a little bit like vacation.
By Hester Dijkstra, MSc student Earth Sciences at the Vrije Universiteit Amsterdam
July 3rd - Macrozoobenthos in the Mokbaai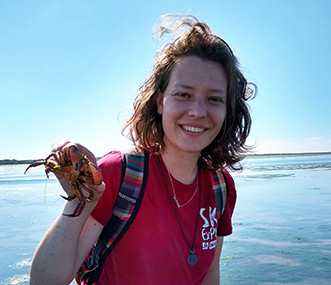 On Tuesday we went to the Mokbaai, a bay including a big intertidal area with mudflats. We brought some sampling equipment to be able to see what kinds of animals live in and on the mud. These are called macrozoobenthos (for example bivalves or polychaetes).
To take the sample we put a long plastic tube in the mud, that can be made vacuum. After this we took out the tube with the mud core and put the core in a sieve. Then, all the sand was sieved out and we could see the benthos. We came across two species that I didn't know yet (a crab and a polychaete) and we saw some big jellyfish, cockles, mussels and lugworms.
An interesting invasive species was also present: the Pacific oyster. They form reefs and we could see the habitat they create. I think everybody learned new practical fieldwork skills and methods!
By Saskia Tromp, student Landscape and Environment Management at University of Applied Science Inholland, Delft.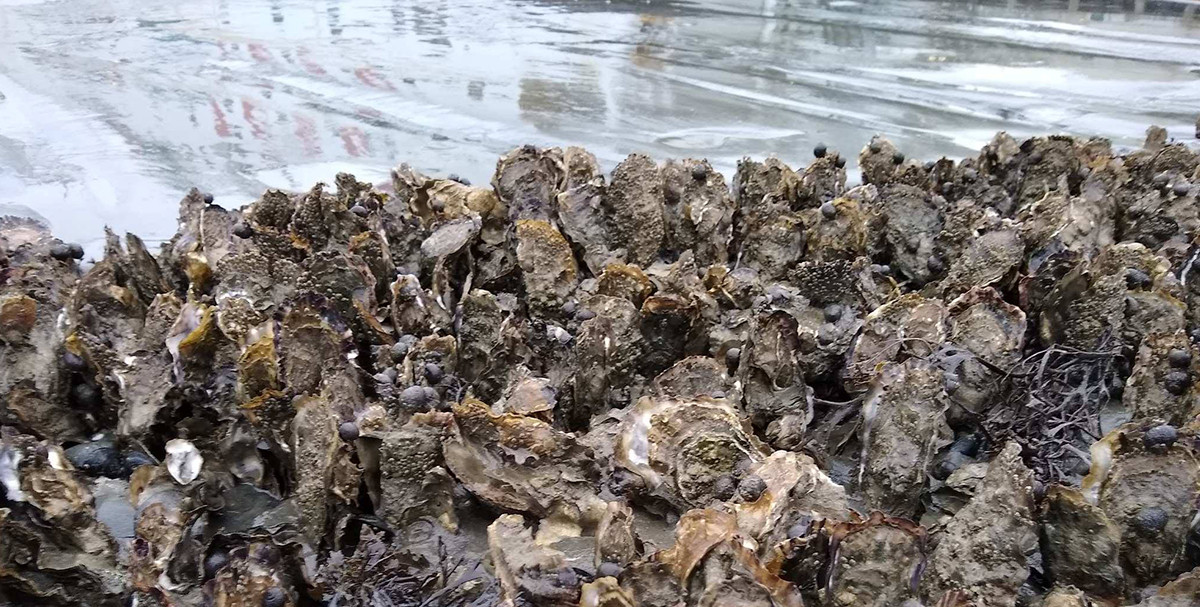 July 2nd - A landlubber's perspective of NIOZ's RV Pelagia
Just to be clear, I'm from a place where water is the exception rather than the rule (Colorado). Nearest ocean is about 1500km away, and the land is covered in vast plains of unbroken red rock and timeless, parched, desert. There may be environments on the planet that are closer to the polar opposite of the Rocky Mountains than the Wadden Sea and Texel, but I've frankly never heard of them.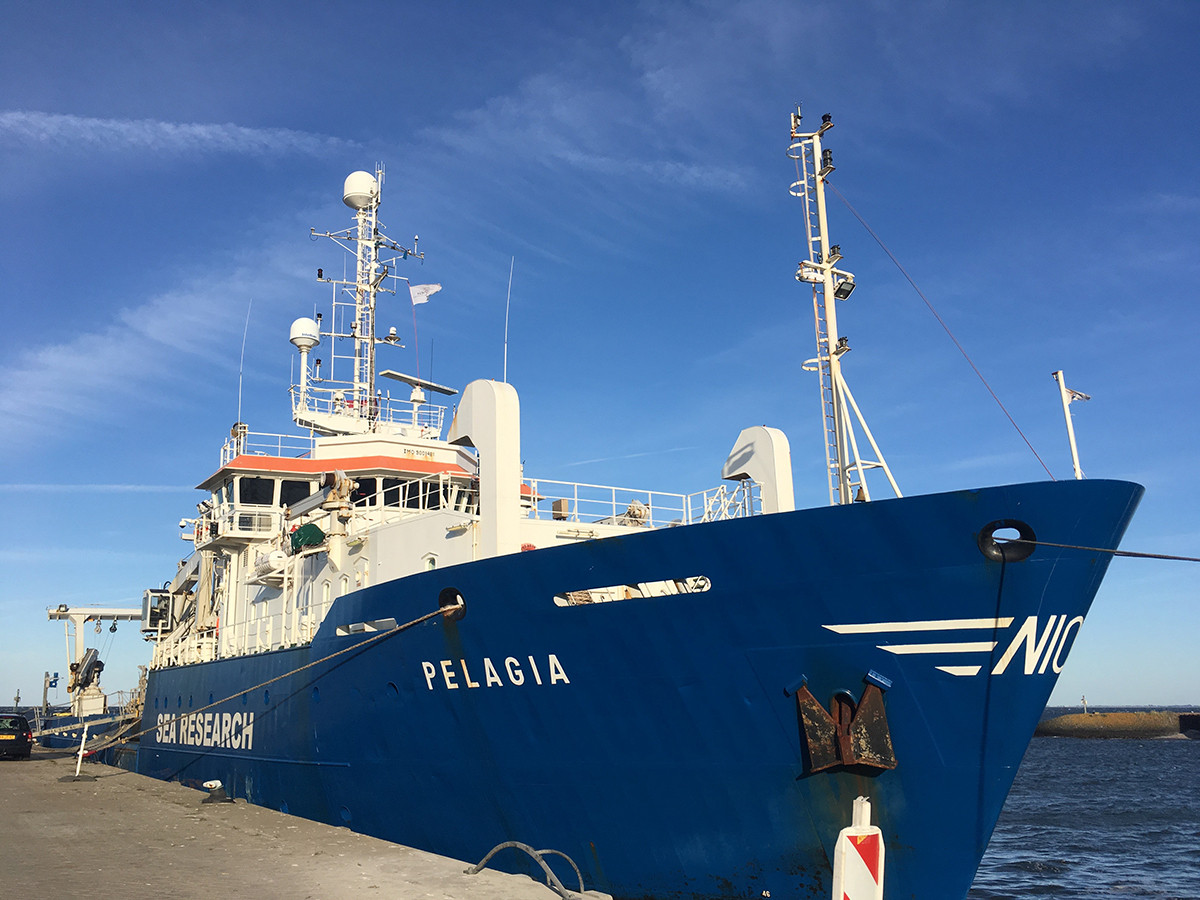 So now you perhaps understand a bit better how alien it was (and unbelievably cool) to set foot on the premier, open-ocean, research vessel of NIOZ. Also, I was originally trained as a mechanical engineer, so, to use the formal phraseology, I was nerding out the entire time. There is no more concentrated encapsulation of functionality and multi-disciplinary science that I have ever encountered, including spacecraft at ESA and cyclotron labs at CERN.

My favorite part was system for moving and stowing cargo containers. Maybe that's weird to hear, but 'design modularity' is a buzzword in the engineering world, and having a totally self-contained series of interchangeable lab capsules pretty much epitomizes modular design. Very cool. Take a look into one if you ever get a chance, whether it's the wet lab, dry lab, or anything in-between, there is always something new to discover.
By David Hodge, MSc student Space Exploration at the TU Delft