Welcome to my page on the new NIOZ website!
In short, my main scientific interest is: desert dust and aeolian sedimentary processes.
I study two main aspects of desert dust:
1) the depositional aspect allows me to study dust dispersal in the geologic past. Just like rivers nearly always flow to the sea and deliver sediments, winds always blow off land masses and deposit dust in the ocean. Using such marine archives of sediment deposition, I try to reconstruct past environmental conditions in dust-source regions.
2) the marine-environmental effects that dust has are most likely enormous. Desert dust contains all kinds of nutrients and metals, from which marine life can profit. In a couple of projects I am trying to answer the question if dust can be used as an artifical fertiliser for the ocean. We think that this is happening in nature, and should this be the case, we could potentially apply it as a means to combat climate change.
Much more information on dust-related studies at NIOZ can be found at the institute's dustiest website at www.nioz.nl/dust .
In addition, we are regularly publishing dusty news in the NIOZ dust-blog
Alternatively, you can find more dusty info on my personal website at: www.stuut.tv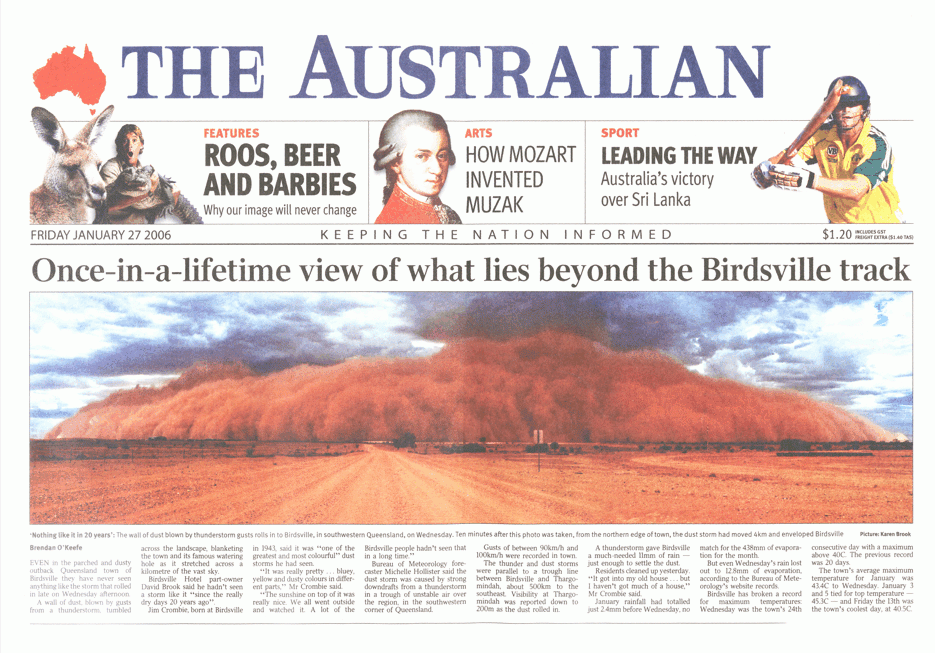 An example of an impressive dust storm, that made it into The Australian newspaper.