Zeespiegelstijging stelt Nederlandse kust vaker op de proef bij storm
Publication date: Monday 10 July 2017
De Nederlandse kust zal op jaarbasis steeds vaker te maken krijgen met extreem hoog water vanwege klimaatverandering. Dat blijkt uit een nieuwe risicoanalyse waaraan het Nederlands Instituut voor Onderzoek der Zee (NIOZ) heeft bijgedragen. Onderzoekers hebben de verwachte zeespiegelstijging samengenomen met waarnemingen en statistische modellen van hoog water als gevolg van extreme weersomstandigheden. Daaruit trekken internationale wetenschappers de conclusie dat overstromingen vaker kunnen voorkomen dan tot nu toe gedacht, schrijft Nature Communications.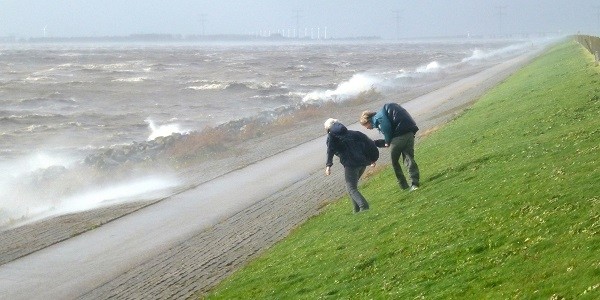 Wereldwijd leidt hoog water als gevolg van extreem weer jaarlijks tot duizenden slachtoffers en miljardenschade. Voor de Universiteit van Florida waren deze gevolgen van klimaatverandering aanleiding om de frequentie van extreme waterhoogtes bij stormen eens goed in kaart te brengen. Daaruit blijkt dat vanaf 2050 veel kusten wereldwijd elke 10 jaar of zelfs elk jaar te maken zullen krijgen met waterhoogtes die nu maar eens in de 100 jaar voorkomen.
Om tot deze juiste risicoanalyse te komen, moest ook de verwachte zeespiegelstijging in de toekomst worden meegenomen. Dr. Aimee Slangen, onderzoeker van het NIOZ leverde voor het Amerikaanse onderzoek deze getallen aan. "De zeespiegel is de basishoogte waar je vanuit moet gaan en de verandering daarin was tot nu toe nog niet meegenomen in gevoeligheidsstudies naar extreme waterhoogtes", aldus Slangen.
Afhankelijk van de maatregelen tegen klimaatopwarming, zal de zeespiegel deze eeuw zo'n 50 tot 75 cm omhoog gaan. "Deze stijging is op zichzelf niet schrikbarend, maar tel daar bovenop het dagelijkste getij van enkele meters, en weer daar bovenop de extra meters water als het stormt: dat is waar kustverdediging ons tegen moet beschermen. Zeespiegelstijging als gevolg van klimaatverandering verandert dus de basishoogte van de zeespiegel, waardoor het risico op overstromingen bij stormen toeneemt. Bij het plannen en bouwen van kustverdediging zal hier zeker rekening mee gehouden moeten worden."
Tot nu toe wisten we nog weinig over hoe de frequentie van hoogwater verandert door zeespiegelstijging. Deze nieuwe studie brengt dit in kaart en helpt daarmee overheden en instanties om op tijd maatregelen te treffen in gebieden waar de kans op overstroming hoog is.
Publicatie:
T. Wahl, I.D. Haigh, R. Nicholls, A. Arns, S. Dangendorf, J. Hinkel, A.B.A. Slangen (2017) Understanding extreme sea levels for broad-scale coastal impact and adaptation analysis, Nature Communications, 8: 16075, dx.doi.org/10.1038/ncomms16075.
Linked centre of expertise: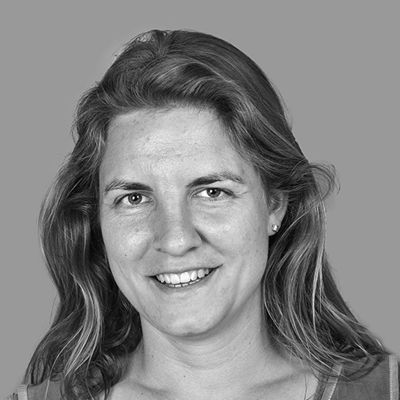 Aimée Slangen