NIOZ nieuws | Uniek onderwaterlaboratorium in Zeeland feestelijk geopend
Publication date: Thursday 26 September 2019
Welk dijkontwerp is het beste voor waterveiligheid én natuur? Omdat de zeespiegel stijgt, worden veel dijken aangepast. Hoe ontwerp je die dijken zo, dat je waterveiligheid combineert met een rijkdom aan onderwaternatuur, biodiversiteit en een hoge productiviteit voor visserij? Die vraag kan nu worden beantwoord met behulp van een uniek onderwaterlaboratorium waarin onderzoekers van het Koninklijk Nederlands Instituut voor Onderzoek der Zee (NIOZ) nauw samenwerken met studenten en lectoren van de HZ University of Applied Sciences (HZ) en ingenieurs van Rijkswaterstaat. Het onderwaterlab is op woensdag 25 september 2019 feestelijk geopend door Theo van de Gazelle, hoofdingenieur-directeur RWS Zee en Delta.
Het onderwaterlab bestaat uit 12 onderwaterbassins met experimentele onderwatertuinen, in de Oosterschelde, voor de kade bij het NIOZ in Yerseke. Wetenschappers en studenten gaan er onderzoek doen naar hoe menselijke bouwwerkstructuren als dijkbekledingen en bestortingen zich onder de waterlijn ontwikkelen en door te kijken welke invloed ze hebben op ecologische gemeenschappen.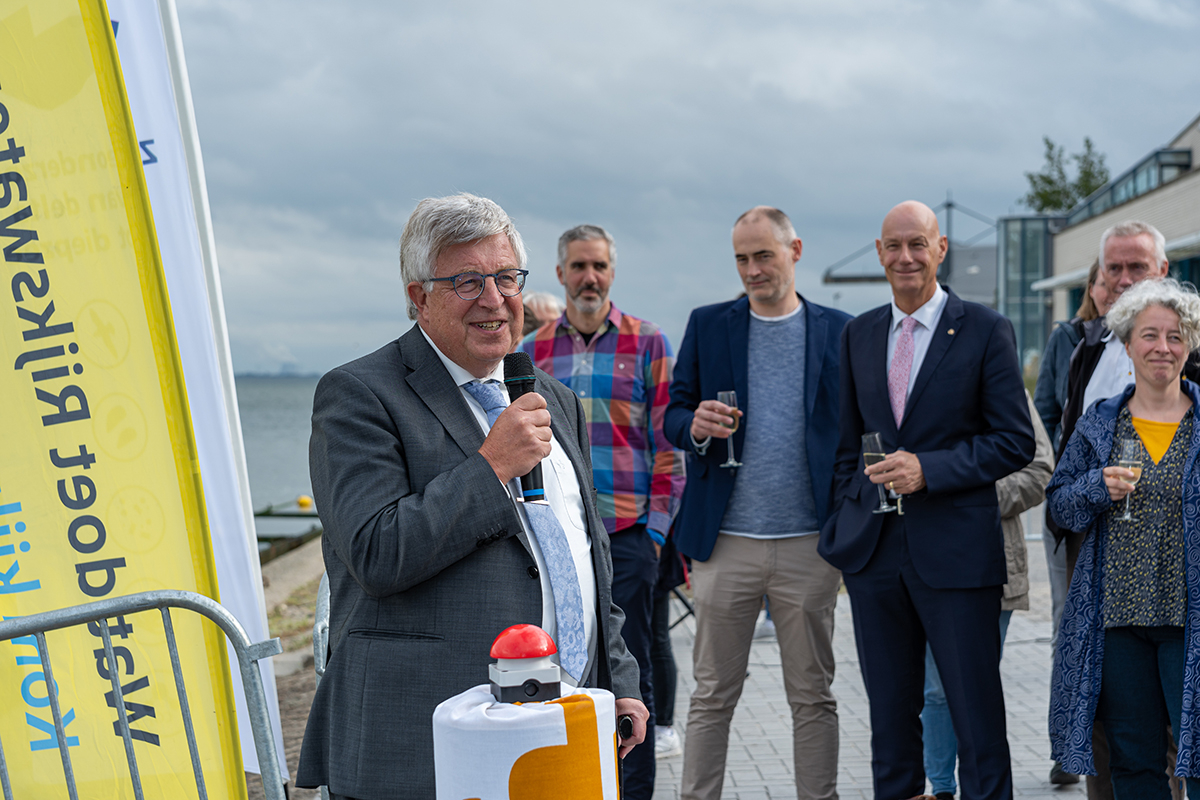 Theo van de Gazelle (Hoofdingenieur-directeur RWS Zee en Delta, Rijkswaterstaat): "Wij zijn blij met deze ketensamenwerking tussen onderzoek, onderwijs, en praktijk; een belangrijke voorwaarde voor deze samenwerking is de fysieke nabijheid van het NIOZ, de HZ en RWS in de Zeeuwse Delta".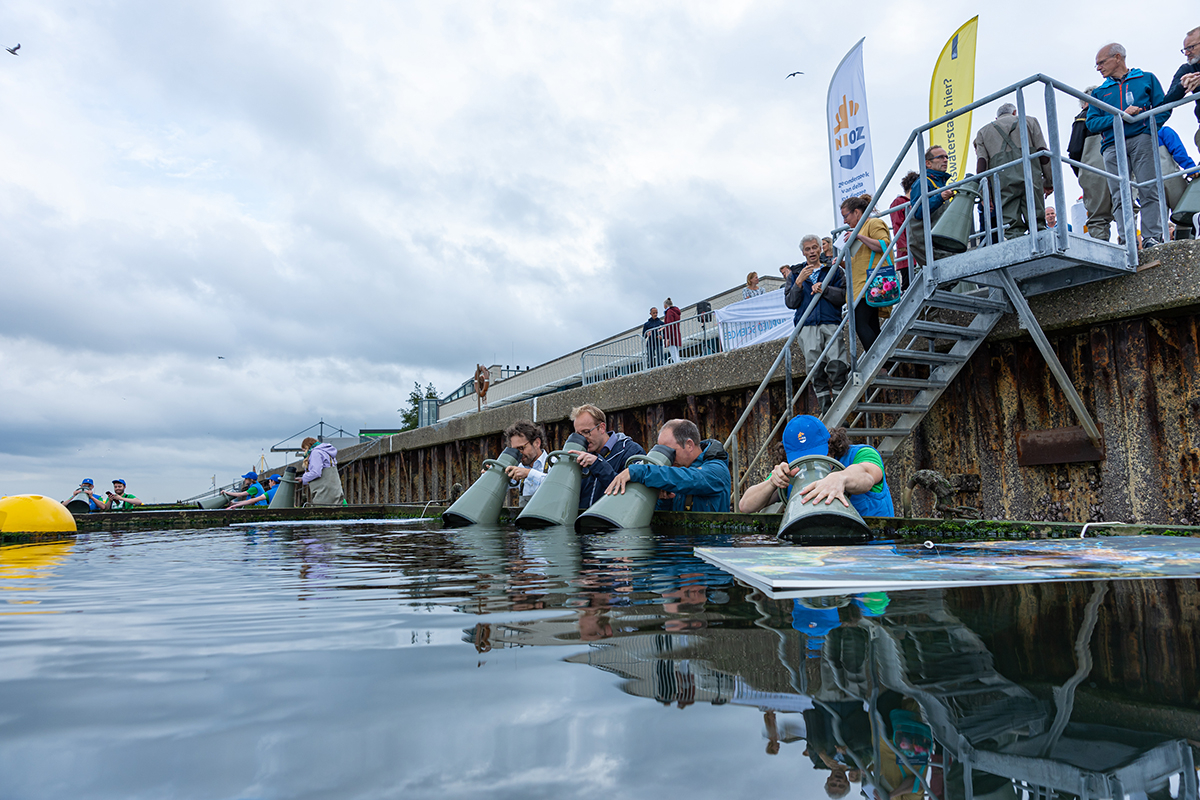 John Dane (Voorzitter College van Bestuur van HZ University of Applied Sciences) : "Onze studenten krijgen met dit onderwaterlab bij het NIOZ, hands-on ervaring in onderzoek doen en in de materie en kunnen zo meehelpen aan het innoverend vermogen van de regio."
Bert Kortsmit (projectmanager Projectorganisatie Waterveiligheid, Rijkswaterstaat): "Het belang van het onderwaterlab voor het ontwerpen van dijken is dat je er ideeën in kunt 'voorkoken' - door praktijkgericht onderzoek ervaringen en mogelijkheden aangeven hoe bij dijkconstructies natuur te behouden, te behoeden en zelfs te verbeteren."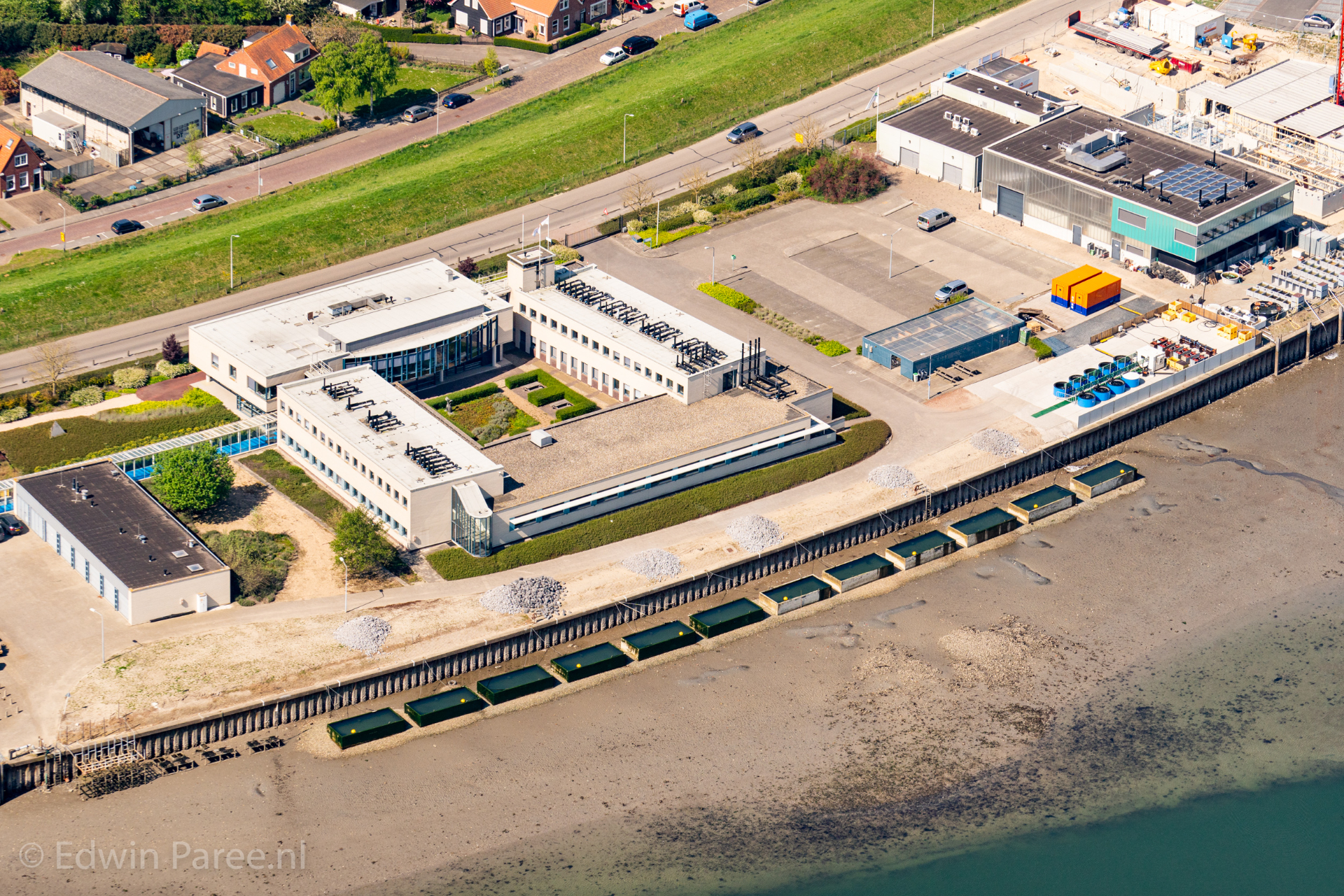 Which dyke design is best for water safety and nature?
Unique underwater laboratory in Zeeland festively opened
Because sea levels are rising, many dikes in the Netherlands are being modified. How to design these dikes in such a way that water safety can be combined with a wealth of underwater nature, biodiversity and high productivity for fishing? That question can now be answered with the help of a unique underwater laboratory. Researchers from the Royal Netherlands Institute for Sea Research (NIOZ) work closely with students and lecturers from HZ University of Applied Sciences and engineers from the Dutch Directorate-General for Public Works and Water Management (Rijkswaterstaat, RWS). The underwater lab, was opened officially on Wednesday, September 25, 2019 by Theo van de Gazelle, chief engineer-director of RWS Sea and Delta).
The underwater lab consists of 12 underwater basins with experimental underwater gardens, in the Eastern Scheldt, at the doorstep of NIOZ in Yerseke. Scientists and students will be conducting research into how human structures such as dyke coverings and embankments behave below the water line and what influence they have on ecological soil communities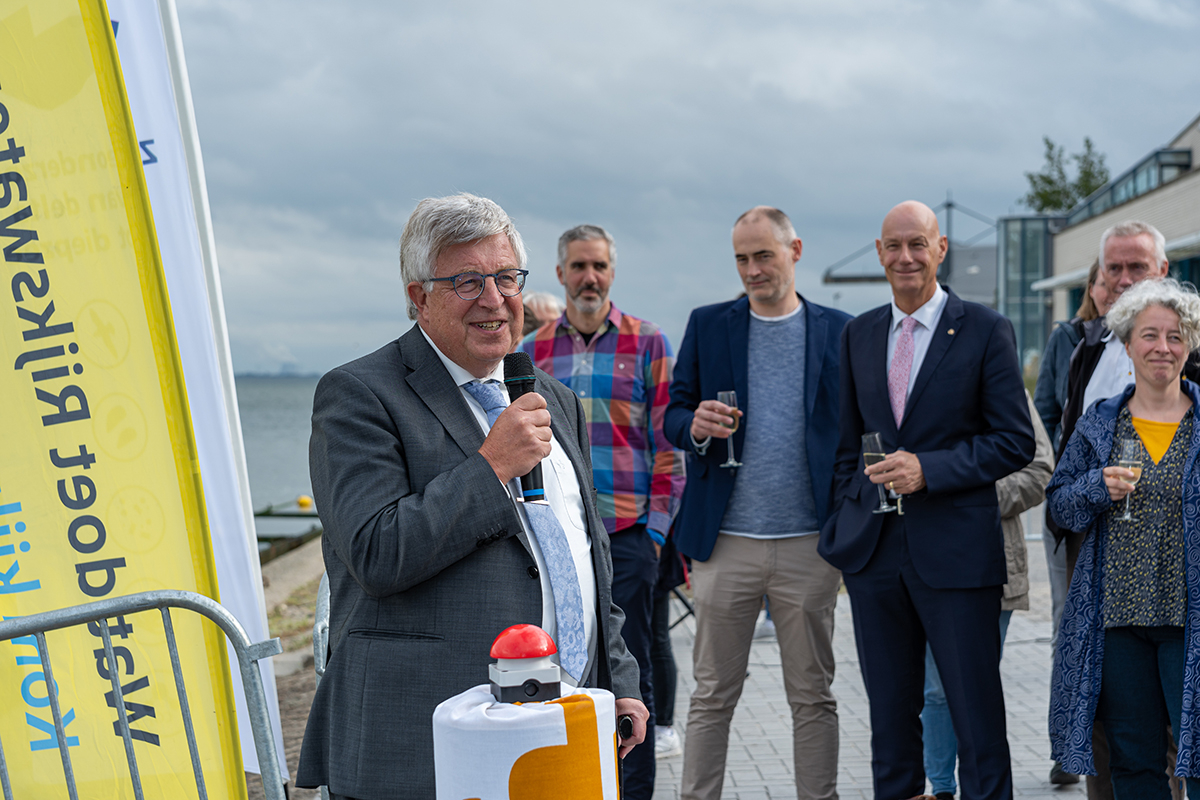 Theo van de Gazelle (Chief Engineer-Director RWS Sea and Delta, Rijkswaterstaat): "We are happy with this chain collaboration between research, education and practice. An important condition for this cooperation is the physical proximity of the NIOZ, the HZ and RWS in the Zeeland Delta. "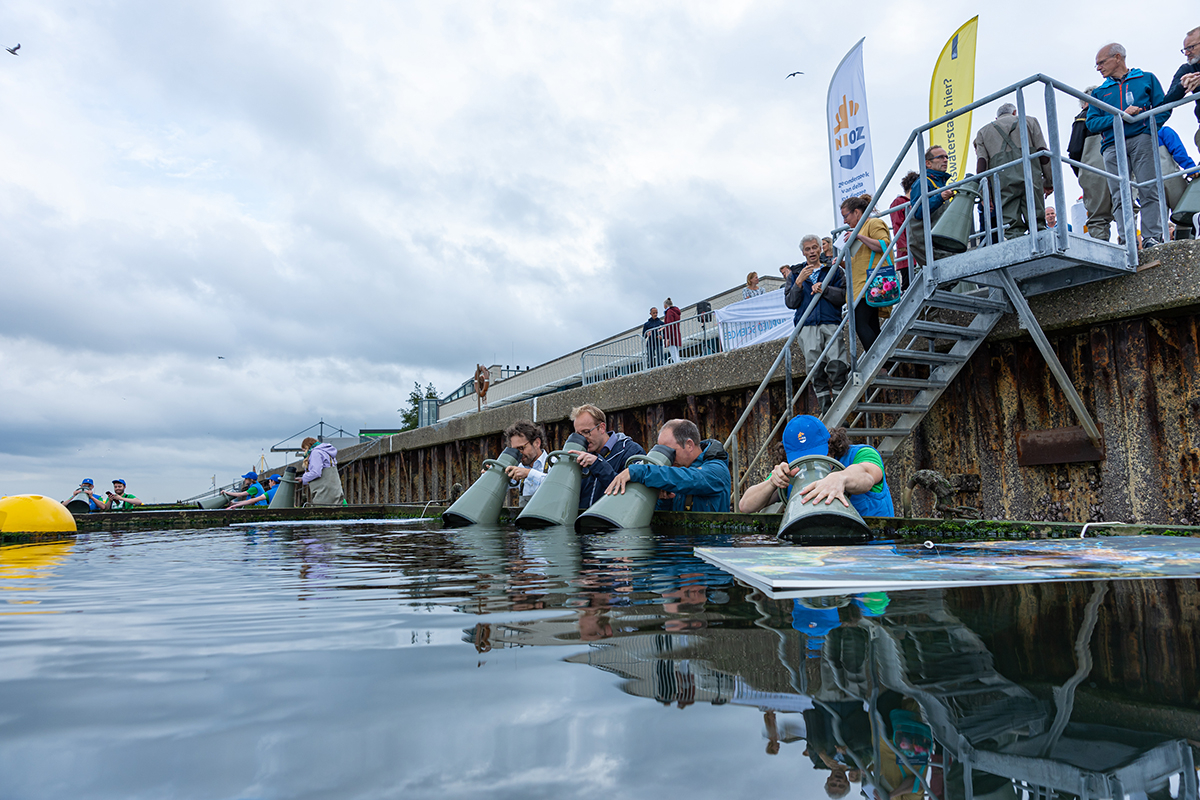 John Dane (chairman of the board of HZ University of Applied Sciences): "With this underwater lab at NIOZ, our students get hands-on experience in doing research and familiarize themselves with the field of study, and we can thus contribute to the innovative capacity of the region."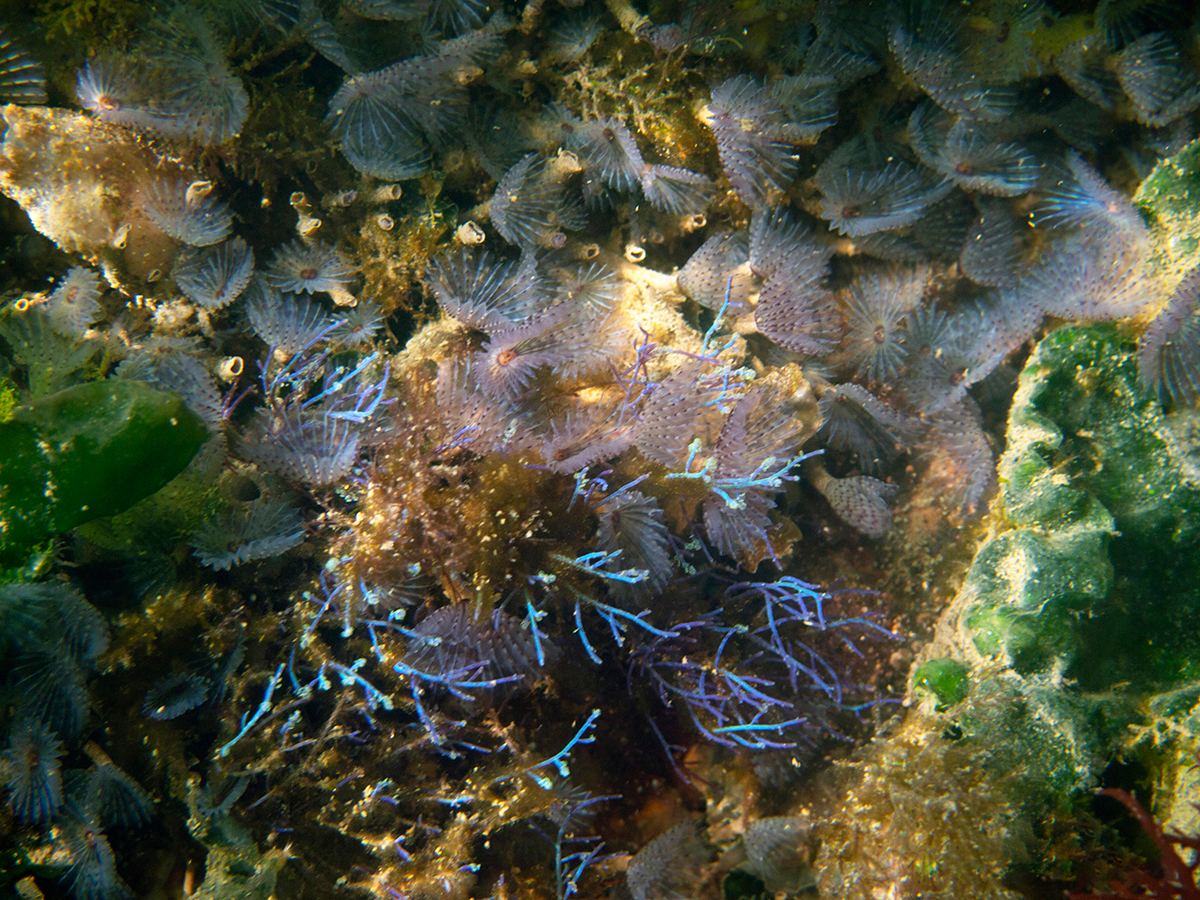 Bert Kortsmit (Project Manager Water Safety Project Organization, Rijkswaterstaat): "The importance of the underwater lab for the design of dikes is that you can 'pre-test' ideas in it – it will render practical experience and possibilities to preserve, protect and even enhance nature around new dyke constructions. "