New subspecies of bar-tailed godwit officially recognized
Publication date: Monday 18 October 2021
As of today there are no longer just five subspecies of bar-tailed godwits, but six. In the latest issue of the ornithological journal Ibis, a new subspecies is described by an international team of biologists. "Limosa lapponica yamalensis has a unique pattern of migration. It is also slightly different in size from neighboring L . l. taymyrensis", first author Roeland Bom of Royal NIOZ says. "Genetically it does not seem different. At least: not yet."
~~ for Dutch scroll down ~~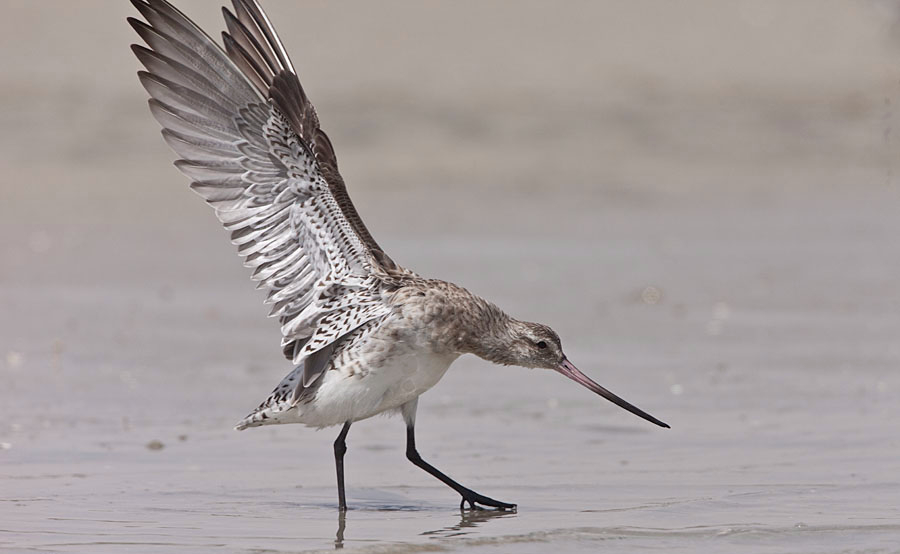 Two flyways, two subspecies
Of the five known subspecies of bar-tailed godwits, the status of L.l. taymyrensis was unclear for a long time, Bom explains. "There were two wintering areas for a subspecies that was believed to have one joint breeding area in Central Siberia. By fitting a number of birds with transmitters, we were able to show that the breeding areas were actually slightly different too. The two populations from the different wintering areas hardly even meet, let alone mix. Moreover, we were able to show a slight difference in body size between the two. This made them eligible to be now officially registered as two distinct subspecies."
Melting snow
Migration of taymyrensis and yamalensis appears to be driven by the melting of the snow in their respective breeding areas, Bom says. "Both subspecies use the same staging areas. But in the breeding area of taymyrensis, the snow melts earlier so, on average, this subspecies visits the staging areas in the southwest of Russia two weeks earlier than yamalensis. These different schedules keep the two from meeting intensively."
Genetically equal
While there are some significant differences in body size – a larger head-plus-bill and shorter wings for males of taymyrensis – genetics of the two subspecies seem equal. The team sought for differences in mitochondrial DNA, that is inherited through the female lineage, but could not find any. "Also, L. l. lapponica appears genetically equal. This means the three populations are separated relatively recent, no more than ten thousand years ago. Either that, or there is still very occasional mixing of the populations", Bom says. "Eventually the two subspecies may acquire genetic differences too, as long as their schedules and breeding areas remain separated."
Species and subspecies
The lapponica and taymyrensis bar-tailed godwits were taxonomically separated almost three decades ago. Now that yamalensis has officially been separated from taymyrensis, there's six subspecies. "This is more than just biological nitpicking", Bom stresses. "Defining separate populations within one species helps protecting a species and its habitat, by recognizing their different needs as well."
---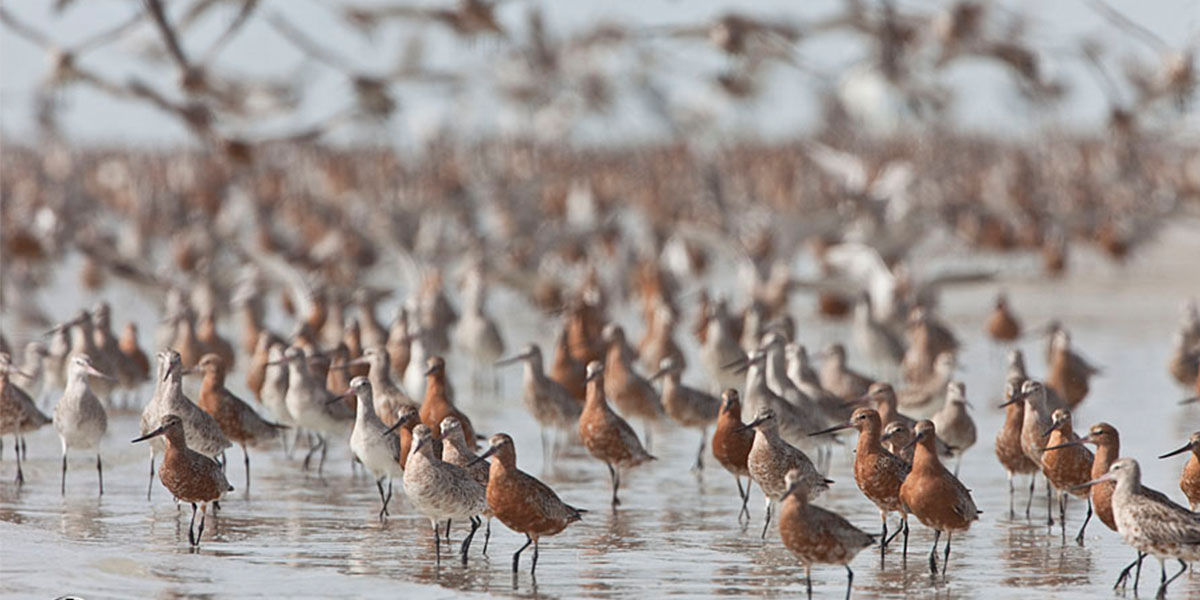 Nieuwe ondersoort voor de rosse grutto
Vanaf vandaag zijn er niet vijf maar zes verschillende ondersoorten van de rosse grutto. In het jongste nummer van het wetenschappelijk tijdschrift Ibis beschrijft een internationaal team van biologen de nieuwe ondersoort. "Limosa lapponica yamalensis heeft niet alleen een unieke trekroute, hij heeft ook net iets andere lichaamsmaten dan L. l. taymyrensis, die vlakbij deze ondersoort broedt", zegt de eerste auteur van het artikel, NIOZ-bioloog Roeland Bom. "Genetisch zijn deze ondersoorten niet van elkaar te onderscheiden. Dat wil zeggen: nog niet."
Twee ondersoorten, twee flyways
Van de vijf tot nu toe bekende ondersoorten was de status van L.l. taymyrensis lange tijd onduidelijk, vertelt Bom. "De ondersoort overwinterde in twee verschillende gebieden, in West-Afrika en in het Midden-Oosten, maar zou in hetzelfde gebied in Centraal Siberië broeden. Door onderzoek met gezenderde vogels hebben wij ontdekt dat de groepen uit de verschillende overwinteringsgebieden ook verschillende broedgebieden hebben. De vogels komen elkaar ook maar heel beperkt tegen en lijken ook niet te mixen. Bovendien zijn er ook wat uiterlijke verschillen. De lengte van de kop plus snavel bij de mannetjes is bij de ene groep wat langer terwijl de vleugels juist wat korter zijn. Opgeteld is dit voldoende reden om er nu twee ondersoorten van te maken: taymyrensis en yamalensis."
Smeltende sneeuw
De trek van taymyrensis en yamalensis wordt waarschijnlijk gestuurd door de timing van de smeltende sneeuw in hun broedgebieden, zegt Bom. "Beide ondersoorten gebruiken dezelfde stop-overs in het zuiden van Rusland. Maar omdat de sneeuw in het broedgebied van taymyrensis eerder smelt, komt deze ondersoort gemiddeld twee weken eerder op die tussenstations dan yamalensis. Deze verschillende reisschema's zorgen ervoor dat de vogels elkaar nergens intensief treffen."
Genetisch gelijk
Terwijl er wel significante verschillen zijn in de lichaamsmaten van de twee ondersoorten, lijken ze genetisch níet meetbaar te verschillen. De onderzoekers keken specifiek naar het mitochondrial DNA, dat alleen door de vrouwtjes wordt doorgegeven, maar vonden daar geen verschillen tussen taymyrensis en yamalensis. Ook L. l. lapponica lijkt genetisch identiek. "Dat betekent dat deze drie ondersoorten nog maar kortgeleden, hooguit tienduizend jaar terug zijn gesplitst. Het is ook mogelijk dat er heel af en toe nog wel minimale kruising is tussen de verschillende ondersoorten, waardoor de genetica niet verschilt", zegt Bom. "Uiteindelijk zouden de ondersoorten wel genetisch kunnen gaan verschillen, zo lang hun trekwegen en reisschema's maar gescheiden blijven."
Soort en ondersoort
De ondersoorten lapponica en taymyrensis van de rosse grutto zijn in de jaren negentig officieel beschreven en gescheiden. Nu yamalensis officieel weer van taymyrensis is gescheiden, zijn er zes ondersoorten. "Dat is toch echt meer dan alleen maar biologische muggenzifterij, benadrukt Bom. "Het beschrijven van ondersoorten, inclusief hun specifieke eisen aan de omgeving en de trekroute, helpt bij de bescherming van vogels en hun habitat."
Publication:
Roeland Bom, ..., Theunis Piersma Central-West Siberian-breeding Bar-tailed Godwits (Limosa lapponica) segregate in two morphologically distinct flyway populations. IBIS, DOI: 10.1111/IBI.13024
---
---
Five-plus-one bar-tailed godwits, Limosa lapponica:
The bar-tailed godwit is a large wader, related to the Dutch 'national bird', the black-tailed godwit. Whereas the 'freshwater species' black-tail mainly breeds on farmed meadows and winters inland on rice fields in West-Africa, the 'saltwater species' bar-tail breeds on tundra's and winters near the coast. Until today, five subspecies of the bar-tailed godwit were known to science:
L. l. lapponica, breeding in Scandinavia and Russia, and wintering in North-West Europe;
L. l. taymyrensis, breeding in northern Central-Siberia and wintering in West-Africa;
L. l. menzbieri, breeding in Central and Eastern-Siberia and wintering in Northwest Australia;
L. l. anadyrensis, breeding in the Anadyr River basin and wintering in unknown territory;
L. l. baueri, A world recordholder in non-stop migration, breeding in Alaska and wintering in Eastern-Australia and New Zealand.
The sixth subspecies that is now officially recognized is:
L. l. yamalensis, breeding in northern Central Siberia, slightly west of L. l. taymirensis and wintering in the Middle East.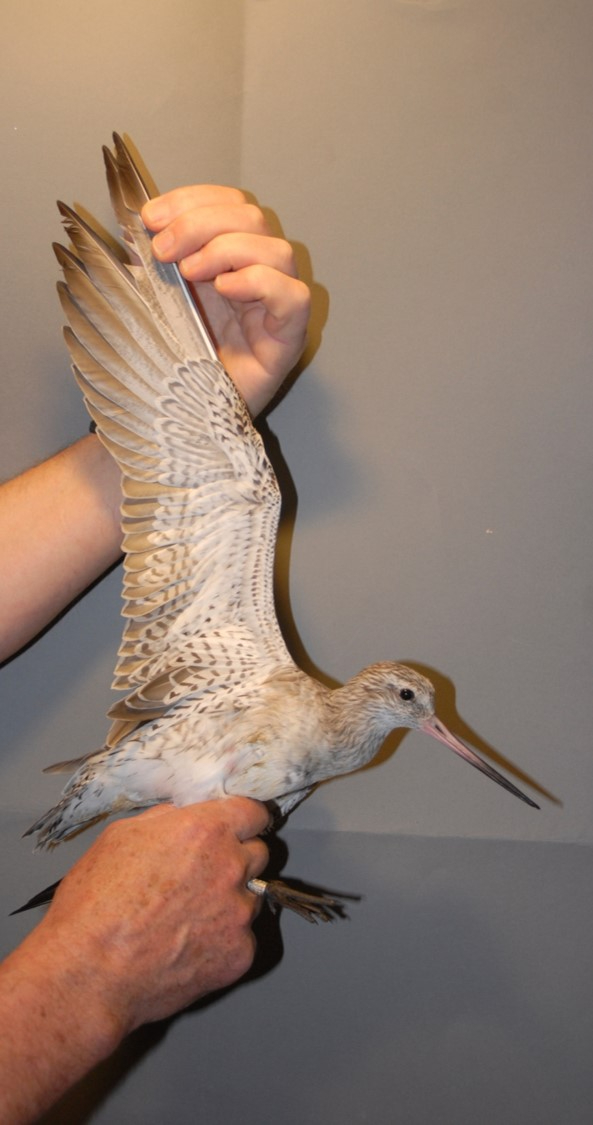 Vijf-plus-een rosse grutto, Limosa lapponica: De rosse grotto is een grote steltloper die verwant is aan onze nationale vogel, de grutto. Waar de 'zoete' grutto in weilanden broedt en overwintert op de velden van Afrikaanse rijstboeren, broedt de 'zoute' rosse grutto op de toendra en overwintert aan de kust. Tot vandaag waren er vijf ondersoorten van de rosse grutto:
L. l. lapponica, broedt in Scandinavië en Rusland enoverwintert in Noordwest-Europa;
L. l. taymyrensis, broedt in Centraal-Siberië en overwintert in West-Afrika;
L. l. menzbieri, broedt in Centraal en Oost-Siberië en overwintert in Noordwest-Australië;
L. l. anadyrensis, broedt rond de rivier de Anadyr, in Ruslan den overwintert in nog onbekend gebied;
L. l. baueri, de wereldrecordhouder non-stop vliegen broedt in Alaska en overwintert Oost-Australië en Nieuw-Zeeland.
L. l. yamalensis, is de zesde ondersoort die nu officieel is erkend, broedt ook in Centraal Siberië, net iets ten westen van L. l. taymyrensis en overwintert in het Midden-Oosten.