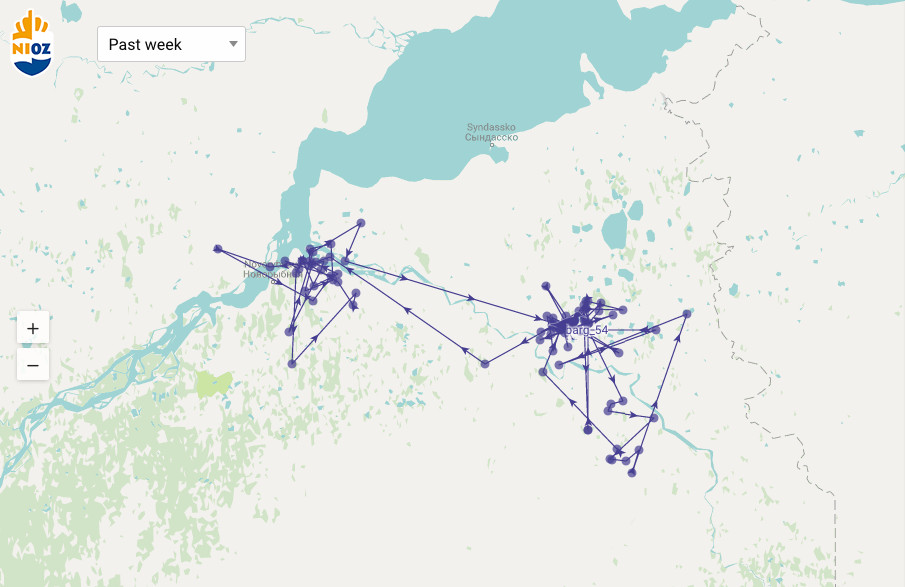 Veldervaring
Satellietinformatie is leuk, maar zonder te weten wat voor landschap schuilgaat achter de kale coördinaten, schiet je er nog niet veel mee op. NIOZ-onderzoeker Eldar Rakhimberdiev was dan ook aangenaam verrast toen hij zag dat rosse grutto '54' deze week precies neerstreek in een deel van het schiereiland Taimyr, in Arctisch Rusland, waar hij tussen 2000 en 2004 als Moskouse masterstudent en als promotieonderzoeker veldwerk deed; een gebied dat hij dus op zijn duimpje kent.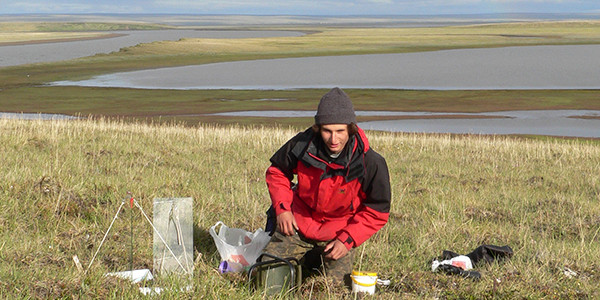 Terrasje pakken
'Rosse grutto's zitten op de toendra niet graag al te dicht bij de rivier, op de natte delen van de toendra waar kemphanen wel graag zitten. Tegelijk willen ze ook niet al te hoog zitten, waar het weer te droog is. Langs de rivieroevers heb je in dit gebied her en der een soort terrassen die precies hoog genoeg zijn. Daar deed ik destijds ook mijn onderzoek.'
Langpootmuggenlarven
Rakhimberdiev en zijn collega's bemonsterden onder andere de insecten die daar een korte periode van het jaar rondvliegen en kruipen. "In het begin van het seizoen zie je vooral veel langpootmuggen. Die kunnen wel zeven jaar als larve in de grond leven, om dan een heel korte periode over de bodem te scharrelen. Vliegen doen ze nauwelijks. De larven zijn perfect voedsel voor de volwassen vogels, net als andere bodemdieren zoals wormen. De volwassen langpootmuggen zijn weer ideaal voedsel voor de jongen."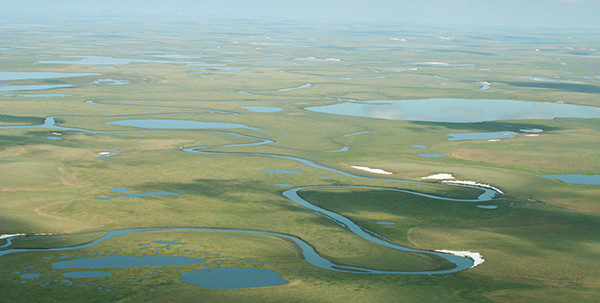 IJsvissen
Rakhimberdiev bewaart warme herinneringen aan zijn veldwerk in Siberië, maar dan vooral figuurlijk gesproken. "Het was best koud toen. Ik weet nog goed dat we tijdens de zonnewende, op 22 juni in 2000 midden in de nacht bij een stralende zon konden ijsvissen op de meertjes, die toen nog helemaal dichtgevroren was. Inmiddels is de periode dat de sneeuw smelt met tenminste twee weken vervroegd. De rosse grutto's komen dus in een landschap dat veel eerder langpootmuggen produceert dan toen ik daar was."
Verhuizing
Rosse grutto 54 heeft eerst twee weken een stuk oostelijker rondgehangen ten opzichte van het 'veldstation' van Rakhimberdiev. "Die twee weken zijn uiteraard te kort om een nest met eieren te produceren en uit te broeden. Hopelijk is deze vogel nog op tijd in dit nieuwe gebied neergestreken om met succes een nest met jongen groot te kunnen brengen."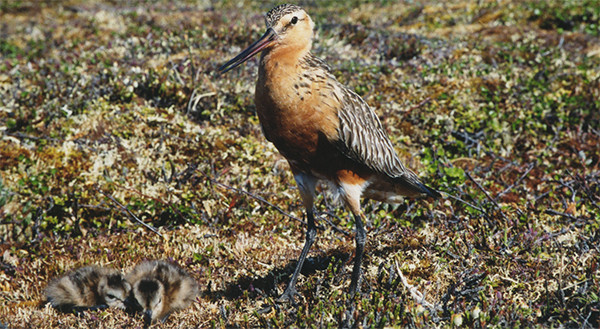 Fieldwork
It's nice to have satellite information, but if you do not know what kind of landscape goes with the coordinates, you actually don't know that much. NIOZ-researcher Eldar Rakhimberdiev was pleasantly surprised to observe the touch-down of the Bar Tailed Godwit '54'. This week, the bird landed on the peninsula Taimyr, in Artic Russia, an area Rakhimberdiev knows quite well. He did fieldwork there between 2000 and 2004, first as a master student and then for his PhD research.
Hanging out on the terrace
"Godwits don't like to settle too close to the river on the tundra, because the wet part of the tundra is where the ruffs live. At the same time, they also don't want to sit too high where it is too dry. Luckily, along the river banks there are some terraces that are just the right hight for the godwits. That's exctly where I did my research back then."
Crane fly larvae
Among other things, Rakhimberdiev and his colleagues sampled the insects that fly and crawl around for just a short period of time every year. "In the beginning of the season you will see a lot of crane flies, also known as Daddy Longlegs. Their larvae - leatherjackets - can spend as long as seven years living underground, before they come to the surface and into into the light fo a couple of weeks and die. Flying is something they hardly ever do. These larvae are perfect food for adult birds, just like other bottom animals like worms. The long-legged adult crane flies are, in turn, ideal food for the chicks."
No more ice fishing in summer
Rakhimberdiev keeps warm memories of his fieldwork in Siberia - figuratively speaking. "It was pretty cold back then. I remember very well that during the solstice on June 22nd in 2000, we went ice fishing in the middle of the night with the sun still visible over completely frozen lakes. Since then, the onset of spring, when the snow and ice begin to melt, starts at least two weeks earlier than 17 years ago, due to Arctic warming . These days, the godwits arrive in a landscape that produces its crane flies much earlier than when I was there. Are the birds in time to catch the insect peak or not? That is the question."
Just in time?
Before arriving at Rakhimberdievs old 'field station', godwit '54' was observed lingering in another area further to the east, for two weeks. "Of course, those two weeks are far too short to produce chicks. Hopefully, this bird has settled in this new area just in time to successfully raise some chicks on crane flies this season."