FOR ENGLISH VERSION: SEE BELOW
Tekst: Rob Buiter
Succesvol broedseizoen
Kanoet Paula lijkt een succesvol broedseizoen achter de rug te hebben. Op het Noord-Canadese Ellesmere Island heeft ze van 5 tot en met 29 juni precies lang genoeg op één plek gezeten om in theorie eieren te kunnen leggen (4 dagen) en uit te broeden (21 dagen). Daarna kwamen de signalen van haar zendertje nog enige tijd uit de omgeving van de veronderstelde broedplek. Was zij wellicht na de eileg en de broedperiode aan het aansterken voor de trek terug terwijl haar man voor de kuikens zorgde?
Weggevallen signaal
Die trek terug lijkt vooralsnog te stoppen in Schotland (zie kaartje). Er is al enkele dagen geen teken van leven meer ontvangen van de zender. 'Dat is nog niet meteen reden voor ongerustheid', zegt NIOZ-onderzoeker Eva Kok. 'We hebben al eerder periodes gezien dat ze ergens landde en vervolgens enkele dagen geen signalen meer gaf. Het kan goed zijn dat de batterij van de zender dan niet goed wordt opgeladen bij gebrek aan zonlicht. Op dit moment ligt er ook een lagedrukgebied boven Schotland, met veel bewolking, dus dat scenario is niet heel onlogisch. Tegelijk kan het ook zijn dat Paula een slechtvalk of ander ongeluk is tegengekomen. Dat zou natuurlijk heel jammer zijn, maar dat is ook wel de realiteit voor deze vogels', aldus Kok. 'Maar ik blijf toch hopen dat ze een dezer dagen gewoon weer een teken van leven geeft, of dat ze misschien weer wordt gezien in de Waddenzee'.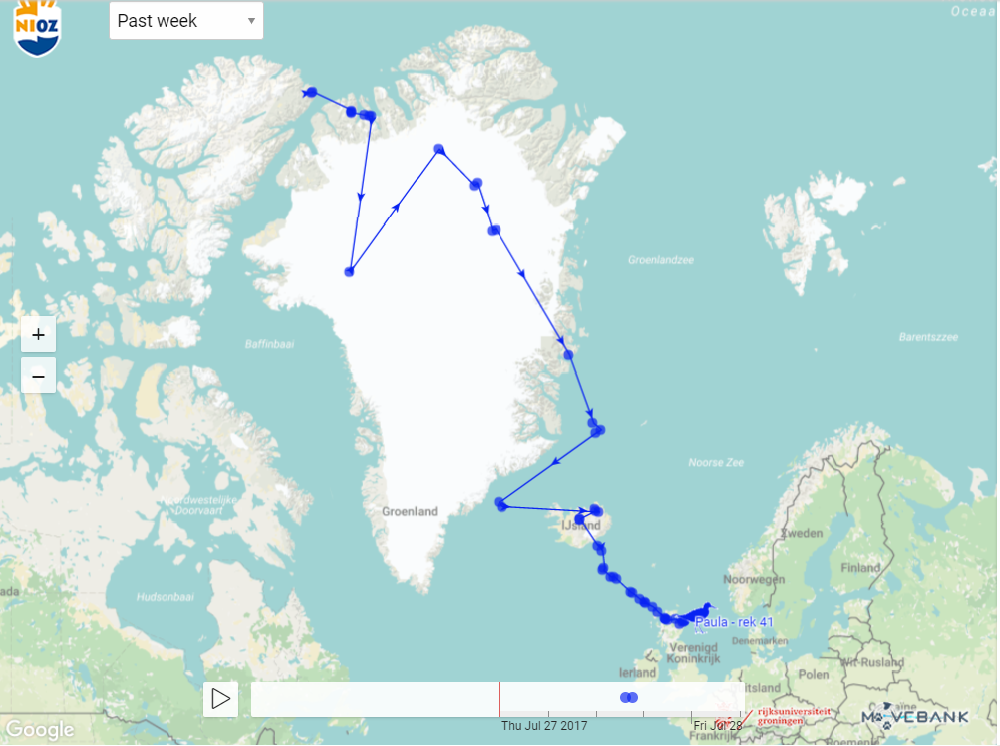 ENGLISH VERSION
Successful breeding season
Knot Paula seems to have had a successful breeding season. On the northern Canadian Ellesmere Island, from 5th to 29th of June, she remained in one place for a period long enough to lay eggs (4 days) and breeding (21 days). After that, the signals from her transmitter came from the area of the supposed breeding ground for some time. Is it possible that she was recovering from her breeding period in order to get strong enough for the long way to her wintering ground in the Wadden Sea while her husband took care of the chicks?
Lost signal
For the moment, Paula's journey seems to stop in Scotland (see map). The last few days, no sign of life has been received from the transmitter anymore. 'This is not immediately a cause for concern,' says NIOZ researcher Eva Kok. 'We have seen periods before in which we received no signals for some time afte the assumed landing. This may be caused by an insufficiently charged battery of the transmitter due to a lack of sunlight. At the moment there is a low-pressure area above Scotland with a lot of clouds, so that scenario is not very illogical. At the same time, Paula may have encountered a peregrine falcon, or another fatal accident. That would be very unfortunate, but that's the reality for these birds' says Kok. 'But I still hope she'll just give me a sign of life again, or maybe she'll meet us again at her winter destination in the Wadden Sea.'