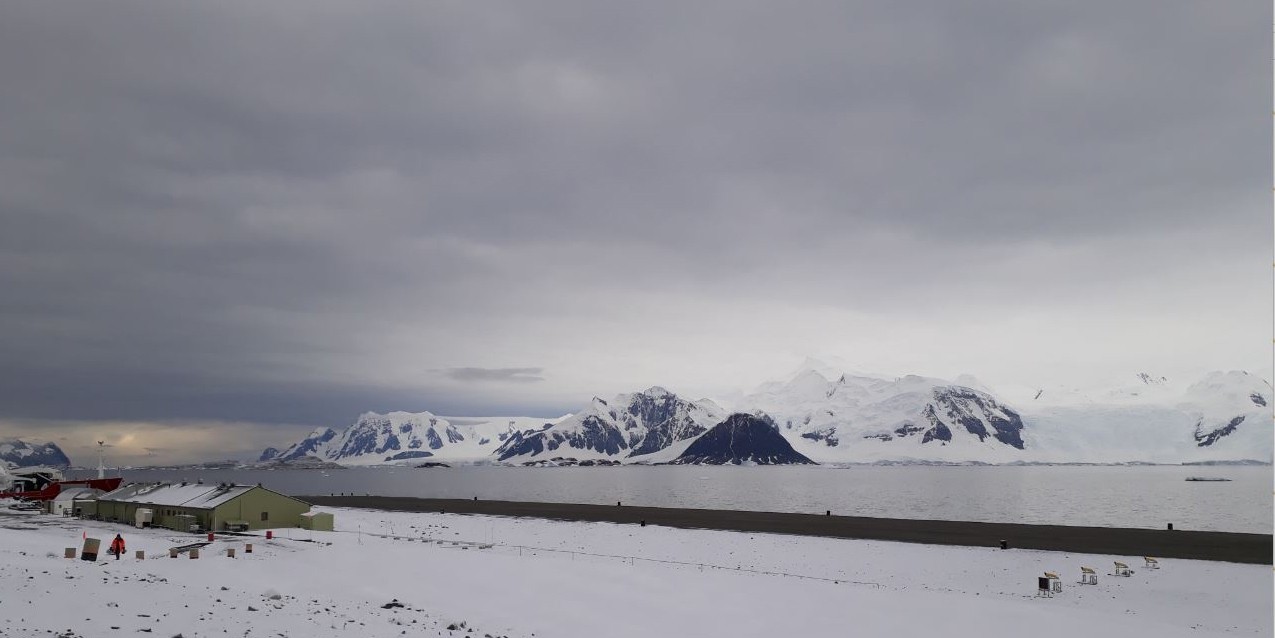 Introductie van ons veldwerkonderzoek
In de Antarctische wateren gaan we op zoek naar virussen. We willen weten welke algensoorten ze infecteren en hoe belangrijk dat proces is in het bepalen wie er aanwezig is en wanneer. Virussen zijn namelijk heel specifiek in wie ze infecteren en daarmee sturen ze ook nog eens de biodiversiteit. Antarctica is een gebied dat erg gevoelig is voor klimaatverandering. Veranderingen in de microbiele samenstelling zijn er al eerder waargenomen.
De komende maanden voeren we ons onderzoek uit vanaf Rothera Research Station op Adelaide Island (Antarctica). We doen ons veldwerkonderzoek in samenwerking met de British Antarctic Survey (BAS) in een project dat onderdeel is van het Nederlands Polair Programma (NPP) van de Nederlandse Organisatie voor Wetenschap en Onderzoek (NWO). Vanuit Nederland is daarvoor zelfs een speciaal lab, het Dirck Gerritsz laboratorium. Vanuit BAS werken we samen met Hugh Venables. Voor de moleculaire analyzes van de monsters die we zullen verzamelen werken we samen met Henk Bolhuis (NIOZ), Bas Dutilh (Universiteit Utrecht) en een Canadese collega.
ENG - Viral diversity and activity in Antarctic waters
Microorganisms (algae and bacteria) form the base of the food chain in our oceans and play an important role in the global nutrient cycle and are responsible for 50% of the oxygen that is produced on earth. As in all other marine systems, viruses in the polar areas infect microorganisms. Unlike multicellular organisms (for example humans), microorganisms usually do not survive viral infections, because they are unicellular. A virus is a parasite that needs a host to multiply. The newly formed viruses are released and in this process the host cell bursts open and the cell contents are released. This material is processed by other organisms, but won't be eaten and the organic cellular material cannot end up in higher levels of the food chain (such as fish or orcas).
Introduction of our work
We want to know which viruses in Antarctic waters infect which algae and how important this process is in determining who is present and when. Viruses are very specific in who they infect and therefore also affect biodiversity.
We work in Antarctica because this area is very sensitive to climate change and changes in the microbial species composition have already been observed. For this project we will do fieldwork on Rothera Research Station on Adelaide Island (Antarctica) in collaboration with the British Antarctic Survey (BAS). Our project is part of the Netherlands Polar Program (NPP) of the Netherlands Organization for Science (NOW) and we will work in a Dutch lab, the Dirck Gerritsz laboratory. Our BAS collaborator is Hugh Venables. For the molecular analyses of the samples we will collect we will collaborate with Henk Bolhuis (NIOZ), Bas Dutilh (Utrecht University) and a Canadian colleague.
6th February 2018
Installatie in het Dick Gerritsz lab | ENG Installation in the Dick Gerritsz lab
After some trainings and tours around Rothera Research Station, we installed ourselves in the Dick Gerritsz laboratorium. The trainings have taught us how to work in this freezing part of the world and how we can prepare ourselves for what is yet to come. We are getting ready for our first samples!