Leg 2 | May 18 -23, 2019
21 mei 2019, door Jip Vrooman en Zita Veugen (Stichting De Noordzee)
Onderzoek naar de Noordzeebodem
Vrijdagmiddag. We verlaten ons kantoor in Utrecht met onze rolkoffertjes aan de hand. Een flinke trein-, bus- en bootreis later wandelen we de kade van de Pelagia op. Machtig rijst de blauwe boeg van het schip voor ons op. Het onderzoeksschip van het NIOZ is rustig vanavond: ook hier bepaalt de vrijmibo het ritme. De crew en een aantal expeditieleden grijpen de nacht op Texel aan om de hort op te gaan. Nu we oog in oog staan met ons huis tijdens de expeditie zijn we alle vermoeidheid van een drukke week en een lange reis spontaan vergeten.
Behalve de crew en wijzelf zijn aan boord onderzoekers van het project DISCLOSE, de Rijksuniversiteit Groningen, TU Delft en Naturalis. Onderzoeksobject: de bodem van de Noordzee. We zullen meerdere locaties van de Bruine Bank bezoeken - een natuurgebied in de Noordzee tussen Nederland en Groot-Brittannië. Ook aan boord: vier verschillende soorten onderzoeksapparatuur.
Als een vleermuis de bodem aftasten
Het eerste apparaat is een multifrequency multibeam: een apparaat dat tijdens het varen signalen naar de bodem stuurt. Wanneer de signalen terugkaatsen, vangt het apparaat ze weer op. Zo vormt het een grof beeld van hoe de bodem eruitziet. Dit werkt eigenlijk een beetje zoals de echolocatie van dolfijnen en vleermuizen. We kunnen hiermee dingen die boven de bodem uitsteken identificeren, zoals een wrak. Deze week zoeken we uit of we ook de zandkokerwormriffen met de multibeam kunnen vinden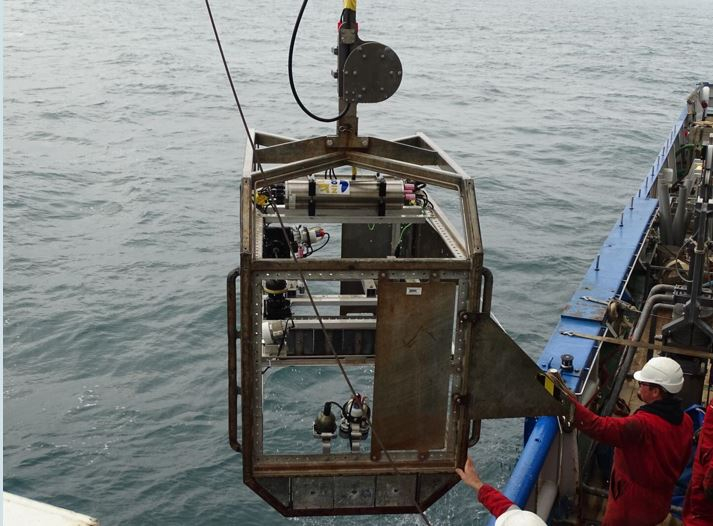 Lange lijnen kiekjes schieten
Ten tweede gebruiken we een speciale onderwatercamera. Deze zet de crew vast in een groot metalen frame met lampjes. De camera laten we aan een stevige kabel tot vlak boven de bodem zakken. Daarna vaart het schip in een rechte lijn van 200 meter. Binnen kunnen we op beeldschermen precies zien wat er beneden gefilmd wordt. Een groot deel van de onderzoekers verzamelt zich rondom deze schermen. Het blijft spannend: verschijnen er riffen in beeld, vissen of andere dieren? Eenmaal weer aan wal worden deze filmpjes nauwkeurig onderzocht.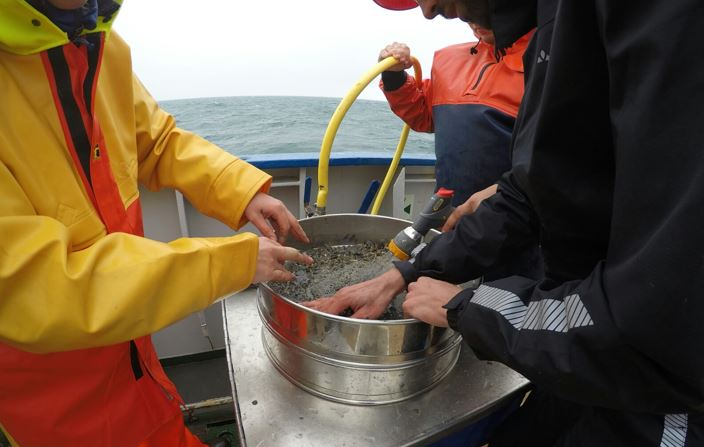 Monstertjes uit de bodem vissen
Daarnaast is er een zogenoemde boxcore aan boord. Weer een apparaat dat aan een stevige kabel richting de bodem zakt. Het neemt een soort hapje uit de bodem mee naar boven. Eenmaal aan dek staan verschillende onderzoekers klaar voor hun taak. Er wordt een 3D-scan van gemaakt, er wordt een zandmonster genomen en tot slot wordt de inhoud van de kern zorgvuldig gezeefd. Het zand en slib wordt weggespoeld, alles wat overblijft wordt opgeslagen voor nader onderzoek. Zo kunnen we precies bekijken wat er in de bodem zit.
Het DNA van de natuur
Tot slot werken we met een CTD (Conductivity, Temperature and Depth). Dit apparaat meet allerlei verschillende eigenschappen van het water: van zoutgehalte tot temperatuur en van hoeveelheid zuurstof tot hoeveelheid algen. Ook worden er met dit apparaat watermonsters genomen. We willen namelijk weten wat voor environmental DNA er in het water zit. Dit eDNA bestaat uit DNA-fragmentjes die in het water zweven. Uit dit eDNA kun je afleiden welke diersoorten er in de buurt zijn.
Op zee weet je het nooit. Soms heeft de apparatuur er geen zin in, of moet er een onverwacht probleem opgelost worden. Gelukkig is de NIOZ-crew erg betrokken en professioneel. Ze staan altijd voor je klaar om iets te repareren of aan te passen, en de kapitein vaart telkens precies naar de plek toe waar wij een monster willen nemen. We zijn pas twee dagen onderweg, maar kijken uit naar de rest van de week.
Leg 1 | May 8 -18, 2019
15 May 2019, by Jacco Kromkamp
Can the North Sea foodweb cope with the coming changes?
The North Sea is undergoing rapid change: it is warming and acidifying faster than the surrounding seas, the energy transition is causing a building frenzy as windmill farms are appearing at an astonishing rate, and fishing pressure remains high. The EU also stimulates the development of macroalgal farms at sea as possible alternative food source for the growing human population. Thus it not surprising that it is difficult to predict how the ecosystems in the North Sea will change and if they can continue to fulfil the useful ecosystem services (e.g. fisheries).
To answer these questions NIOZ initiated a new research program aimed at understanding the basic processes controlling the functioning of the foodweb in the North Sea and with its partners it hopes to understand the driving factors so that it can understand how the system will change and that the knowledge it generates can also be used for sustainable management of the North Sea. This cruise is the first of a series intended to obtain a better understanding of the foodweb and how and why it will change.
The foodweb is fed by the primary production of the phytoplankton, i.e. microscopically small algae that uses the suns energy to fix CO2 and together with nutrients make new cells which are food for herbivores like shellfish, worms and small animals in the water (zooplankton made up of e.g. copepods, krill). The latter is the preferred food source for small pelagic fish, which are then prey for larger fish and seabirds and sea mammals. But apart from the production of new algae by the phytoplankton, the type of phytoplankton determines the food quality. Larger phytoplankton, especially diatoms, are good food and stimulate fisheries.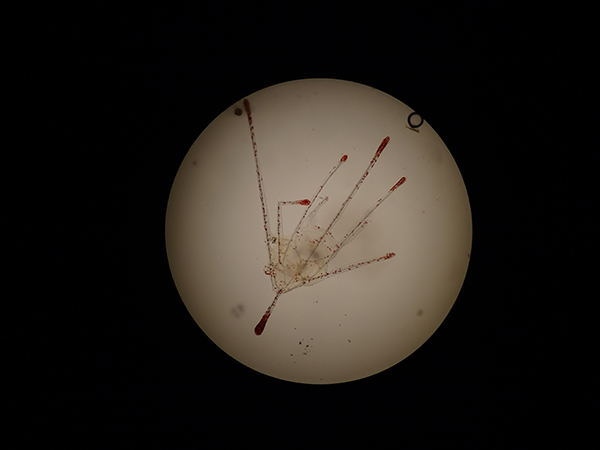 During the cruises new automated techniques will be tested to obtain phytoplankton production and composition at high resolution. These techniques are nearly ready to be employed on ships of opportunity, i.e. on commercial ships like ferries and container ships sailing the same route regularly. During this cruise, in which we cooperate with the Alfred Wegener Institute, Rijkswaterstaat and Wageningen Marine Research, we approach the foodweb from both ends: at the bottom we study phytoplankton composition and activity and on the other end more charismatic species as seabirds and sea mammals are studied. We already observed large spatial variation with very rich and productive areas and rather poor areas (marine deserts) and it is clear that many factors play a role in the foodweb: the efficiency at which newly produced organic matter by the phytoplankton is traveling through the foodweb, the interaction between the structure and depth of the bottom, the rather diverse current systems, the stability of the water column, the input by rivers and for the birds also the proximity of the food to their nesting grounds.
In the coming years we hope with interdisciplinary research teams to unravel how and why the North Sea is changing and this cruise was an excellent start to that endeavour.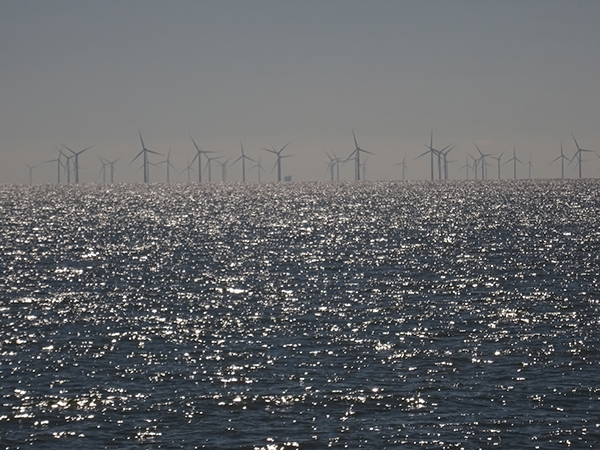 Leg 1 | May 8 -18, 2019
13 May 2019, by Kees Camphuysen
What will affect wildlife in the "Serengeti" of the North Sea most: Brexit or climate change?
Global warming, with its difficult to forecast influence on ocean currents, and Brexit, a political decision leading to a major reshuffle of marine fisheries within Europe, are both expected to have a profound effect on the well-being of seabirds, seals, whales and dolphins in the North Sea. These appealing marine animals, sometimes grouped as 'charismatic megafauna', face dramatic changes in food availability in the near future as a result. New research in the coming five years, conducted by the Royal Netherlands Institute of Sea Research (NIOZ) at Texel and co-workers from institutes around the North Sea, is meant to investigate the changes and to study the effects in one of the richest areas for seabirds and marine mammals. This first survey is conducted by Kees Camphuysen (Royal NIOZ) and Mardik Leopold (Wageningen Marine Research). Expedition leader is Jacco Krompkamp (Royal NIOZ).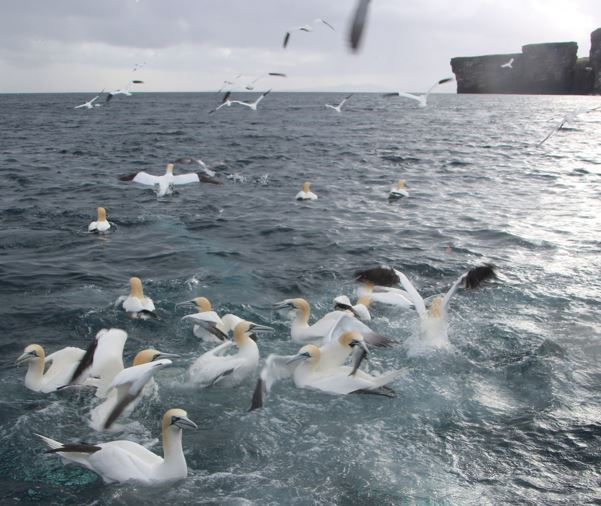 This first expedition has a special emphasis to the southern half of a narrow frontal zone between deeper, salter, more oceanic waters of the Central North Sea and relatively fresh, shallow, more turbid water near the coast, running from near Aberdeen to Texel. These fronts attract exceptional concentrations of seabirds and cetaceans and are therefore nicknamed the 'Serengeti of the North Sea'.
The area is naturally very rich in fish and currently also attracts a variety of (human) fisheries from several European countries. The far ranging interactions between fishing industry and marine wildlife are an important aspect of the new studies. Negative (e.g. prey depletion) as well as positive effects (e.g. production of discards) of the fisheries on wildlife exist, but the interactions are considerably more complex and incompletely understood. In a world where climate change has been demonstrated to affect the distribution of zooplankton and prey fish with all sorts of effects on the predators depending on these resources, new political developments are now also expected to change the fishing intensity and the fishing gear used in the western half of the North Sea.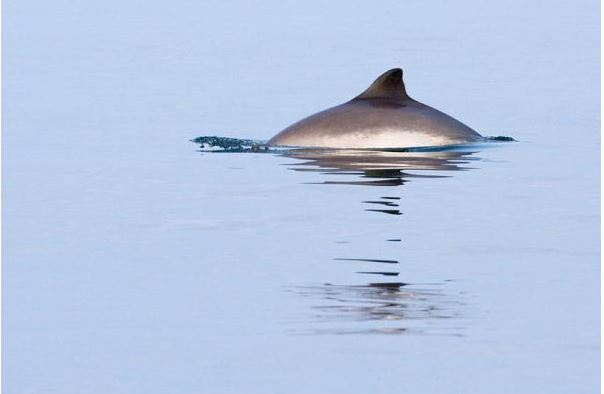 To document the impact of the changes in fisheries and environmental conditions on the abundance and distribution of the 'megafauna', the dependencies on fisheries and particular resources (notably zooplankton and prey-fish) will be investigated during this new project. The results will be compared with the outcomes of earlier studies, conducted by the same researchers in the 1980s and 1990s of the previous century. The emphasis on a very rich area in the North Sea is because the researchers wish to understand how fisheries and marine mammals compete, where they profit or suffer, and what kind of interactions between animal species are most important.
The wider implication of this study is a better understanding of the scale and impact of current changes in wildlife abundance and interspecific interactions in a rapidly changing world.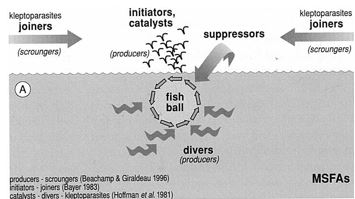 Further reading:
Camphuysen C.J. & A. Webb 1999. Multi-species feeding associations in North Sea seabirds: jointly exploiting a patchy environment. Ardea 87(2): 177-198.
Boyd I.J., Wanless S. and Camphuysen C.J. (eds) 2006. Top predators in Marine Ecosystems: monitoring change in upper trophic levels. Cambridge Univ. Press, Cambridge