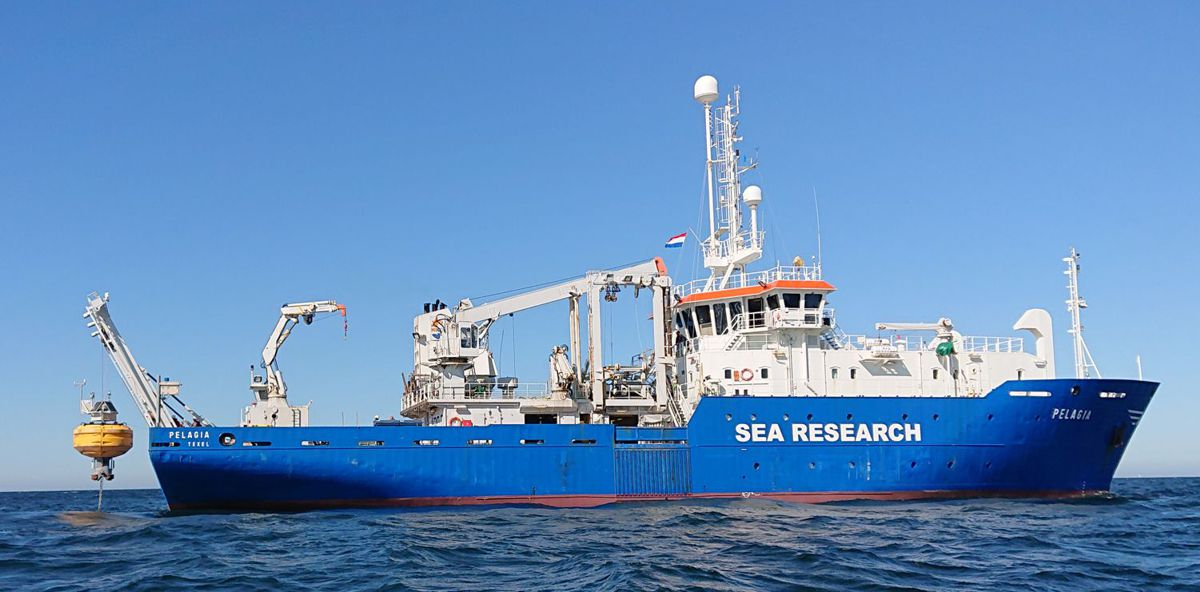 The two dust-collecting buoys and one sediment-trap moorings were deployed during expedition MSM79 onboard FS Maria S. Merian with the German colleagues from MARUM-Bremen and will be recovered (and hopefully re-deployed again!) during the upcoming expedition SIPA in early 2021 with once again the Bremen colleagues.
====================================================================================
Regular updates below this line, last update at top of the page:
===================================================================================
22 November: a warm welcome!
We are given a happy and playful welcome to Sao Vicente!
These dolphins like playing in the ship's bow wave and often accompany ships when approaching or leaving island groups like the Canary- or Cape Verde Islands.
With that we would like to thank the Master, officers and crew of RV Pelagia for taking good care of us once more and we will close this blog; thanks for following and see you the next time!
(until then, please don't hesitate to keep an eye on NIOZ' dustiest website: www.nioz.nl/dust).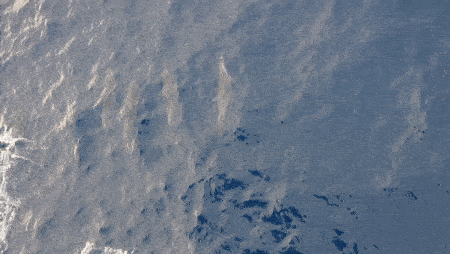 We are approaching the northern Cape Verde Islands, a group of volcanoes that stick out a few hundred meters above sea level. But in fact these volcanoes are much higher as they stick out from the seafloor, which lies some 4,5 km below sea level! These islands were originally named after the Green Cape (Dakar, Senegal) that the first ocean explorers saw when sailing south along the African continent. They knew that if one would "take a right turn" at the latitude of this Green Cape (Cabo Verde in Portuguese), one would encounter a number of islands....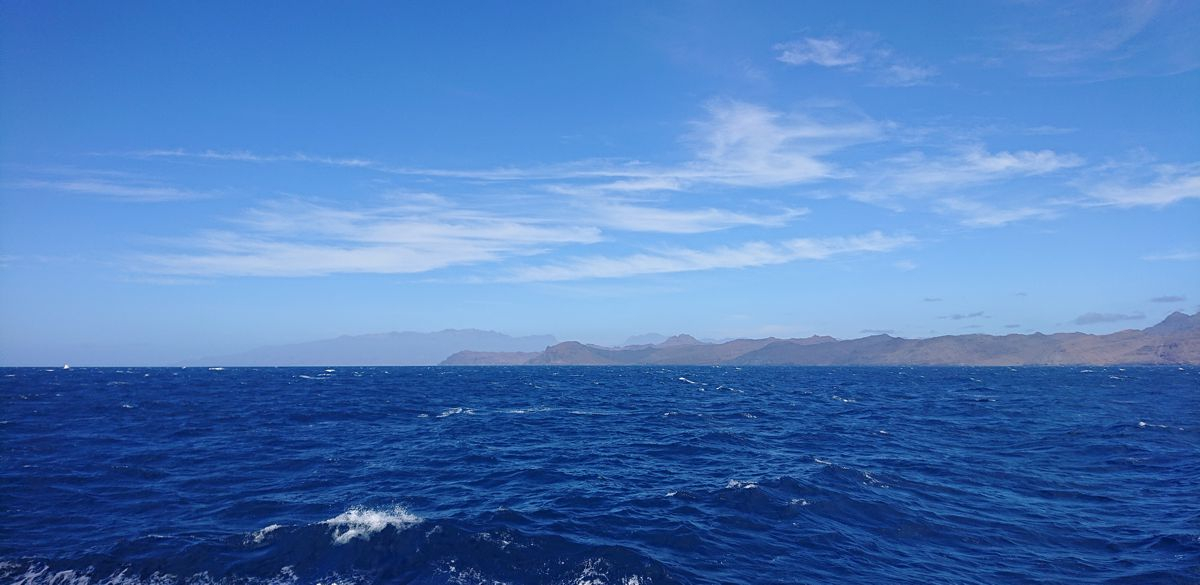 21 November
Today we perform another test with the video frame that NIOZ technician Bob Koster had built. This time we dare to go a lot deeper; to about 1200m water depth! No one has ever been here before and seen this. We are totally thrilled by the images sent to the ship by the three differently oriented cameras. Like we had seen before in the water column, also the sea floor at this water depth there is still plenty of life to be seen plenty of shrimps, fish, sea cucumbers, brittle stars, solitary corals and other creatures we have never seen before.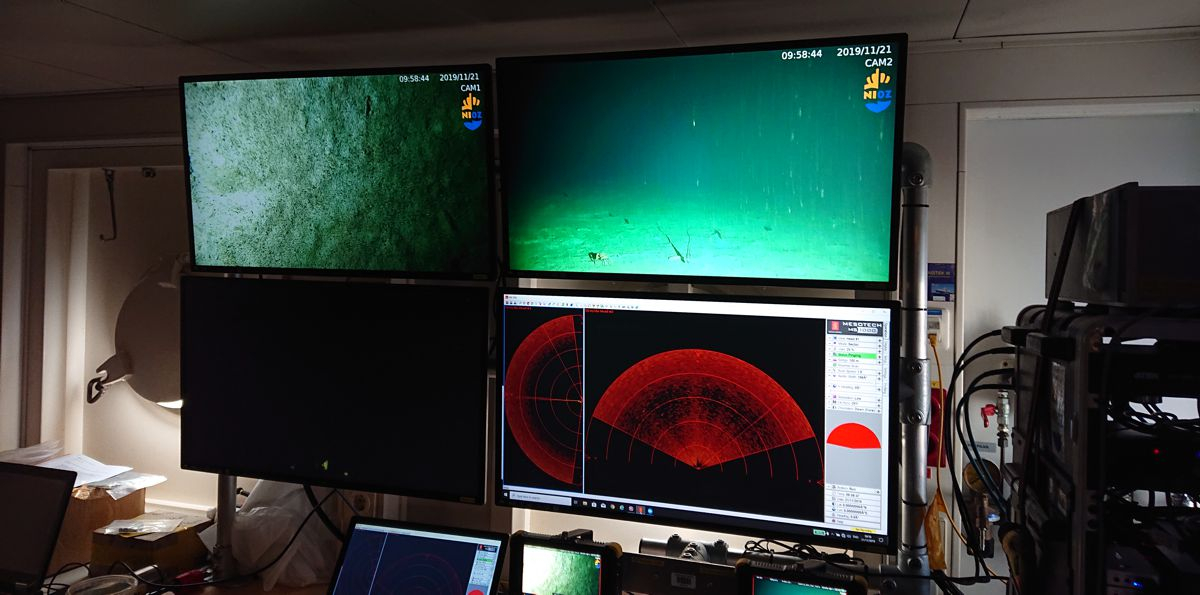 As the camera system is deployed on a cable (that transmits the image streams), and we are sailing slowly, we have to be very careful not to smash the video frame into the sea floor, objects or rocks on the sea floor, or --as is the case around the Cape Verde Islands-- sudden changes in the seafloor topography (read: volcanoes). For this reason, the winch operator sees the images of the two upper screens so as to adjust the winch when needed. Here you see NIOZ technician Dave Huijsman happily operating the video frame on the winch.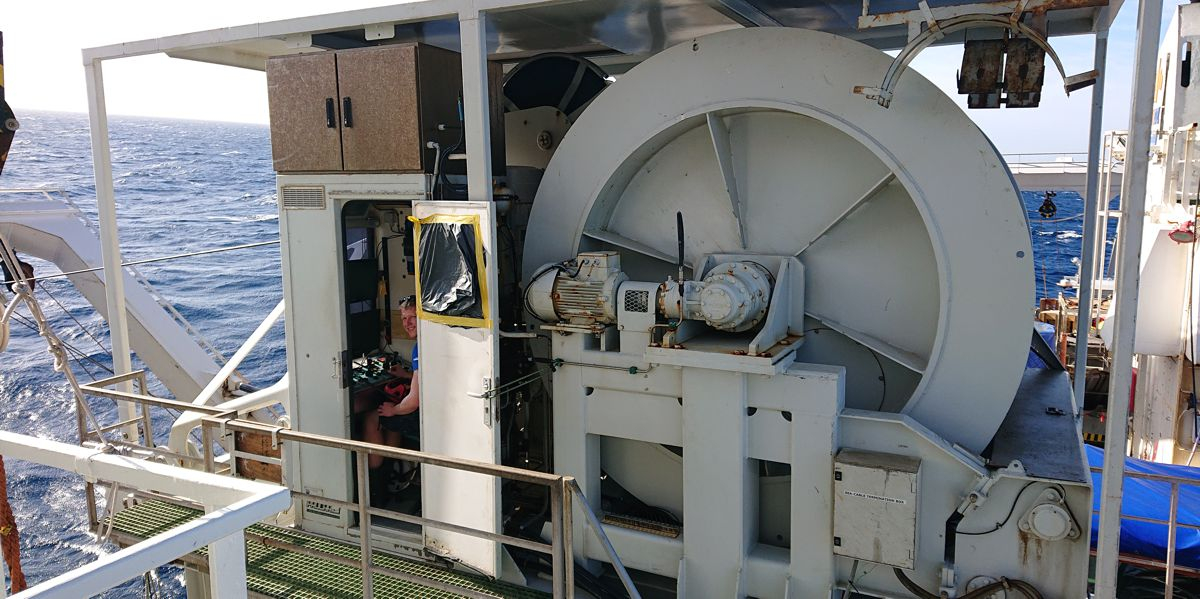 Here you see the entire team of RV Pelagia cruise 64PE464 - DUST2019. It also happens to be Master Bert's birthday today, hence him holding a balloon.... As you can tell from this photo, not only did we do a lot of hard work but we had good fun doing it!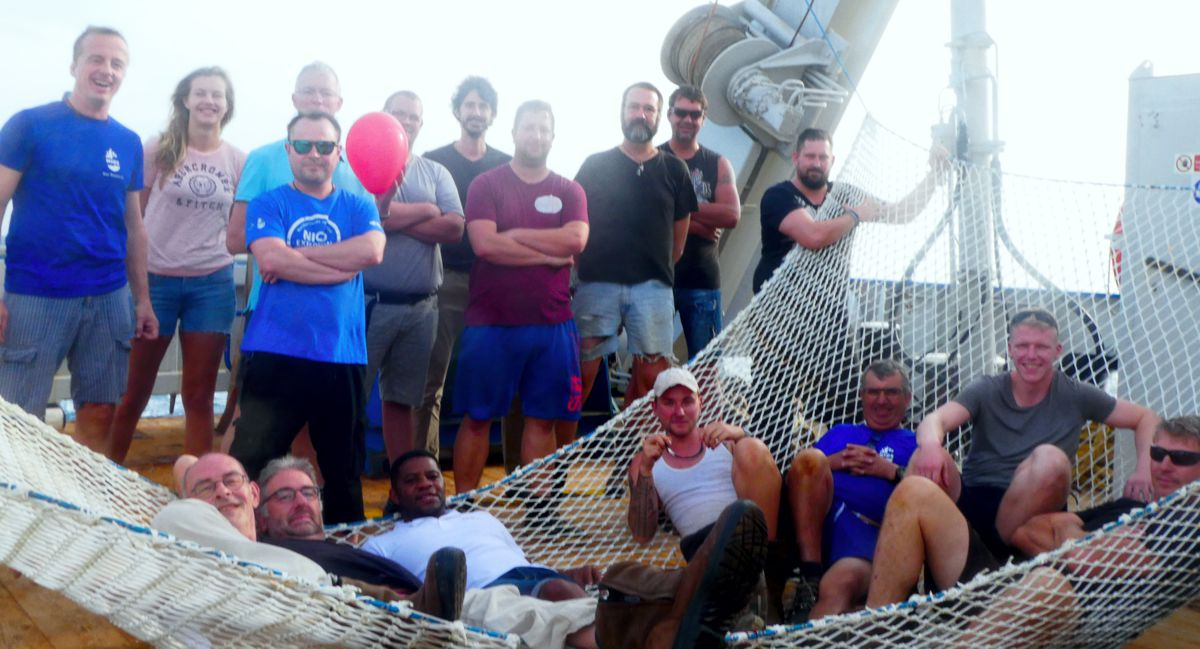 20 november
NIOZ technician Bob Koster constructed a so-called video-frame; a big metal cage in which he installed a number of instruments including three cameras and two sonars. We made a "quick dip" with this system to test if it is water proof and if all communications work as they were foreseen by Bob. Here you see the little lab in which he has put up the control room with three screens showing the differently oriented cameras and the sonar. The footage was quite spectacular and showed how much life is actually present in these waters that are considered to be "oligotrophic" = low in food and life. Later during the cruise we hope to see some more of these amazing images when Bob will test his system on some seamounts that we will pass on our way to Sao Vicente.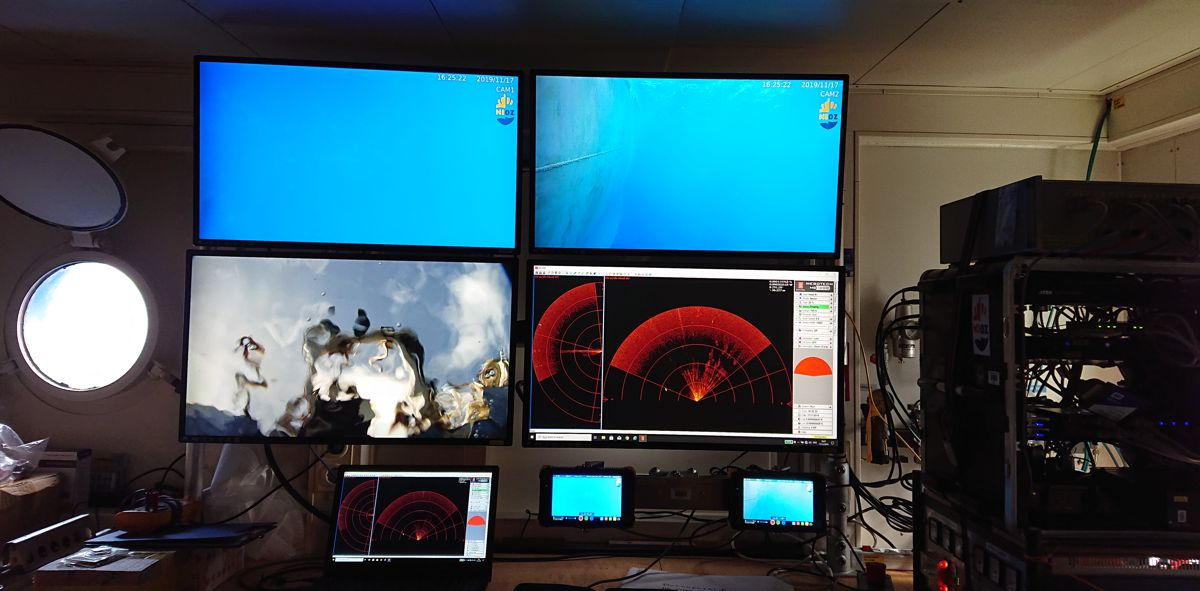 Here you see three petri dishes filled with a gel in which the particles collected in the drifting traps' tubes sink. Organic material that is floating around in the ocean consists of very fluffy material. For this reason it is called "marine snow". As this material is very delicate and easily falls apart, it is very hard to study it in its original shape. With these gels we can do just that as the "snow flakes" stay intact when settling into these gels.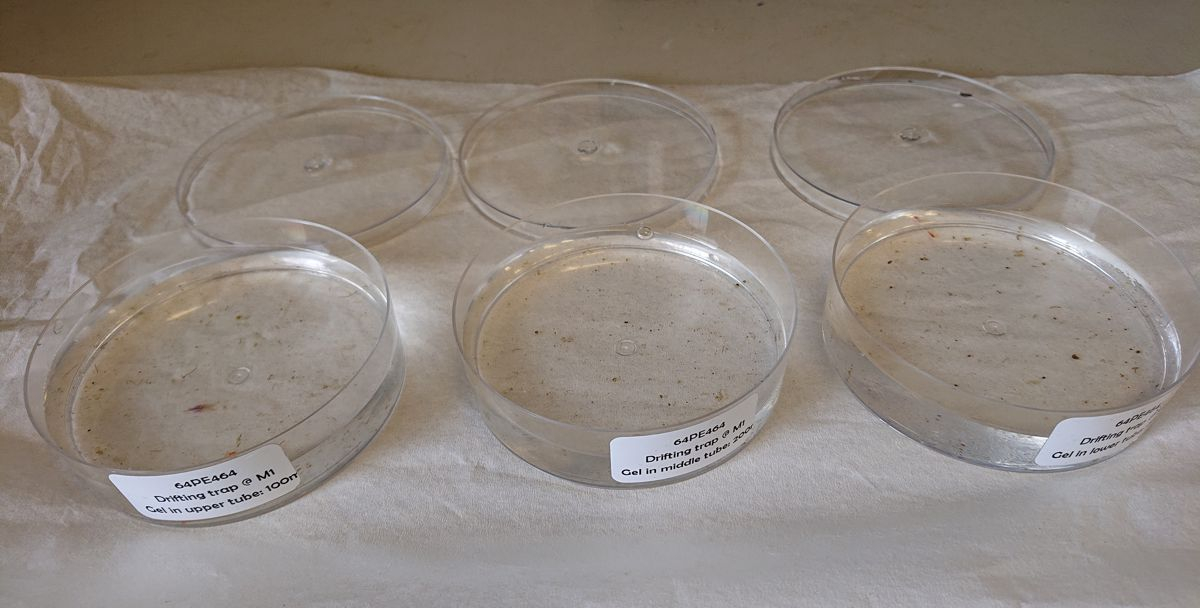 One of the secrets of the success of the buoys lies in the set up of the lines with which they are tethered. A lot of forces put their energy in moving the buoy around: wind, waves and currents. As a result, different types of stresses are forced on the entire mooring, and the combined effect of these forces have to be dealt with. Here you see how a fist-thick stretchable rubber line is linked with both a security line (the grey braided dyneema line) and with a 2.5 cm nylon line (the black braided line). Especially this rubber line absorbs a lot of the peak-energy exerted by waves. Handling and maintaining such complicated lines takes a lot of concentration and dedicated engineering, which NIOZ technicians Jan Dirk and Dave and the team of bosun Norberto and his AB's master very well.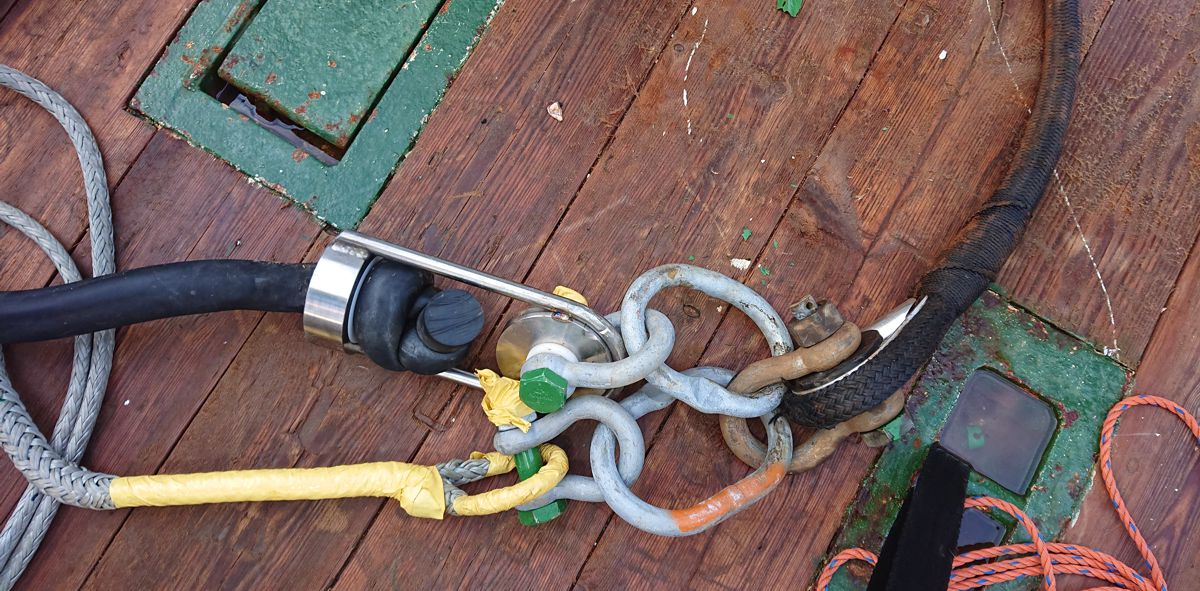 19 november
Last night we have recovered the drifting traps. The traps had been drifting freely for 24 hours, collecting material that is sinking from the surface ocean towards the deep. Here you see (R2L) NIOZ technician Jan Dirk, and AB's Peter and Jacco gently hauling in the second set of traps, which had been floating at a depth of 200m.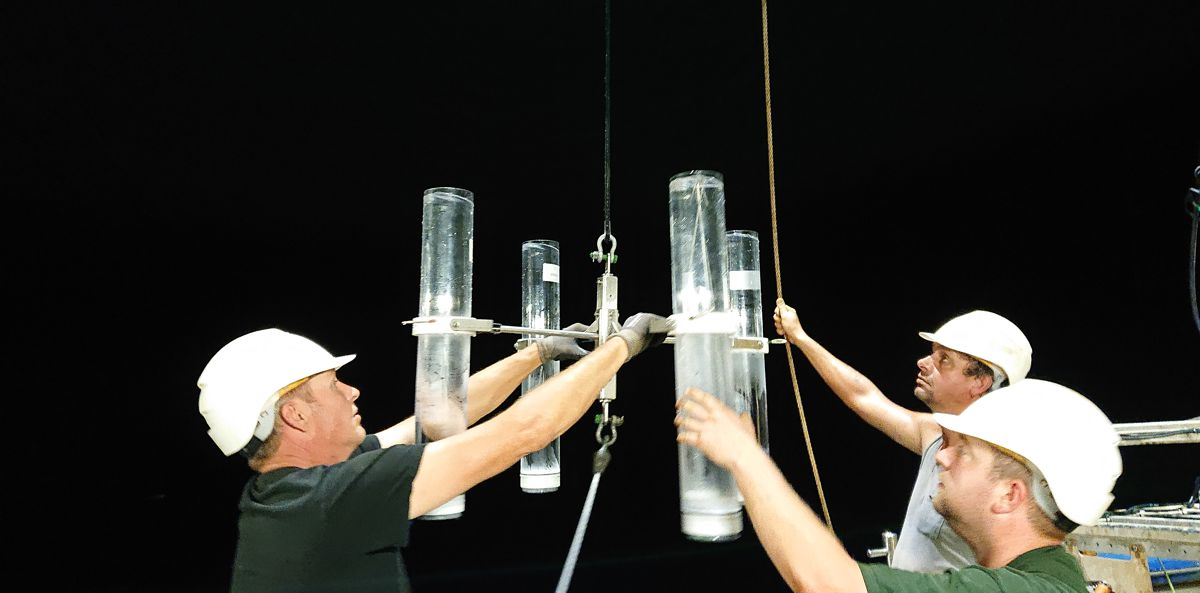 A T-shirt will be sent to the first person who can describe what is happening in this photo. Please send your answer to: jbstuut@nioz.nl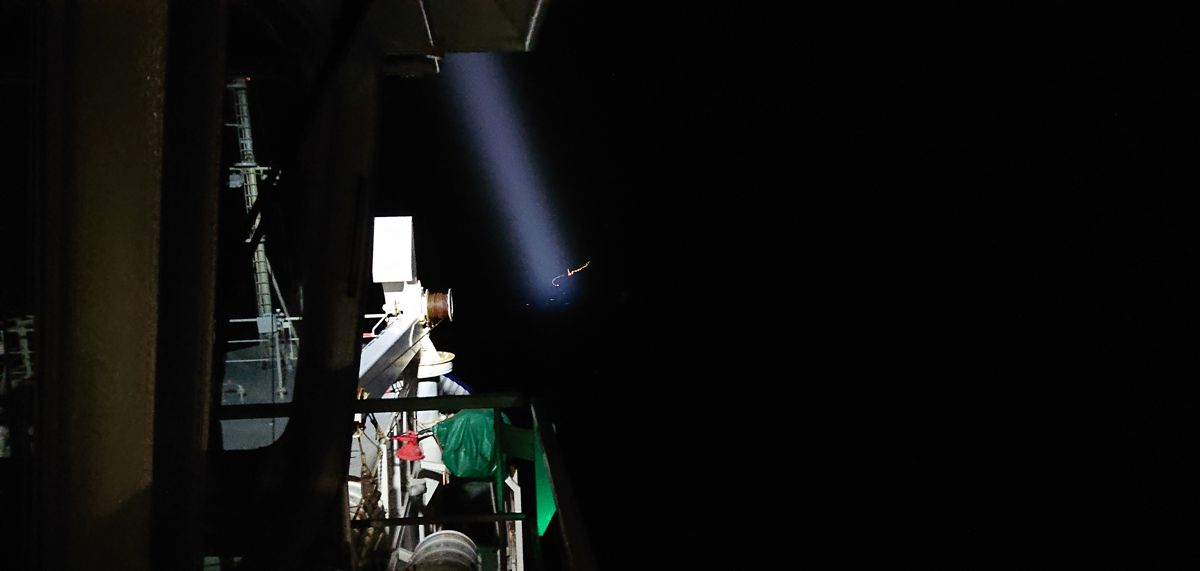 18 november
Swimming in the ocean, the buoys seem very tiny. When standing on the deck, they are BIG. Nonetheless, they have to be climbed now and then to install instruments or fixing lines. Here you see NIOZ technician Dave standing on buoy Laura, wearing his climbing harness and safety gear.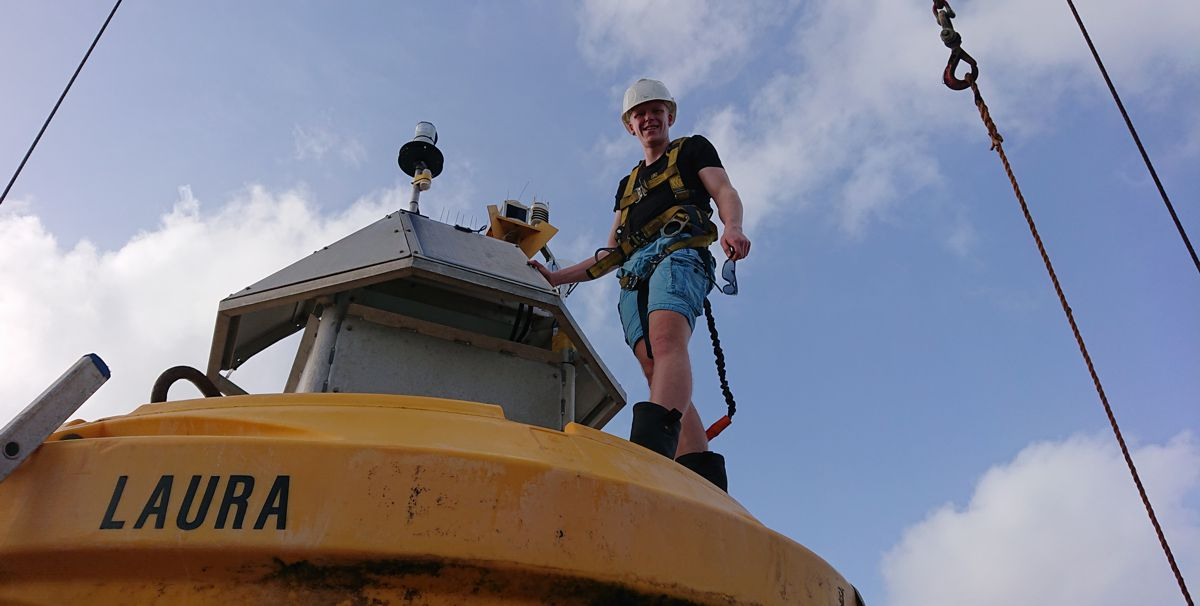 Here below you see a set of four tubes that are part of the so-called drifting traps. With these traps we have been able to demonstrate how dust particles can speed up the carbon cycle by functioning as ballast particles for organic material that is floating in the shallow ocean and would never reach the sea floor without such particles that draw them down into the deep. We would very much like to understand this process through which mineral dust particles play yet another role in the climate system.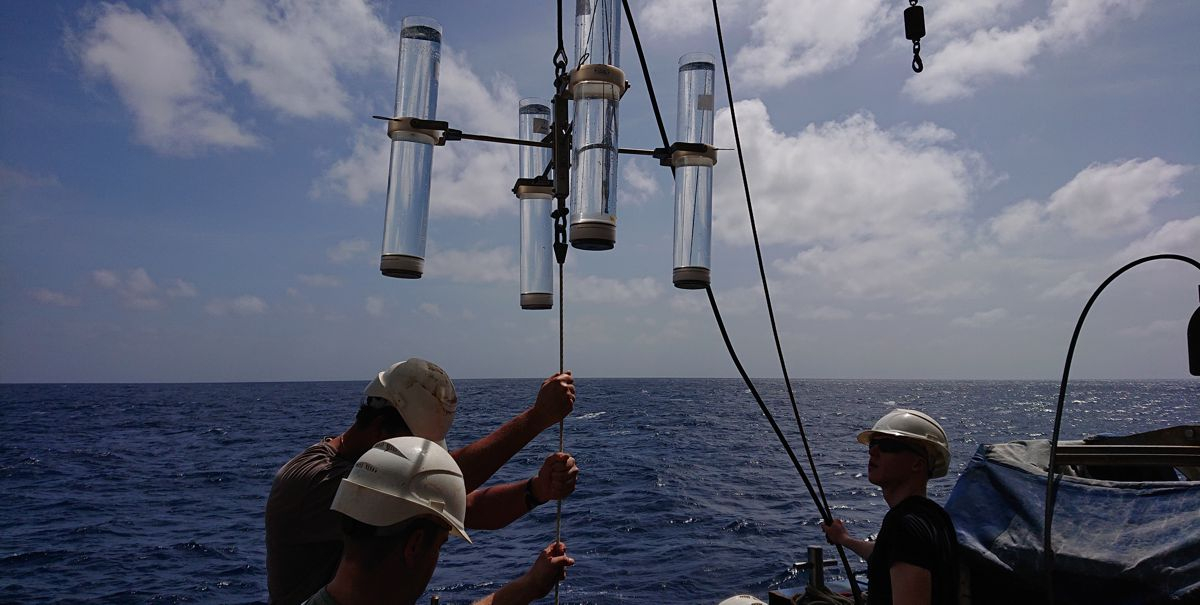 Here you see two containers of the Omni sampler, which collects dust in sterile water so as to be able to study the microbiological content of dust. In the past it was thought that microbes would not be able to survive a journey through the (high) atmosphere, due to the exposure to UV-radiation. However, it turns out that microbes do travel large distances through the air because they can use particularly clay particles to protect themselves against UV-radiation. This way, for example the black-band disease from which corals in the Caribbean sometimes suffer, is related to wind-blown transport of microbes with dust. We are very much interested in this relatively new field of science and therefore sample the atmosphere for microbes as well.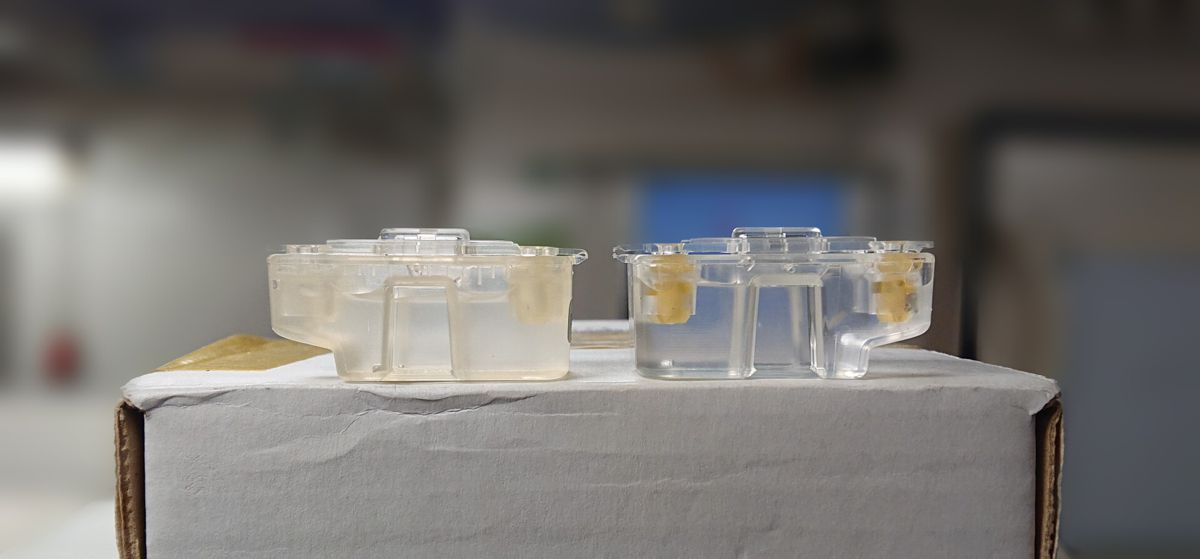 17 november
We typically locate the position of the buoys based on the satellite messages that we receive twice daily. However, finding the exact locations of the buoys is easiest when it is still dark as the flashers with which the buoys are equipped can be seen from many miles off. Here you see how buoy Laura is caught in the ship's spotlight (and how the Mai-mais are swimming around the buoy….)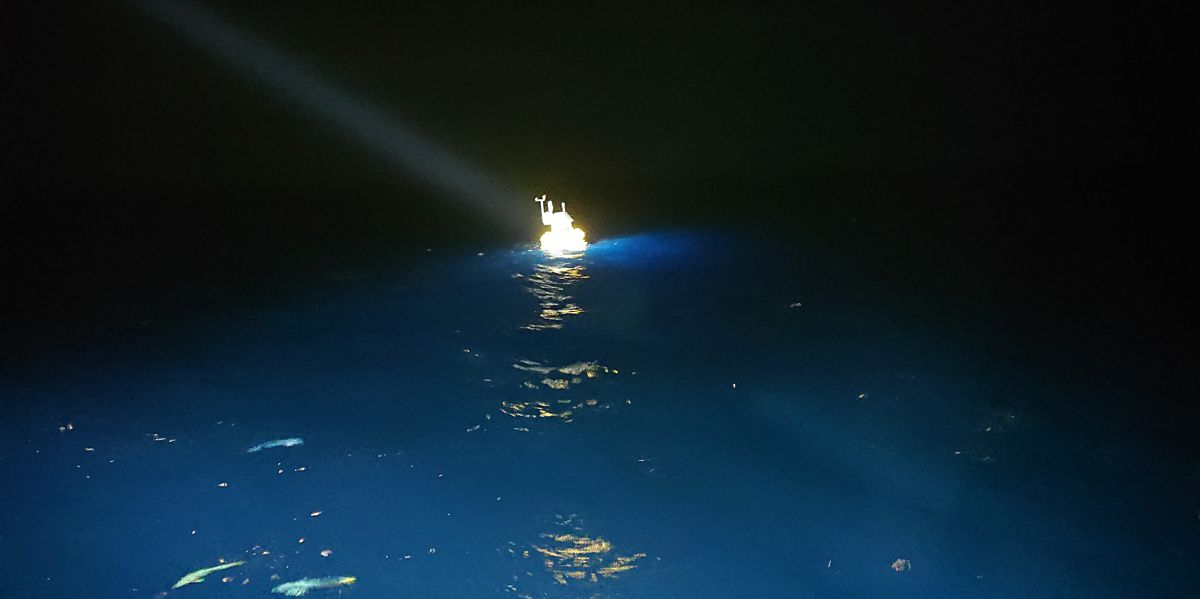 Today we have reached the location of buoy Laura, some 200 nm south of the Cape Verde Islands. Also around this buoy there is a micro-ecosystem that starts with algae on the buoy and ends with big fish. Obviously, some crew members are highly motivated to catch some of these large fish.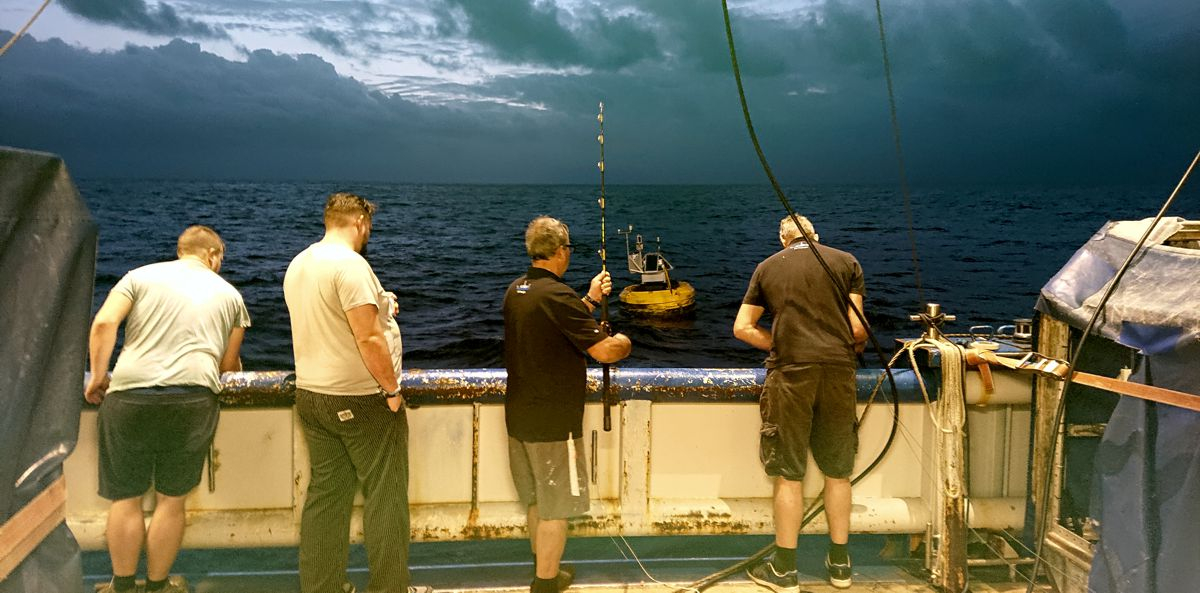 16 november
Here you see a beautifully simple sampling device dedicated to the collection of dust from the atmosphere; the famous MWAC sampler. MWAC stands for Modified Wilson And Cooke, two colleagues who apparently modified a previous version of this passive sampler. It basically consists of a small (250 ml) bottle with two glass tubes sticking out of the lid. The opening of one of the glass tubes is to be positioned into the wind so that air can pass through. Inside the bottle there is a big jump in accommodation space, such that the dust particles stay in the bottle while the wind passes through, and out of the opposing glass tube. The opening of the glass tube has a diameter of only 8 mm but it very efficiently captures dust, even in the middle of the Atlantic Ocean! Next to our sophisticated air-pumping filter system, we always apply such MWAC samplers and they have always given us very good samples.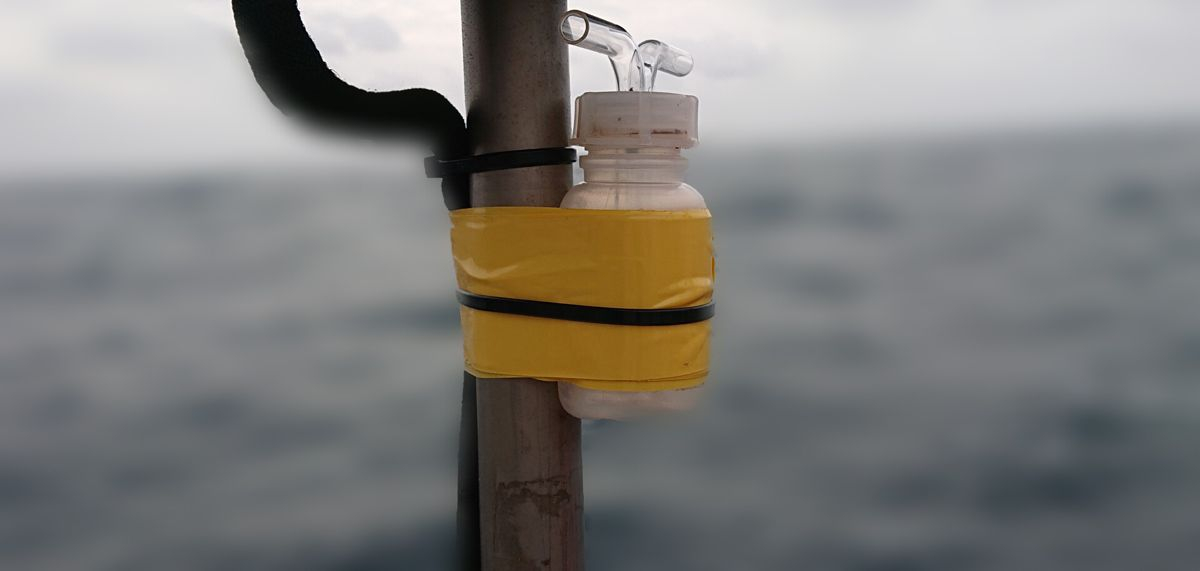 Today we were overtaken by a huge (330 x 50m) container carrier, which is almost as wide as RV Pelagia is long, and which passed us at a distance of less than 3.4 nm (~6 km). Under normal "blue-sky" conditions, the visibility is easily 10 nm (~18km) but visibility is starkly reduced by the dust particles in the atmosphere.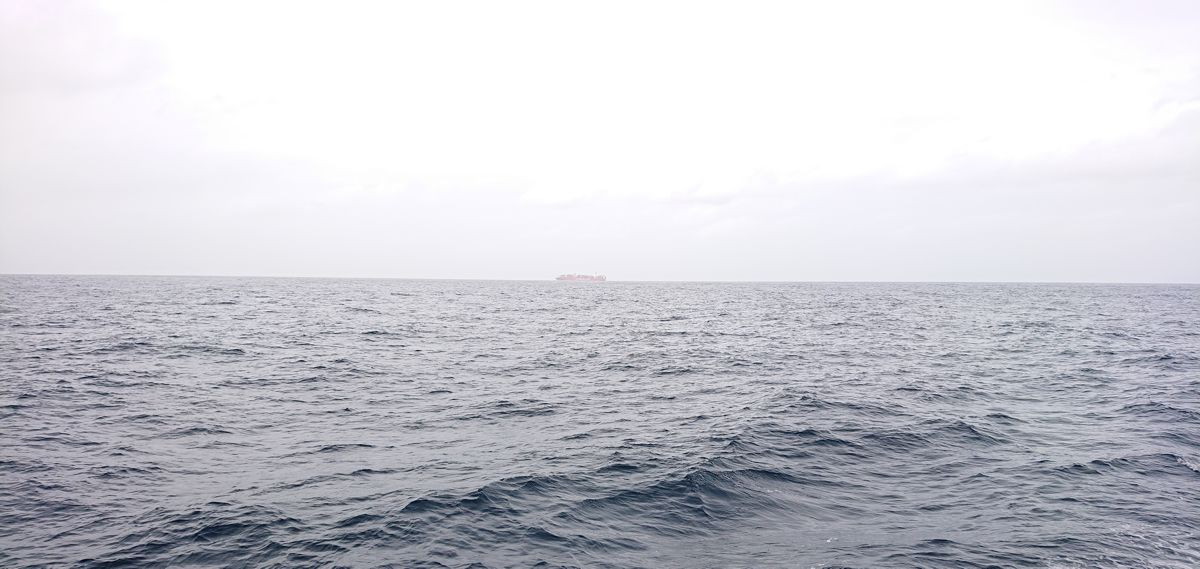 Here you see another type of dust filter that is loaded with dust. This particular one has a size of about 1 A4 (~21x30cm) and has been sampling dust on top of the bridge of RV Pelagia for only one day. So, it is very obvious that the hazy skies we saw yesterday and today result from Saharan dust, not rain….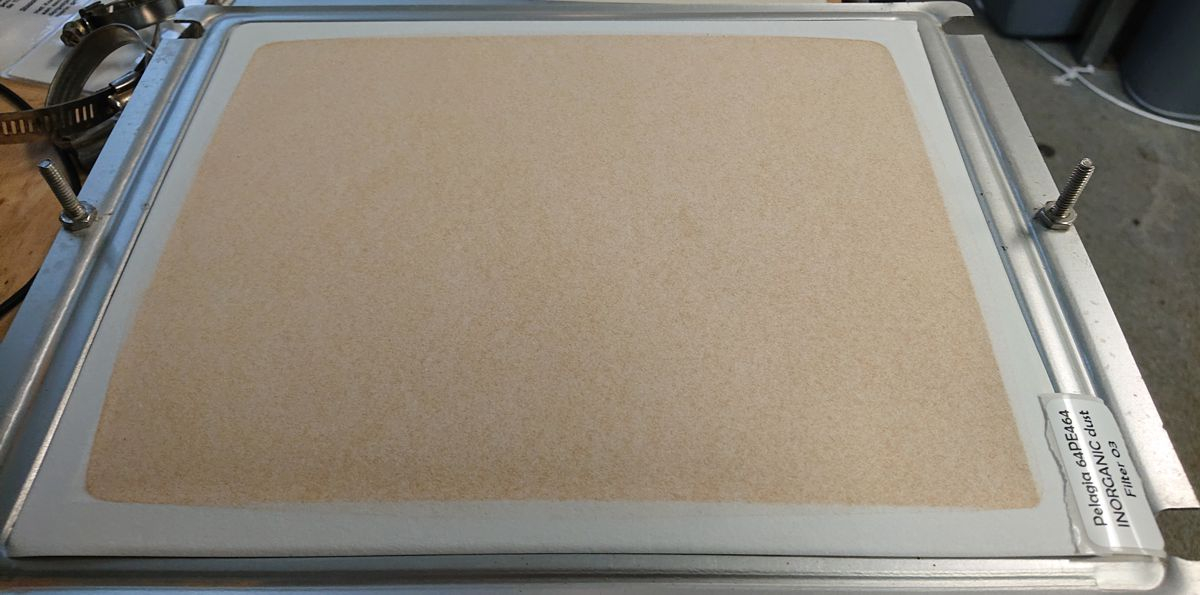 15 november
The buoy contains a carousel with 24 filters through which air is pumped. Here you see clearly how the filter is loaded with Saharan dust. We know how much air is pumped through per filter and by measuring the amount of dust on the filter, we can calculate the concentration of dust per m³ air. These numbers are of vital importance for satellite-derived estimates of dust concentrations as it is the only way to calibrate the sensors on the satellites. In addition, we will analyse the particle-size distribution, chemical composition and mineralogical content of the dust and trace the material back to the African sources from where they were emitted.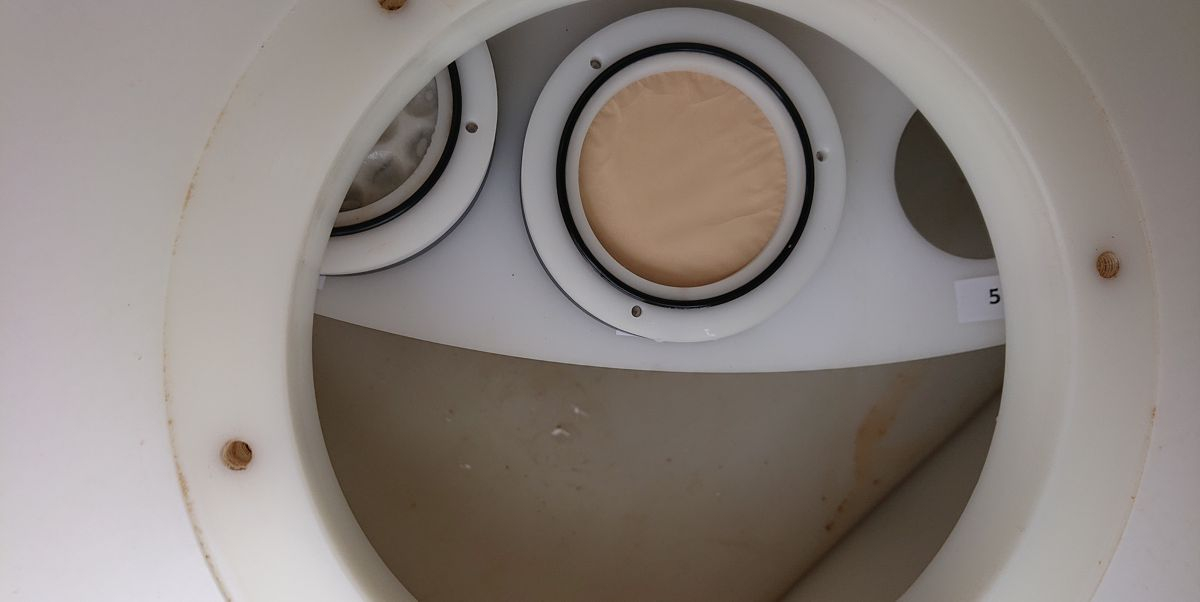 When looking at the horizon, one can see a bit of a haze; especially when the sun breaks through the clouds. When looking at the water, one could think this is rain but in fact it is dust that is blown around below the clouds. Given that estimates of dust crossing the ocean are based on satellite images, that can only provide quantitative numbers under cloud-free conditions, it is easy to conclude that we don't know a lot about the amounts of Saharan dust that are deposited into the ocean, yet….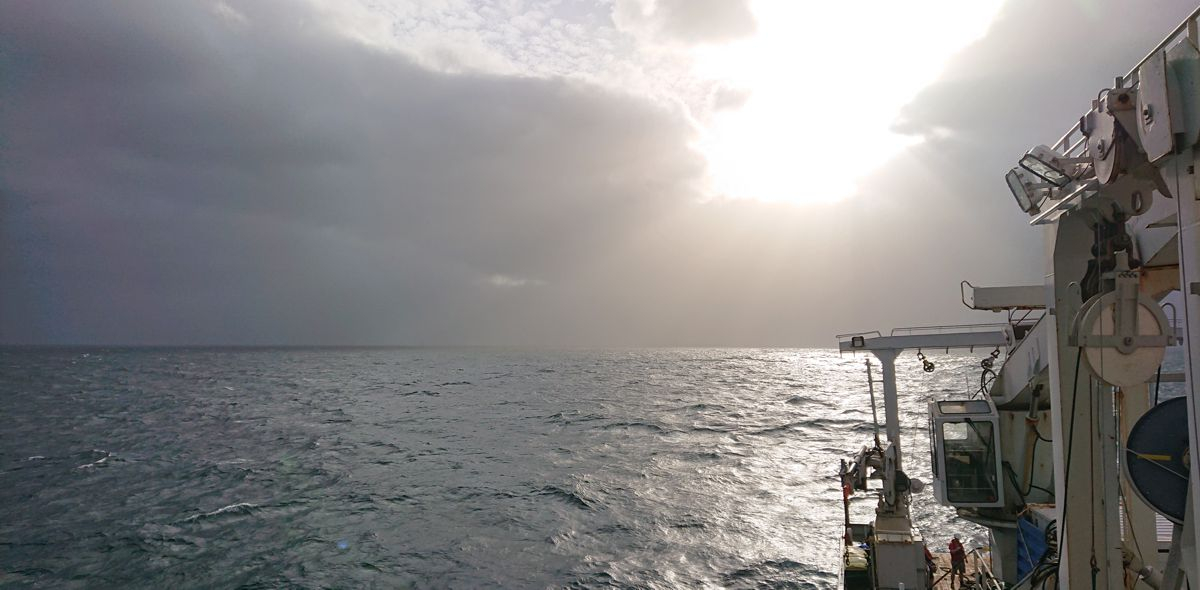 14 november
After a whole day of deploying all the cables, chains and ropes (the ocean is over 4km deep here, so we need some loooong lines between the buoy and her anchor) the buoy is ready to go in as well. Good luck, happy sampling and hope to see you back next year!​​​​​​​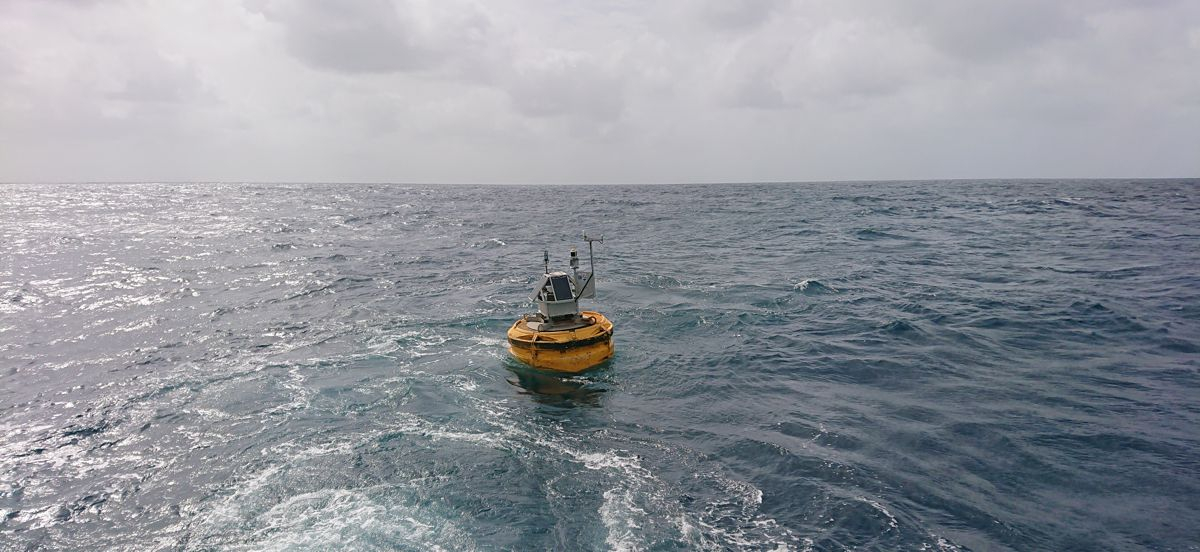 Now that the buoy is relatively clean, the new tower can be put on. Tomorrow buoy Carmen shall be re-deployed again and -almost- all is ready for this; new batteries were put in the instruments, new filters installed in the carousel and a new sampling scheme programmed into the micro-processer.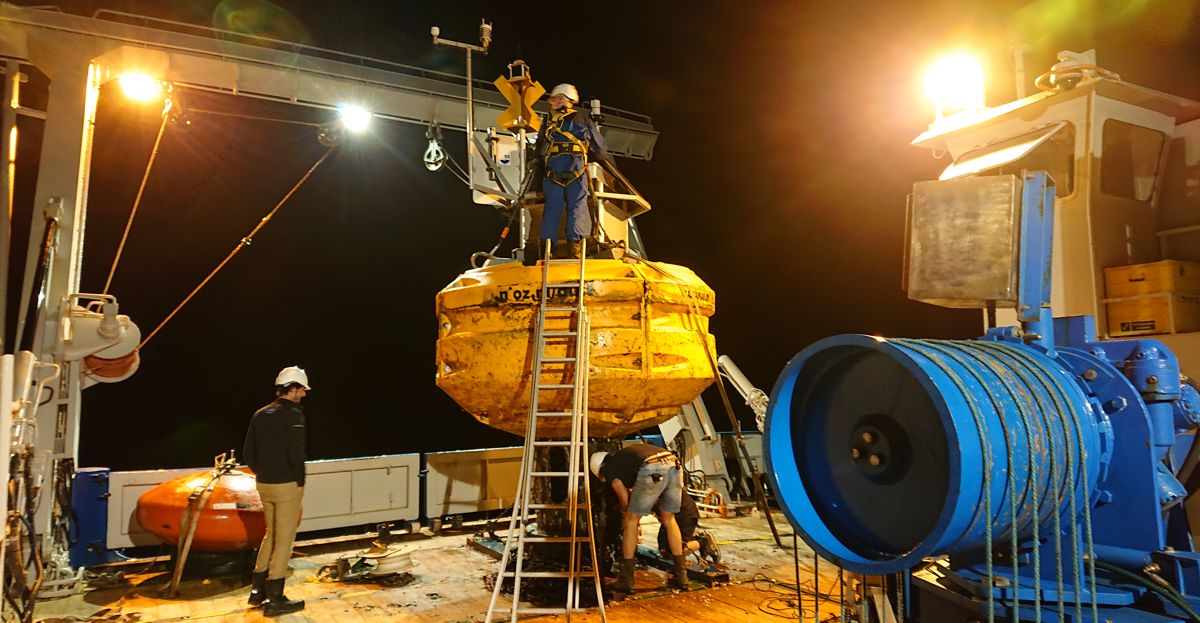 In some countries the gooseneck barnacles are considered a delicacy, we are not tempted to eat them at all, especially since after a few hours in the sun, they don't smell so good. So, we clean them off the underwater parts of the buoy. Here you see Wadinga Fomba and Geert-Jan Brummer doing their best to get rid of these sticky and smelly animals.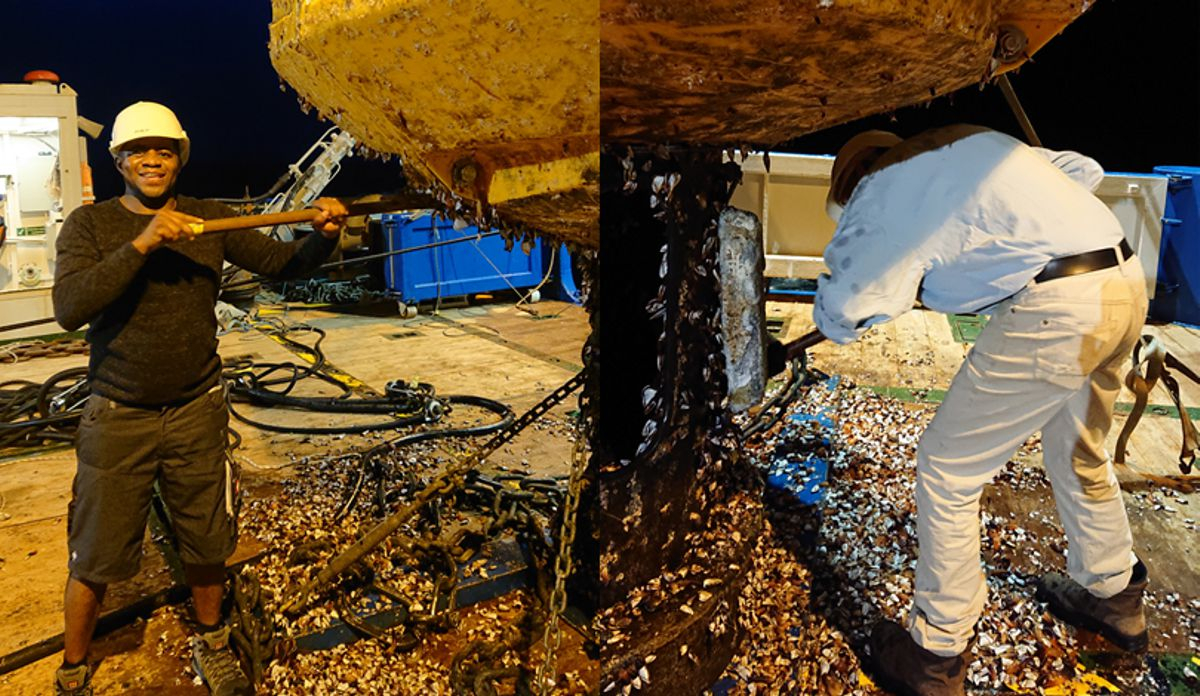 13 november
It is always exciting to find back the instruments that we deployed long time ago (in this case: one year) at sea. The dust-collecting buoys have an area with a diameter of about 3 miles in which they can move, depending on wind and currents. The sea state did not allow to see the buoy on the radar but through a connection with the iridium satellite, twice a day we receive an update on the buoys' positions, meteo, status etc. As a result, we know the actual position of the buoy relatively precisely. Nonetheless it is a always a big relief to actually see the buoy floating about. The buoys have a diameter of three meters but at sea they seem very tiny!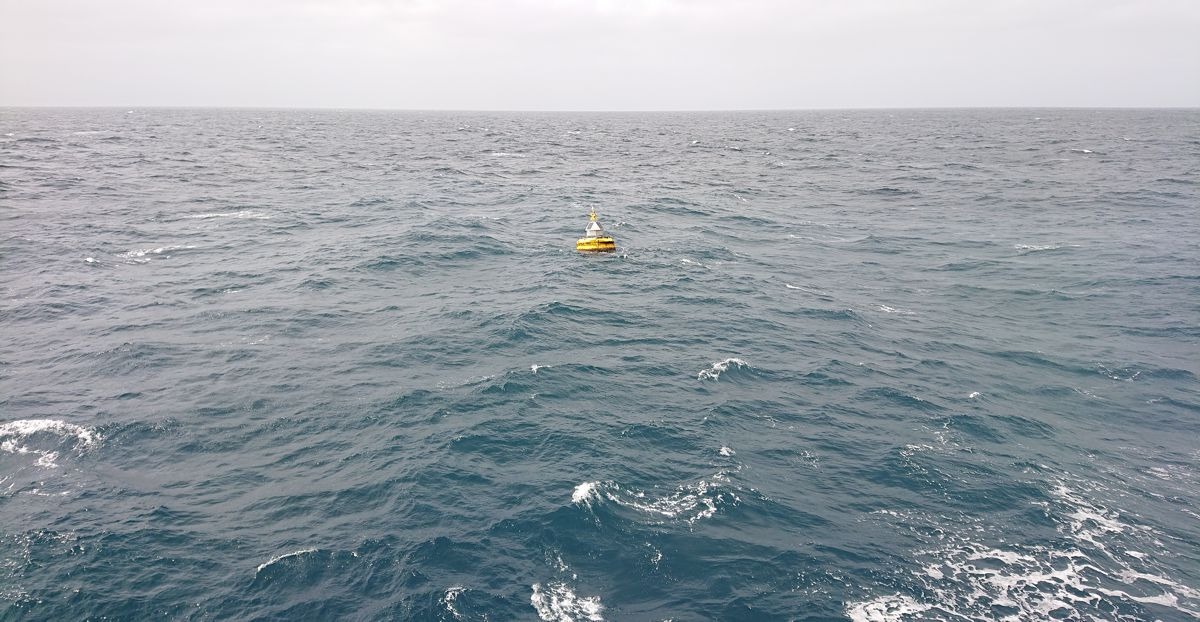 From the bridge, the whole deck can be watched using a CCTV system. This way, the team of Master Bert Puijman and his officers on the bridge can manoeuvre the ship such that her movements are minimized and that all instruments can be recovered safely. After a procedure of 7 hours, buoy Carmen is safely fixed to the deck and we can start harvesting the samples that were collected during the past year.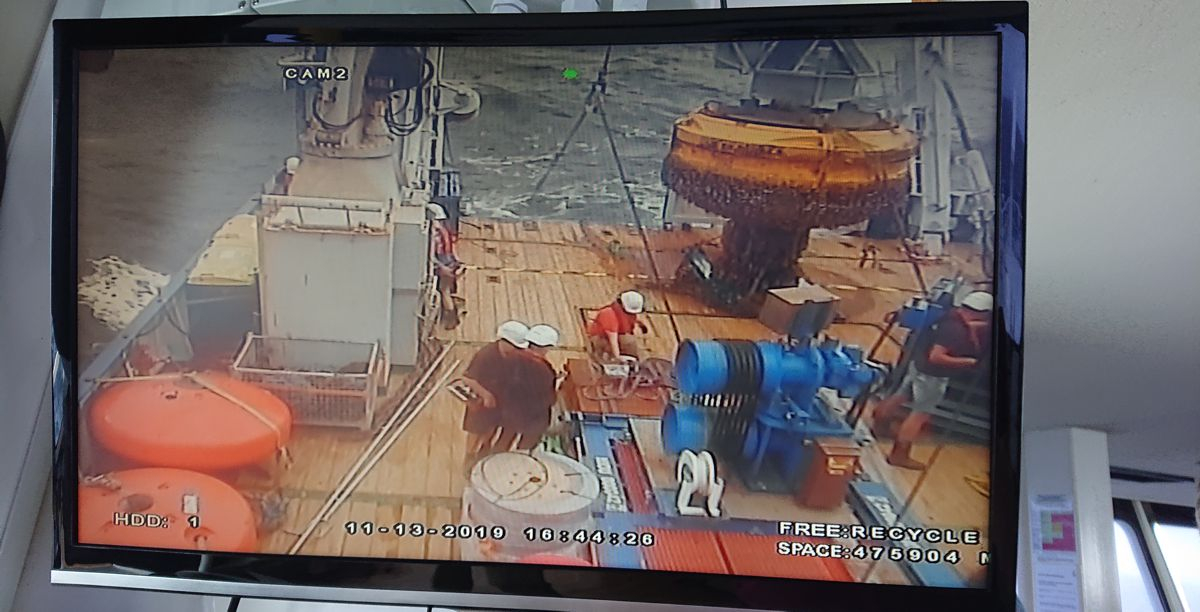 We have arrived at buoy Carmen, which has been swimming some 200 miles offshore Cape Blanc, Mauritania. This area is characterised by cold and nutrient-rich waters that are flowing from the deep to the surface. As a result of these nutrients, the ocean is teeming with life. However, this so-called upwelling region usually restricts to the parts closer to the continent and out here there is not so much ocean life to be seen. The buoy turns out to be an exception; it is completely overgrown with algae and goose-neck barnacles. These are eating by little crabs and little fish, which are again eaten by larger fish. At the top of this local food chain are the Mai-mai fish that you see on this photo. These beautifully coloured animals are about 1.5m long!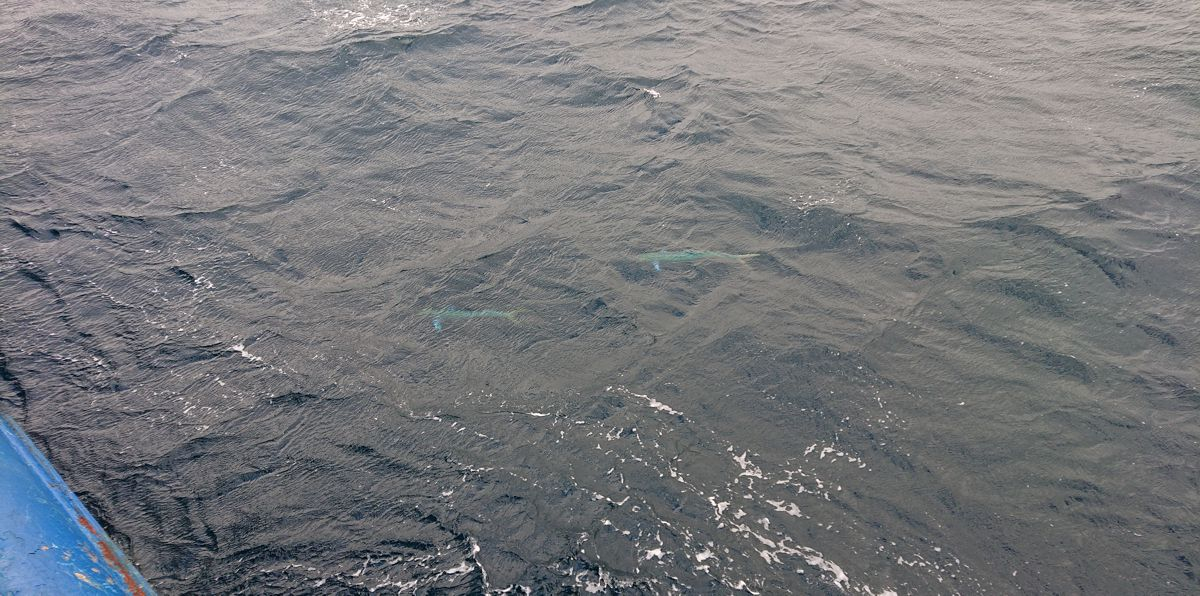 12 november
The instruments that we are using are unique in the world and therefore, the way that they are deployed is also unique. To instruct everybody on how the full procedure should go, NIOZ technicians Jan Dirk de Visser and Dave Huijsman are explaining all actions by showing a time-lapse video that was recorded during a previous expedition. This is called a toolbox meeting, with very special tools indeed!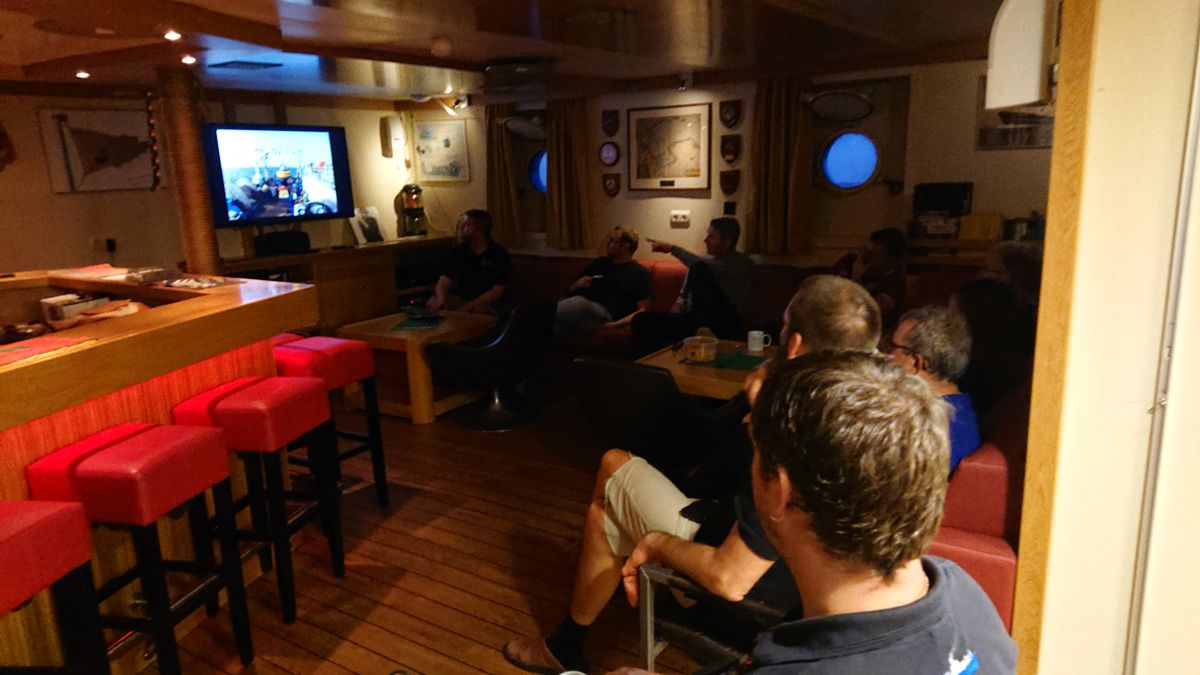 The main purpose of expedition 64PE464 – DUST2019 is to service our instruments that are monitoring Saharan dust that is transported to the Atlantic Ocean. We are collecting this material continuously with different instruments that are placed under the main dust plume leaving the Northwest part of the African continent. The two major instruments that we are using are dust-collecting buoys constructed at NIOZ, in close collaboration with colleagues from MARUM-Bremen. Here you see how Bob and Jan-Berend are preparing the mast of buoy Carmen, which we will swap with the one now standing on the buoy that has been collecting dust since the last cruise in November 2018.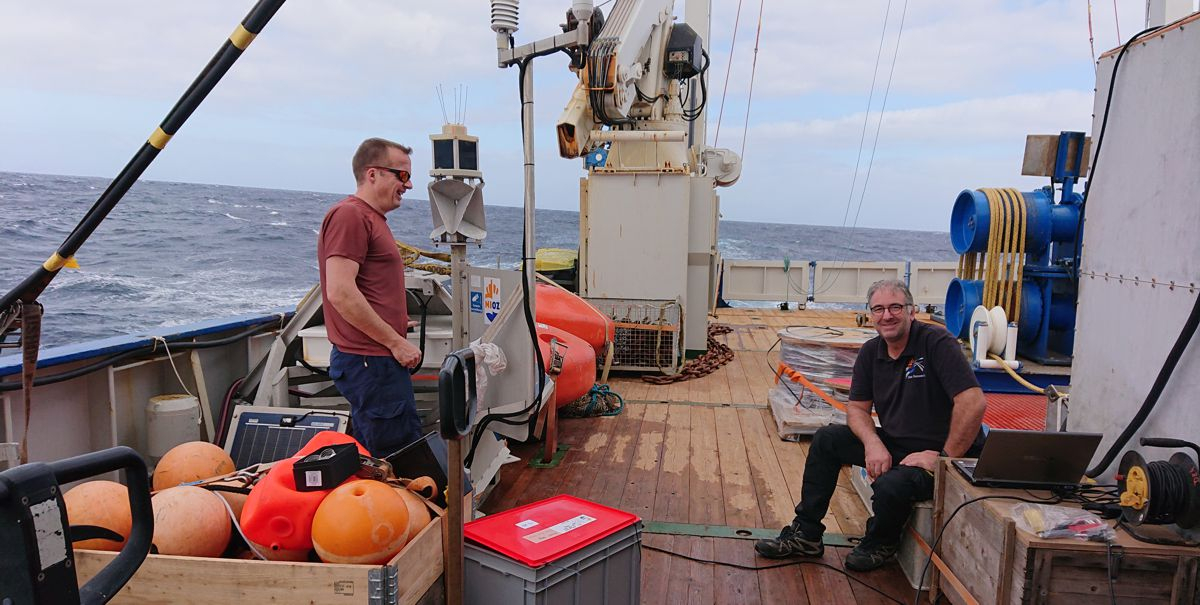 11 november
Directly after having left the harbour, we are instructed how to deal with emergency situations. This basically comes down to gathering our safety gear (life suit + life vest), gather at the muster station just in front of the bridge and follow the instructions of the 1st and 2nd officers. We obviously hope to never apply this knowledge!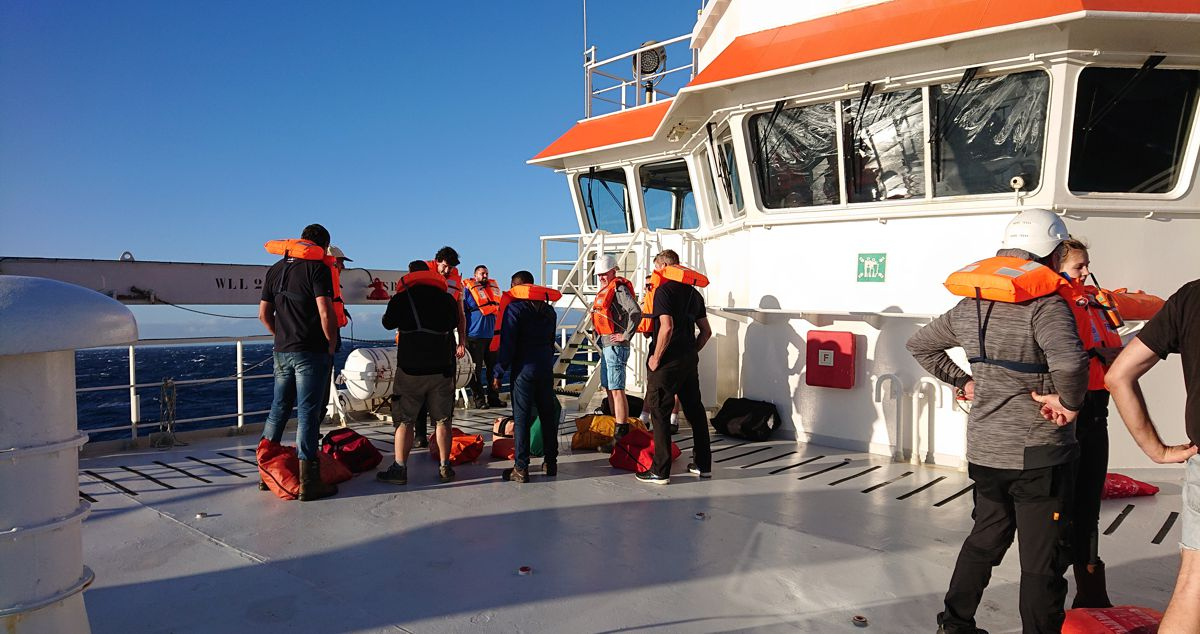 The pilot that guided us out of the harbour of Las Palmas de Gran Canaria has left us to guide another ship into the harbour. So, we are on our own again and we have set sail towards the first station offshore Mauritania. A trip of about 500 nautical miles (about 800 km). At a speed of about 10 knots, this will take us about 2 days.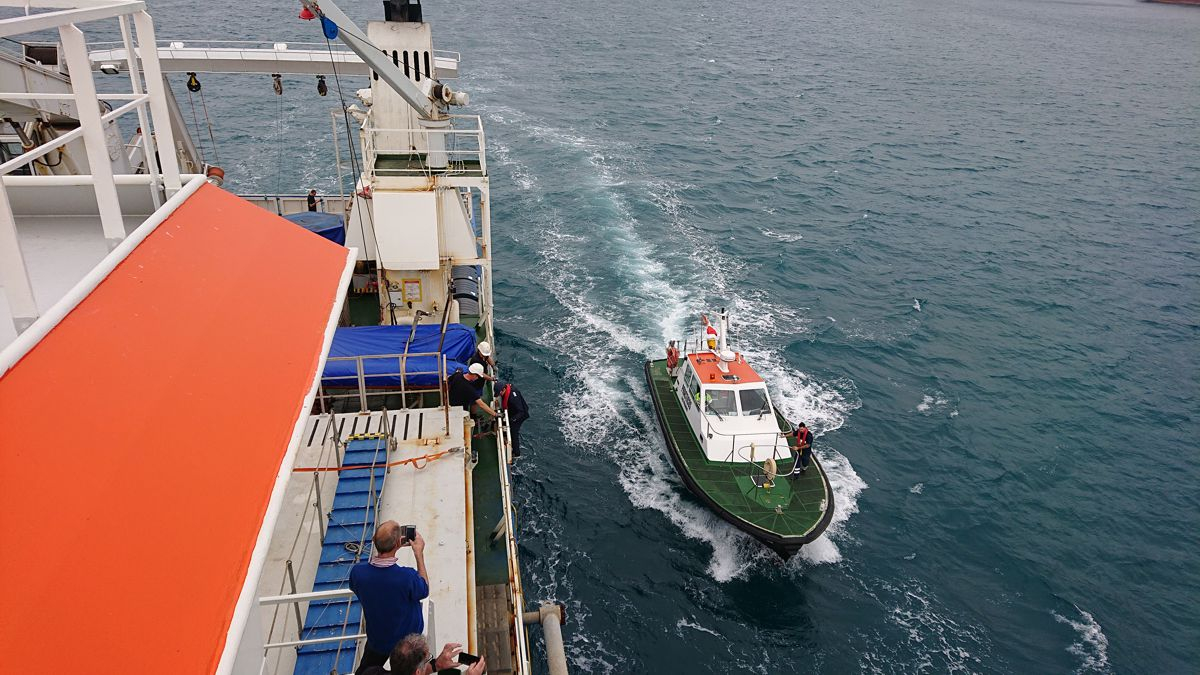 Just outside the harbour of Las Palmas there are a large number of drill ships waiting for their next assignment. With her 66m RV Pelagia is relatively small compared to these big ones!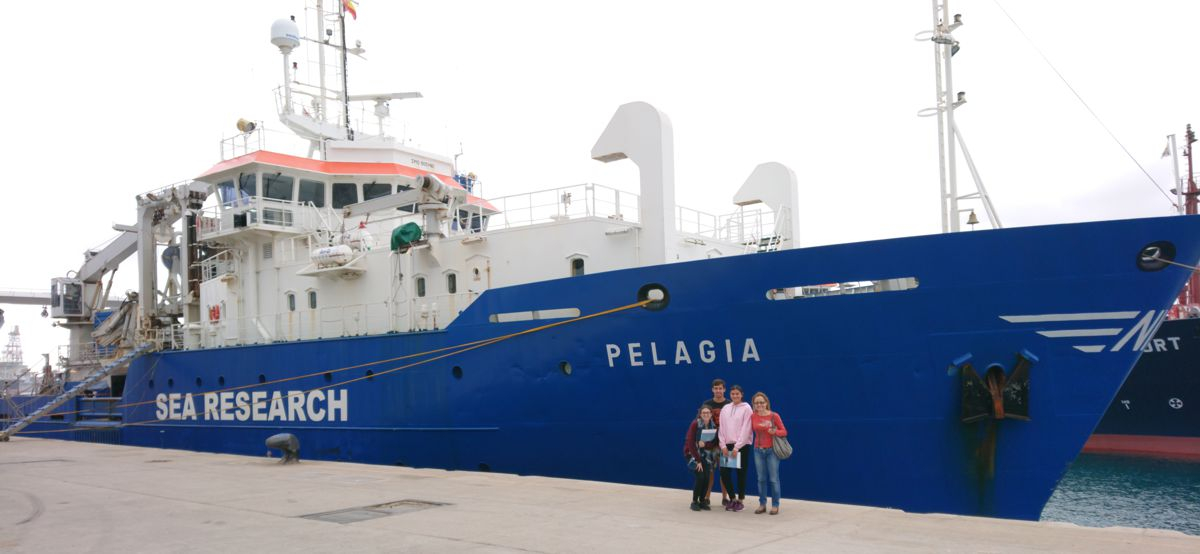 11 november
Professor Inmaculada Menéndez and three of her students from the University of Las Palmas de Gran Canaria visited us and got a tour around the ship. These colleagues are living directly below the plume of Saharan dust that leaves the northwest African continent towards the Americas, so they know very well that it is of vital importance to study its (marine) environmental effects.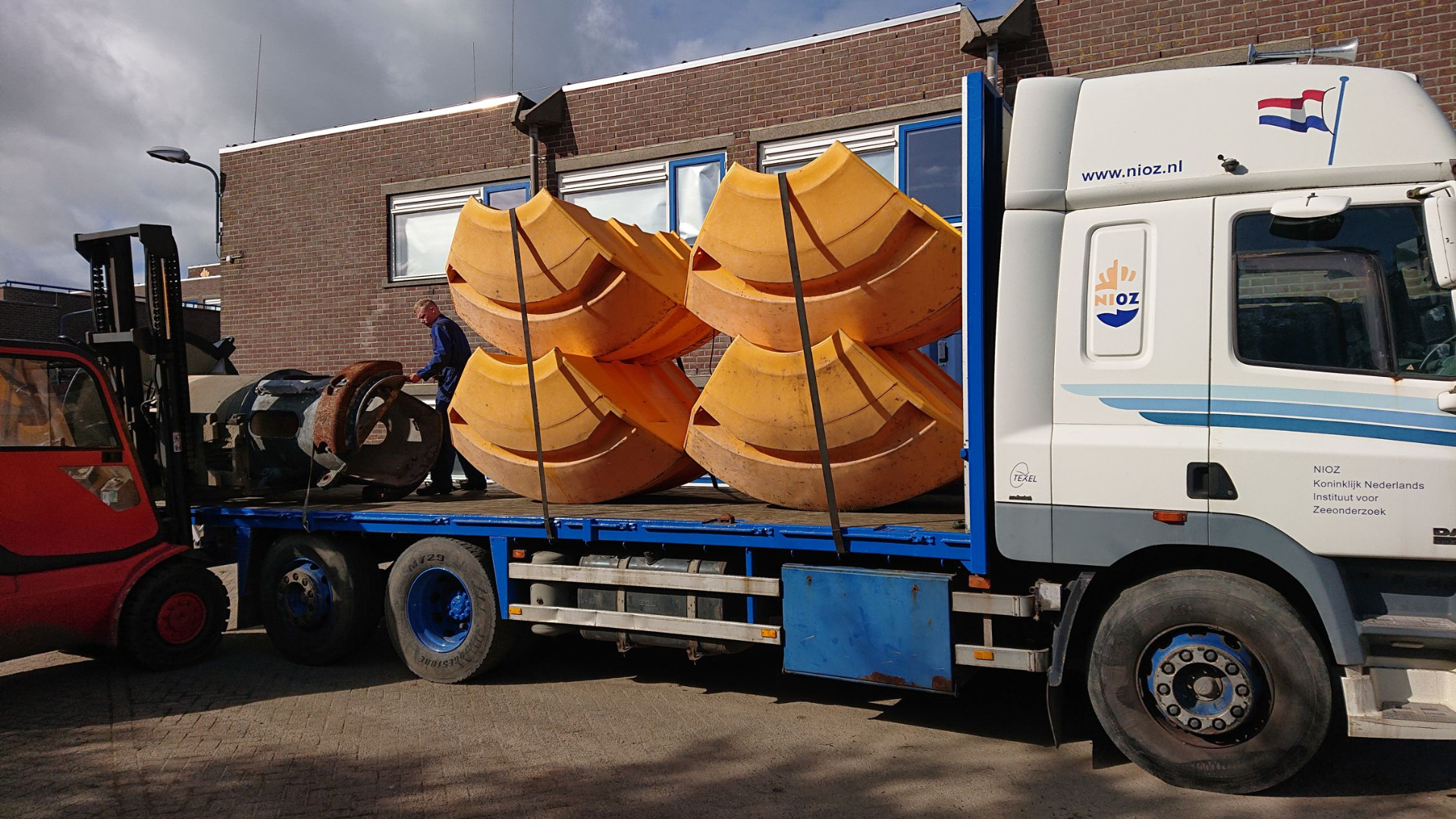 Before the actual expeditions there are a LOT of preparations to be made. Here you see how Dave loads a disassembled buoy on the NIOZ truck. Assembling the buoy means fixing the large yellow quarts around the tube that Dave is actually strapping on the truck. Metal parts are obviously corroding fast at sea and this tube has been de-rusted and freshly painted. Also the tower that shall be placed on top of the buoy has gottten a thorough maintenance by Bob and is ready to be put on deck of RV Pelagia.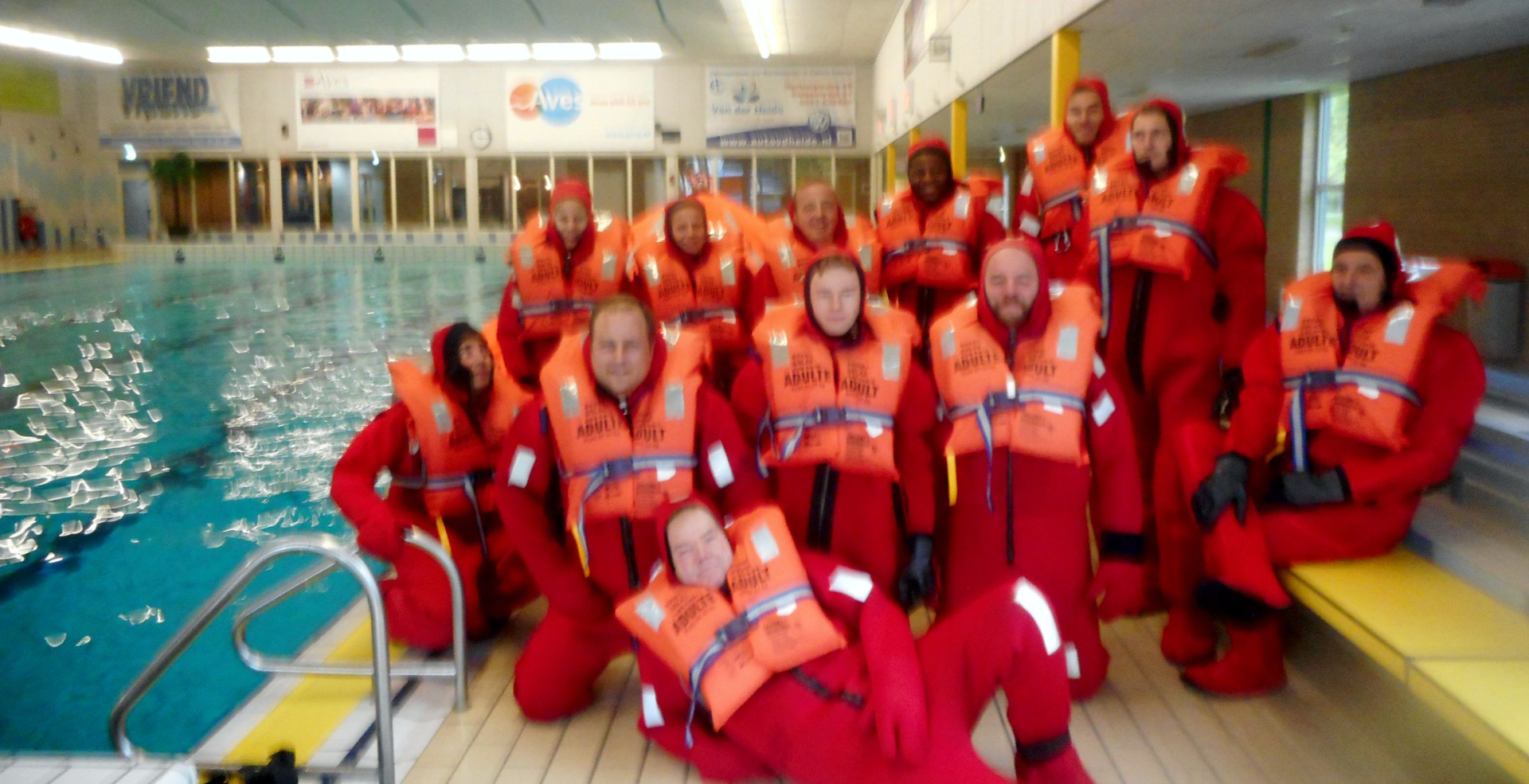 Before going to sea all cruise participants have to follow a course on personal safety on board a ship, also known as "Safety at Sea". In this course one learns for example how to (quickly) put on a life suit, do's and don'ts during emergency procedures, how to behave once in the water and also how to flip a life raft that accidentally landed in the water upside-down....
The certificate has to be refreshed every five years and not only are these trainings very useful and necessary, in fact they are also great fun!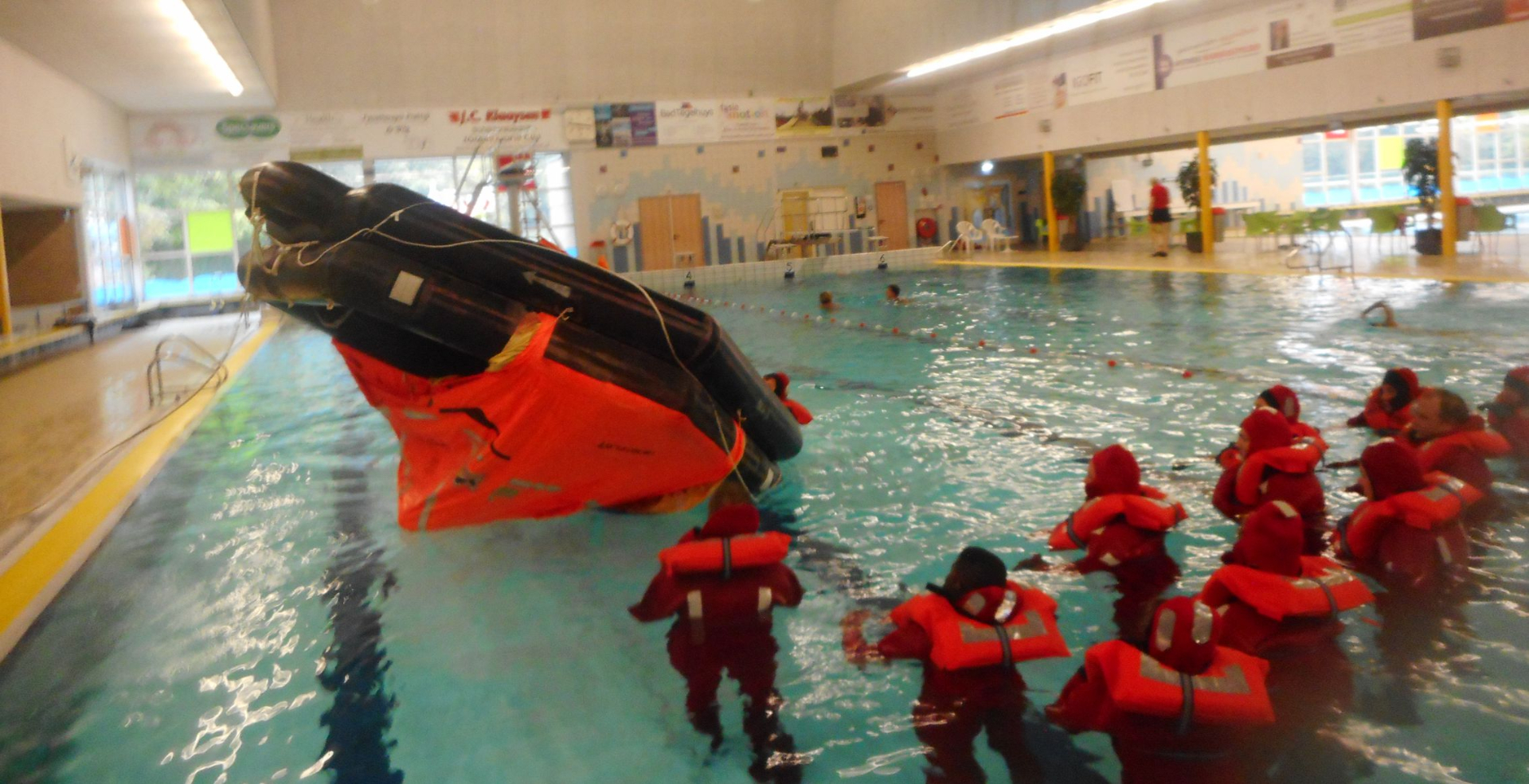 Just in case a self-inflating life raft lands in the water upside-down, we now know how to flip it again and then board it. Especially the boarding is quite a challenge in a heavy and clumsy life suit!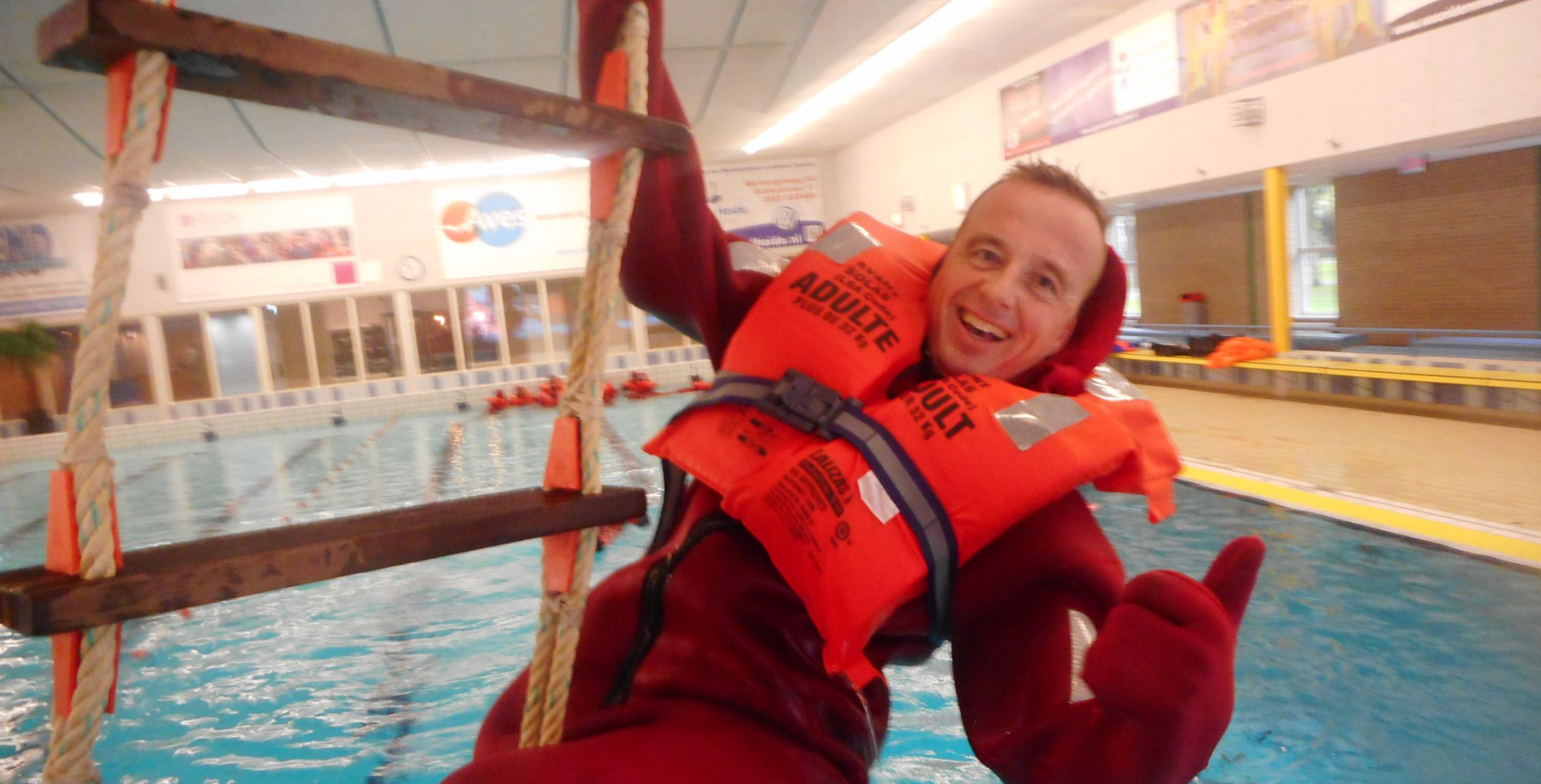 Also climbing a rope ladder is not so easy as one would think with a life suit on....