Specialisation & Current positions
I am a physical geographer, specialized in coastal processes (PhD 1999, University of Amsterdam; postdoctoral research fellow 1999 up to 2002 at Royal Holloway, University of London).
In 2002, I joined NIOO/NIOZ in Yerseke, focusing on remote sensing of tidal (eco)systems.
Since Oct 2017, I am also part-time full professor at the University of Twente, Faculty of Geo-Information Science and Earth Observation (ITC).
Remote sensing of tidal (eco)systems
Theme
The central theme of my work is to assess interactions between organisms (such as saltmarshes, algae, shellfish) and their environment, shaping the estuarine, delta and coastal landscape.
Current research topics
Methods & techniques
forward and inverse modelling with remote sensing data (radar/SAR, optical and TIR satellite data, hyperspectral and LIDAR airborne data, near-surface and field measurements),
spatial analyses in Geographical Information Systems (GIS)
combination of earth observation with field surveys and experiments, and (hydrodynamic) models
Selected projects
- NWO/NSO Ruimteonderzoek, "Saltmarshes under stress: thresholds for saltmarsh dynamics from global satellite data" (MARSH), 2017-2021. PhD candidate at NIOZ: Marieke Laengner, 2017-2021.
- EU FP7 SPACE - FAST "Foreshore Assessment using Space Technology". Consortium Deltares, University of Cambridge, NIOZ Royal Netherlands Institute for Sea Research, University of Cadiz, GeoEcoMar. PhD candidate at NIOZ: Bas Oteman, 2014-2018.
- NWO/NSO Ruimteonderzoek: "Benthic diatoms as indicator for ecosystem structuring in shallow tidal waters. PhD candidate at NIOZ Tisja Daggers, 2013-2017.
- NWO/NSO Ruimteonderzoek: "Consequences of global change for ecosystem engineering of shellfish". PhD-candidate at NIOZ Sil Nieuwhof, 2012-2016. See Sil's PhD thesis.
Feature EU FAST:
Foreshore Assessment using Space Technology

FAST has developed services to help design nature-based flood risk strategies in foreshores, based on earth observation data and big data analysis capabilities.
Read more on EU FAST in the associated article on this Copernicus downstream service for coastal needs. See also the synthesis of results.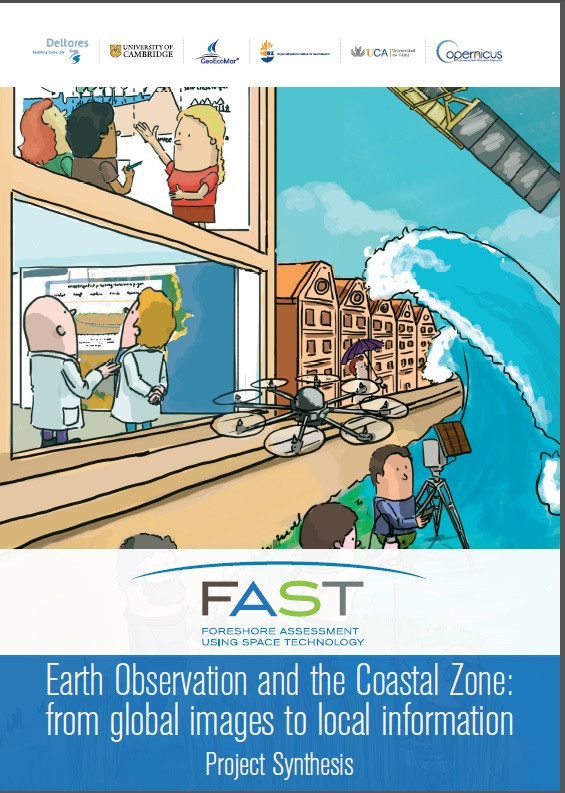 And try the MI-SAFE tool!