What are the odds: same individual bird 'Yellow-Green' found by same researcher three times, 8,500 kilometres apart
Publication date: Thursday 30 April 2020
A male knot that was fitted with colored rings in Siberia in July 2019, was resighted yesterday in the Wadden Sea, east of the island of Texel. He is one of the very first knots that arrived in the Dutch Wadden Sea this spring. Last November, this very same bird was also one of the first to be seen in the National Park Banc d'Arguin, in Mauritania, West Africa. ' I think this early bird is the perfect example of a future knot', says research leader Dr Jan van Gils of the NIOZ Royal Netherlands Institute for Sea Research. 'To be successful, knots have to advance their calendar. Above all, they need to arrive early on the Siberian breeding grounds, due to the changing climate. Otherwise they will be too late for the much earlier peak in insects that come out of the earlier thawing ground, leaving their chicks starving.'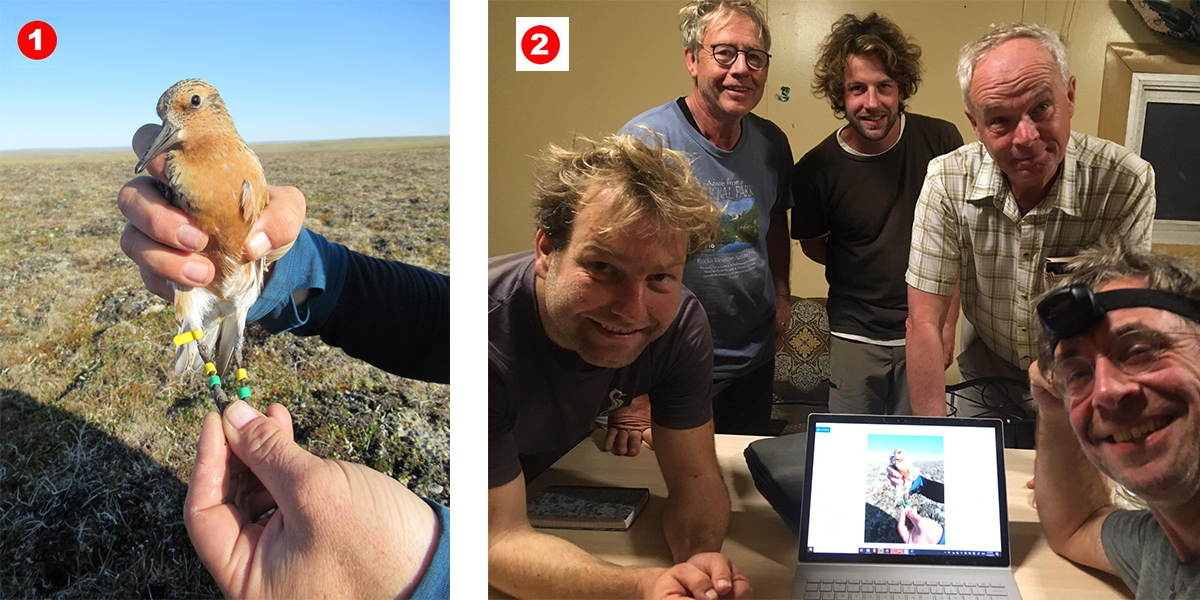 Unique combination of colors
The record knot (Calidris canutus canutus) was caught on July 18, 2019 on the Siberian peninsula Taimyr, by NIOZ researcher Job ten Horn. He was also the one who resighted the very same bird on the West-African wintering grounds, and now on the Texel mudflats. This individual can be recognized by a unique combination of colored rings, plus one yellow 'flag' on 'position 2': above the knee of the right leg. In the ornithologists jargon, the bird is therefore named 'yellow 2 yellow green yellow green'. Now that he has become a regular guest, he is nicknamed 'Yellow Green' by Ten Horn.
Van Gils and Ten Horn are catching a male knot like 'Yellow Green' in Taimyr in the summer of 2019. It takes a lot of patience.
Corona flight ban
Both Van Gils and Ten Horn are hoping and praying to see 'their' knot for a fourth time this summer. Van Gils: 'Right now, flights to Siberia are – of course - suspended due to the corona outbreak. But if the ban is lifted in time, we hope to travel 'with Yellow Green' to the breeding grounds on Taimyr again, to study breeding knots.' In the past two summers, Van Gils discovered that knots are very much affected by the changing climate. 'With insects coming out of the ground earlier every year, we saw that young knots leave Siberia with a significantly smaller body size than they used to.'
'It is both encouraging and moving to see this one individual bird that we got to know so well in these different places', Van Gils admits. 'While we are very much affected by the corona pandemic, these birds keep on travelling impressive distances in their attempt to survive and raise chicks.'
Onderzoeker vindt dezelfde individuele vogel 'Yellow Green' bijgenaamd, 8.500 kilometer verderop terug, eerst in Siberië, daarna in West-Afrika en nu in de Waddenzee
Een mannetjes kanoet die in juli 2019 in Siberië van kleurringen werd voorzien, is gisteren opnieuw gezien in de Waddenzee, ten oosten van het eiland Texel. Hij is één van de allereerste kanoeten die dit voorjaar in de Nederlandse Waddenzee is aangekomen. Afgelopen november was deze zelfde vogel ook één van de eerste kanoeten die werden waargenomen in het Nationale Park Banc d'Arguin, in Mauritanië, West-Afrika. "Ik denk dat deze vroege vogel het perfecte voorbeeld is van een toekomstige kanoet", zegt onderzoeksleider Dr Jan van Gils van het NIOZ Koninklijk Nederlands Instituut voor Zeeonderzoek. Om succesvol te zijn, moeten kanoeten hun kalender vervroegen. Door het veranderende klimaat moeten ze bovenal vroeg in hun Siberische broedgebied aankomen. Anders zijn ze te laat voor de veel vroegere piek in insecten die nu uit de sneller ontdooiende bodem komen en verhongeren hun kuikens.
Unieke combinatie van kleuren
De recordkanoet (Calidris canutus canutus) werd op 18 juli 2019 op het Siberische schiereiland Taimyr gevangen door NIOZ-onderzoeker Job ten Horn. Hij was ook degene die dezelfde vogel in het West-Afrikaanse overwinteringsgebied, en nu op het Texelse wad, heeft teruggevonden. De kanoet is te herkennen aan een unieke combinatie van gekleurde ringen, plus een gele 'vlag' op 'positie 2': boven de knie van de rechterpoot. In het jargon van de ornithologen wordt dit individu, gezien zijn combinatie van kleurringen, 'geel 2 geelgroen geelgroen' genoemd. Nu hij een vaste gast is geworden, krijgt hij van Ten Horn de bijnaam 'Yellow Green'.
Last november 'Yellow Green' was seen almost daily on the seagrasss-covered mudflats at Abelgh Eiznaya, Banc d'Arguin, Mauritania. Video footage made by Tim Oortwijn
Corona-vluchtverbod
Zowel Van Gils als Ten Horn hopen en bidden deze zomer voor de vierde keer 'hun' kanoet te zien. Van Gils: Op dit moment zijn de vluchten naar Siberië - natuurlijk - opgeschort vanwege de corona-uitbraak. Maar als het verbod op tijd wordt opgeheven, hopen we 'met Yellow Green' weer naar het broedgebied in Taimyr te vliegen om broedende kanoeten te bestuderen. In de afgelopen twee zomers ontdekte Van Gils dat kanoeten zeer sterk worden beïnvloed door het veranderende klimaat. 'Doordat de insecten elk jaar vroeger uit de grond kwamen, zagen we dat jonge kanoeten Siberië verlaten met een beduidend kleinere lichaamsgrootte dan vroeger.' Het is zowel bemoedigend als ontroerend om deze ene individuele vogel te zien die we op deze uiteenlopende plaatsen zo goed hebben leren kennen', geeft Van Gils toe. 'Terwijl wij mensen in onze bewegingsvrijheid beperkt worden door de coronapandemie, blijven deze vogels indrukwekkende afstanden afleggen in hun poging om te overleven en hun kuikens op te voeden.'