Unusually fast beaked whale has special deep-sea hunting strategy
Publication date: Thursday 12 May 2022
An international team of biologists has successfully used biologgers to reveal insights into the lifestyle and hunting behaviour of the little-known species Sowerby's beaked whale. The team's first results show that these dolphins have a surprisingly different, much faster lifestyle than related species. The research was led by Fleur Visser of the University of Amsterdam (UvA) and the Royal Netherlands Institute for Sea Research (NIOZ). The results were published on 12 May in the 'Journal of Experimental Biology'.
~~ for Dutch scroll down ~~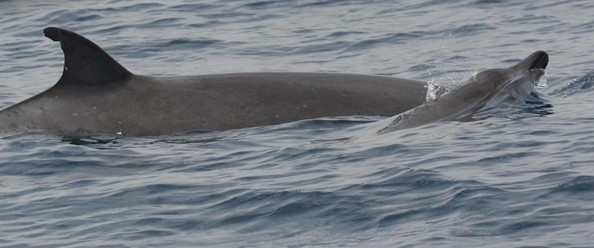 Beaked whales include a number of species of marine mammals that can perform record-breaking dives. They routinely visit depths of up to several kilometres during hour-long hunting trips searching for deep-sea squid and fish. Due to their elusive nature and limited surface presence, little is known about their behaviour.
With 16 species, the so-called Mesoplodont whales form the largest genus of cetaceans. The genus includes some of the least-known marine mammals - so much so that three new species of these rhinoceros-sized whales have been discovered in just the past 30 years. Most of the species are physically very similar and are all assumed to be specialised deep-sea predators. Moreover, they often occur in the same areas and forage at similar depths. This raises the question as to how they are able to avoid competition among themselves for the same prey.
For a few beaked whale species, biologging tags, attached to their backs with suction-cups, have revealed that they typically have a low-energy lifestyle: they are able to perform extreme deep dives through slow, energy-conserving swim-styles and hunting strategies. But Sowerby's beaked whales had never been tagged before. However, after years of effort, the research team were able to deploy biologging tags on two Sowerby's beaked whales. The tags recorded detailed information about the diving, movement and echolocation strategies of these extremely shy animals, providing the first opportunity to investigate their foraging behaviour. This enabled direct comparison of their hunting strategies with those of their close relatives, the slow-moving Blainville's beaked whale.
Rare insight into the near-surface behaviour of Sowerby's beaked whales (Mesoplodon bidens), recorded in the waters off Terceira Island, Azores. Aerial imagery: MG Oudejans, Kelp Marine Research. Taken under permit: LMAS-DRAM/2018/01
Much to the researchers' surprise, Sowerby's beaked whales differ strongly from other Mesoplodon species in their swimming and hunting strategies. While targeting a similar foraging depth (800-1300 m), they consistently swim faster, perform shorter deep dives, and echolocate at a faster rate, with higher frequency clicks. This first record of a 'fast' beaked whale suggests that Mesoplodon whales exploit a broader diversity of deep-sea niches than hitherto suspected. The deep-sea is a rich and diverse hunting ground for marine mammal predators, who have clearly developed a wider range of specialised strategies to be able to exploit it than was previously known. The marked deviation of Sowerby's beaked whales from the typically slower behaviour of other beaked whales also has potential implications for their response to man-made sounds, which appear to be strongly behaviourally-driven in other species.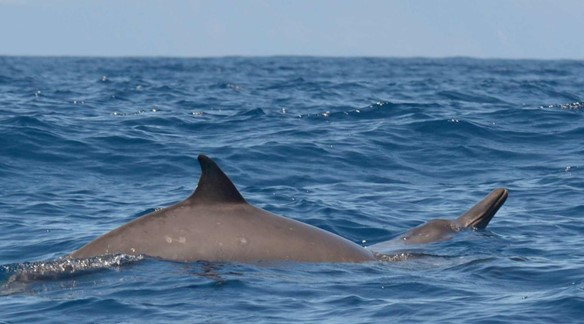 ---
Snelle spitssnuitdolfijn jaagt met bijzondere jachtstrategie in de diepzee
Een internationaal team van biologen is erin geslaagd om met biologgers het gedrag van de relatief onbekende gewone of Noordzee-spitssnuitdolfijn te bestuderen. Deze dolfijnensoort wordt zelden waargenomen, en jaagt in de diepzee. Hun eerste resultaten laten zien dat de dolfijnen een verassend andere, snellere leefstijl hebben dan sterk verwante soorten. Het onderzoek werd geleid door Fleur Visser van de Universiteit van Amsterdam (UvA) en het Koninklijk Nederlands Instituut voor Onderzoek der Zee (NIOZ). De resultaten zijn op 12 mei gepubliceerd in vakblad 'Journal of Experimental Biology'.
Spitssnuitdolfijnen zijn zeezoogdieren die recordbrekende duiken kunnen maken waarbij ze lang hun adem inhouden. Ze jagen op diepzee-inktvissen en vissen op diepten van één of zelfs meerdere kilometers, tijdens duiken van een uur.
Met nog 15 andere soorten spitsneusdolfijnen is het geslacht Mesoplodon het grootste geslacht van walvisachtigen. Omdat ze zich maar zelden aan het zee-oppervlakte vertonen, omvat het ook enkele van de minst bekende zeezoogdieren. In de afgelopen 30 jaar zijn zelfs drie nieuwe soorten van deze neushoorn-grote dolfijnen ontdekt. De meeste Mesoplodon-soorten lijken fysiek sterk op elkaar, en er wordt aangenomen dat het allemaal gespecialiseerde diepzeeroofdieren zijn. Bovendien komen ze vaak voor in hetzelfde gebied voor en jagen ze op vergelijkbare diepten. Dit roept bij biologen de vraag op hoe ze concurrentie om dezelfde prooi kunnen vermijden.
Biologgers
Eerder is het bij een paar andere soorten uit deze groep van spitssnuitdolfijnen gelukt om apparaatjes genaamd biologgers met een zuignap op hun rug te bevestigen. Dit leverde biologen waardevolle informatie op over hun manier van leven. Spitssnuitdolfijnen blijken doorgaans een energiezuinige levensstijl hebben: ze kunnen hun extreem diepe duiken maken door middel van langzame, energiebesparende zwemstijlen en jachtstrategieën.
Na jaren van inspanning zijn wetenschappers uit Nederland en Denemarken er nu eindelijk ook in geslaagd om voor het eerst biologgers te plaatsen op de rug van twee Noordzee-spitssnuitdolfijnen. De apparaatjes registreerden gedetailleerde informatie over de duik-, bewegings- en echolocatiestrategie van deze extreem schuwe dieren, waardoor voor het eerst hun foerageergedrag (voedsel-zoekgedrag) in detail kon worden bestudeerd.

Verbazing
Tot grote verbazing van het onderzoeksteam verschillen de Noordzee-spitssnuitdolfijnen in hun zwem- en jachtstrategie sterk van verwante soorten. Visser, hoofdauteur, van de nu verschenen wetenschappelijke publicatie over de dieren vertelt: 'Hoewel deze spitsneusdolfijnen jagen op een vergelijkbare diepte als verwante soorten, namelijk zo'n 800-1300 meter, zwemmen en jagen ze consequent veel sneller en maken ze kortere diepe duiken. Ze echoloceren ook met een hogere snelheid en met klikken met een hogere frequentie.'
Volgens Visser en haar teamgenoten betekent deze eerste waarneming van een 'snelle' spitssnuitdolfijn dat de soorten uit het geslacht Mesoplodon gebruik maken van een grotere diversiteit aan diepzee-niches tot nu toe werd vermoed. De diepzee is een rijk en divers jachtgebied voor de zeezoogdieren, die naar nu blijkt een breder scala aan gespecialiseerde strategieën hebben ontwikkeld om het te kunnen exploiteren dan voorheen bekend was. De biologen vermoedden daarnaast dat door hun afwijkende en snellere levensstijl Noordzee-spitssnuitsolfijnen waarschijnlijk ook anders reageren op door mensen veroorzaakte geluiden, zoals dat van schepen, dan hun langzamere zuster-soorten.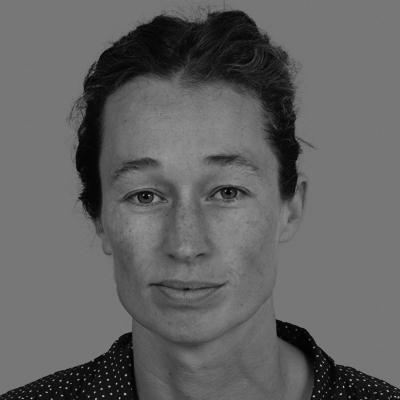 Fleur Visser
Publication
Visser F, Oudejans MG, Keller OA, Madsen PT and Johnson M (2022). Sowerby's beaked whale biosonar and movement strategy indicate deep-sea foraging niche differentiation in mesoplodont whales. Journal of Experimental Biology (2022) 225, jeb243728. doi:10.1242/jeb.243728