Britse ornithologieprijs voor Theunis Piersma en zijn trekvogelonderzoek | British Marsh Award for International Ornithology won by Theunis Piersma
Publication date: Wednesday 18 October 2017
[English version below] Prof. dr. Theunis Piersma, hoogleraar Trekvogelecologie aan de Rijksuniversiteit Groningen en waddenbioloog bij NIOZ, heeft de prestigieuze 'Marsh Award for International Ornithology' gewonnen. Piersma ontving de prijs op 18 oktober in Londen van de British Trust for Ornithology voor zijn onderzoek naar migratie, ecologie en evolutie van trekvogels.
Jury: 'Beleidsrelevant onderzoek'
Met een internationaal team onderzoekt de Nederlandse Piersma de manier waarop verspreiding en aantallen wad- en weidevogels samenhangen met klimaat, voedsel, roofdieren, ziektekiemen en de historisch-genetische achtergrond. De Britse jury roemde de grote beleidsrelevantie van het onderzoek, dat helpt signaleren waar wad en platteland het risico lopen op overexploitatie. Ook Piersma stond hierbij stil tijdens de prijsuitreiking: "Trekvogels laten ons op nieuwe en confronterende manieren zien wat onze omgang van de wereld voor hen, en uiteindelijk ook voor ons mensen, betekent. Nu we na jaren van studie in staat zijn hen 'te lezen' wordt pijnlijk duidelijk hoe serieus we ze moeten nemen als de kanaries in de kolenmijn."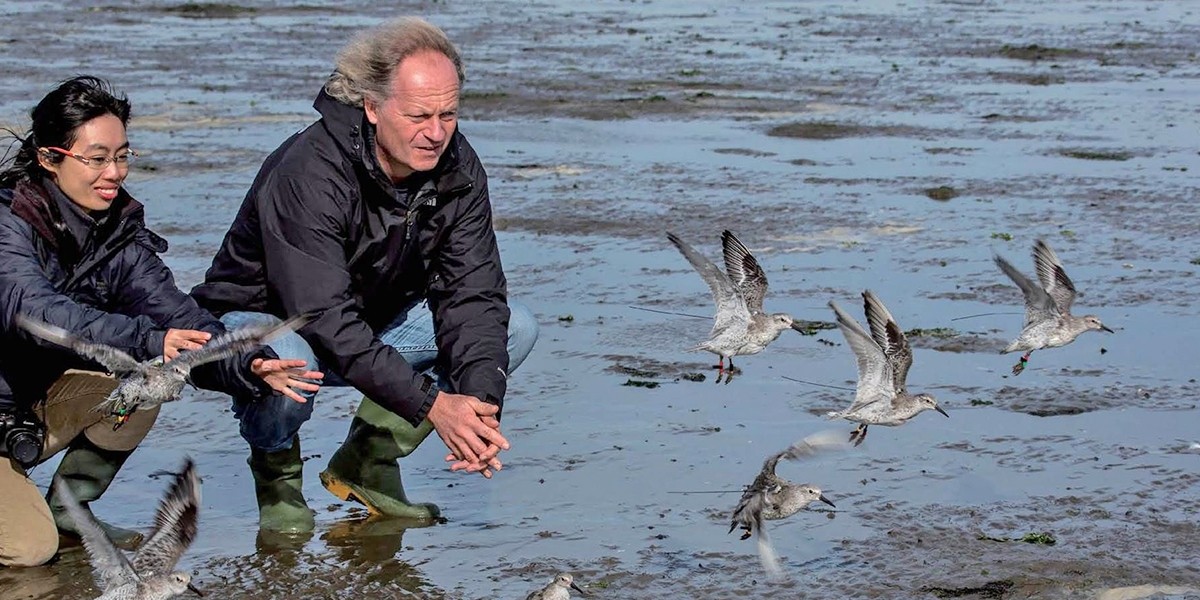 Flyways
Met de modernste middelen en vernieuwende concepten onderzoekt Piersma schijnbaar alledaagse fenomenen. Zijn onderzoek vindt niet alleen plaats in Nederland, maar ook in Afrika, Australië, Noord- en Zuid-Amerika en Azië. Piersma ziet de trekvogels niet als passanten, maar als verbindende factoren in een wereldwijd netwerk van ecosystemen.
Trekvogels gebruiken specifieke routes; de flyways. Dit concept, mede door Piersma ontwikkeld, vormt inmiddels wereldwijd de basis voor natuurbeschermingsverdragen. In 2014 won Theunis Piersma al de prestigieuze Spinozapremie voor dit onderzoek. Hij staat bekend als een van de grootste voorvechters van behoud van de Waddenzee.
Over de prijs
De 'Marsh Award for International Ornithology' is een jaarlijkse prijs voor een individuele wetenschapper wiens internationale onderzoek van invloed is op de Britse vogelkunde en wetenschappers en vrijwilligers verbonden aan het British Trust for Ornithology. Aan de Marsh Award is een bedrag van 1.000 Engelse pond verbonden.
~~~~~~~~~~~
British Marsh Award for International Ornithology won by Theunis Piersma
Jury: "Scientific work of high policy relevance"

Professor Theunis Piersma, of the University of Groningen and of the NIOZ Royal Netherlands Institute for Sea Research, has been awarded the prestigious Marsh Award for International Ornithology by the British Trust for Ornithology (BTO). The award, which is presented annually, is given to an individual scientist whose work on the international stage has had a significant influence on British ornithology. This year, the Marsh Award for International Ornithology has been awarded to Professor Theunis Piersma in recognition of his scientific work on migration, ecology and evolution of birds and other taxa.
Using Red Knots and Black-tailed Godwits as the maina study species, Theunis and his group established a framework to predict the physical attributes and behaviour of individuals based on climatic, disease and food related factors. His work as also focused on the evolutionary trade-offs involved in predation and anti-predatory behaviour across different species along the food chain. This work, in particular, holds high policy-relevance, as it informs on the risk of overexploitation of marine areas as well as our countryside.
Professor Piersma was also one of the driving forces in establishing the Global Flyway Network, which focuses on long-term demographic studies of shorebirds to identify natural selection pressures on this beleaguered group of birds.

Dr Daria Dadam, BTO, said, "Theunis is a very worthy recipient of the Marsh Award for International Ornithology. His work on shorebirds has revolutionised the way we think about how these birds interact with the habitats they live and feed in. Without this we would have a much poorer understanding of just how important our marine areas are for them, and how even small changes can have consequences for these global travellers."

Professor Theunis Piersma, said, "The Marsh Award is a fantastic recognition of what we have been trying to achieve as an international team, carefully deciphering the ecological factors determining their distributions and numbers, what these epic migrants have to say about the state our shared world. As deeply amazing the shorebirds are in their own right, they also have a role for us to play as the canaries in the global coal-mine."

As well as a leading academic, he is also a dedicated mentor to the younger generation of scientists. He has supervised 50 PhD students and 20 postdocs, and he and his team hosts visiting students and scientists from all over the World.