Sustainability matters in design and construction Wim Wolff
Publication date: Thursday 13 April 2023
RV Wim Wolff is expected to go into service by the end of the summer. The research vessel will be built to the latest sustainability standards. Together with the site team of shipbuilding specialists, Aarnoud van de Burgt supervises the building process on behalf of NIOZ. He explains how the Wim Wolff is equipped for a sustainable future.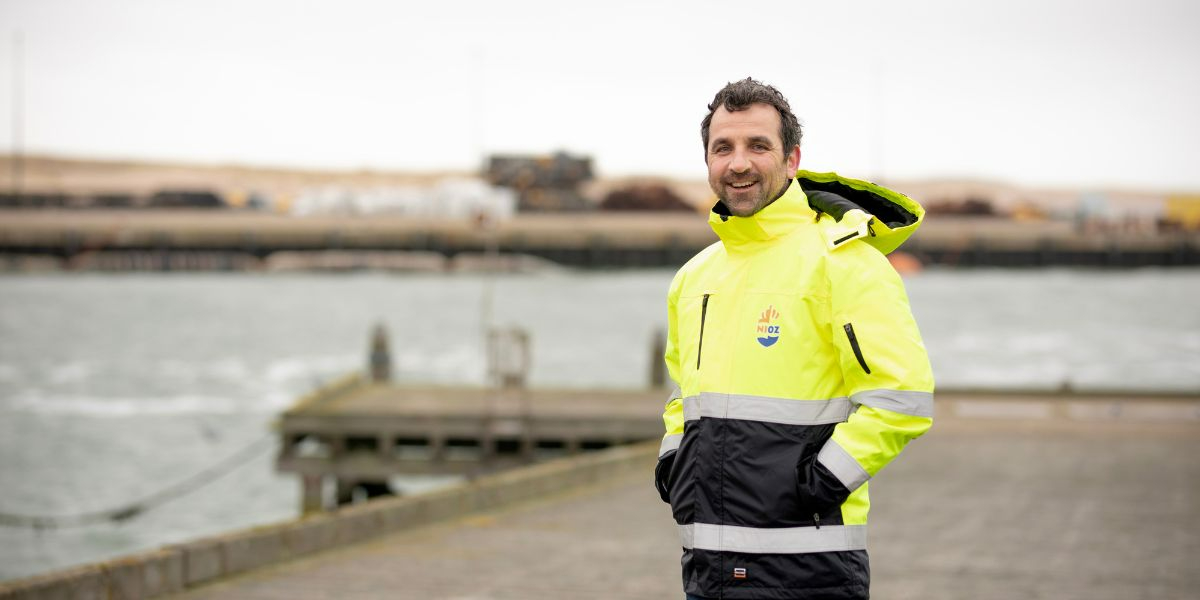 Research Vessel Wim Wolff is the replacement of the Navicula. "The vessel will sail on the Wadden Sea and the Zeeland delta, but in good weather you can also take it along the North Sea coast to Germany and Denmark. It should then also be possible to make sailing trips of up to two weeks," says Aarnoud van de Burgt, head of National Marine Facilities (NMF).
The special service research vessel will have a much larger volume than its predecessor: it will be 37 meters long and 10 meters wide, specially designed for shallow water. "The intended draft is only one meter, which is extremely shallow considering its size: there is space for four crew members and 12 passengers."
The Wim Wolff also contains state-of-the-art equipment, in the hope that, like the Navicula, it will be able to serve scientists at NIOZ and other marine research institutes for 40 years. Van de Burgt: "Many technical systems are fully automated and can be controlled remotely via computer screens through the AMCS, the Alarm Monitoring and Control System. The facility deck implements, such as A- and J-frames with accessories, has wireless remote control."
Aluminum and recycled plastic boards
Sustainability is an important condition in all the choices made during the design and construction of the Wim Wolff. Van de Burgt: "As a research institute working on the topic of climate change, you very much want to set a good example. We want to launch the most sustainable ship possible."
This can be achieved in several ways. Saving weight is one, because that makes it efficient in energy use. "We do that by making the entire ship out of aluminum instead of steel," says Van de Burgt. "In doing so, we also look at the origin of materials and the production process, from supplier to product. For example, our working deck is made of hard-wearing, recycled plastic boards rather than wood that would have to be cut specifically for this purpose."
In order to inhibit the attachment of organisms such as barnacles and algae, instead of the usual anti-fouling paint, a special hard paint is applied to the underwater part of the ship. Additionally, a foil will be applied on the sides to reduce fouling and which is easy to clean without giving off harmful substances. Van de Burgt: "That's more environmentally friendly than traditional anti-fouling paint."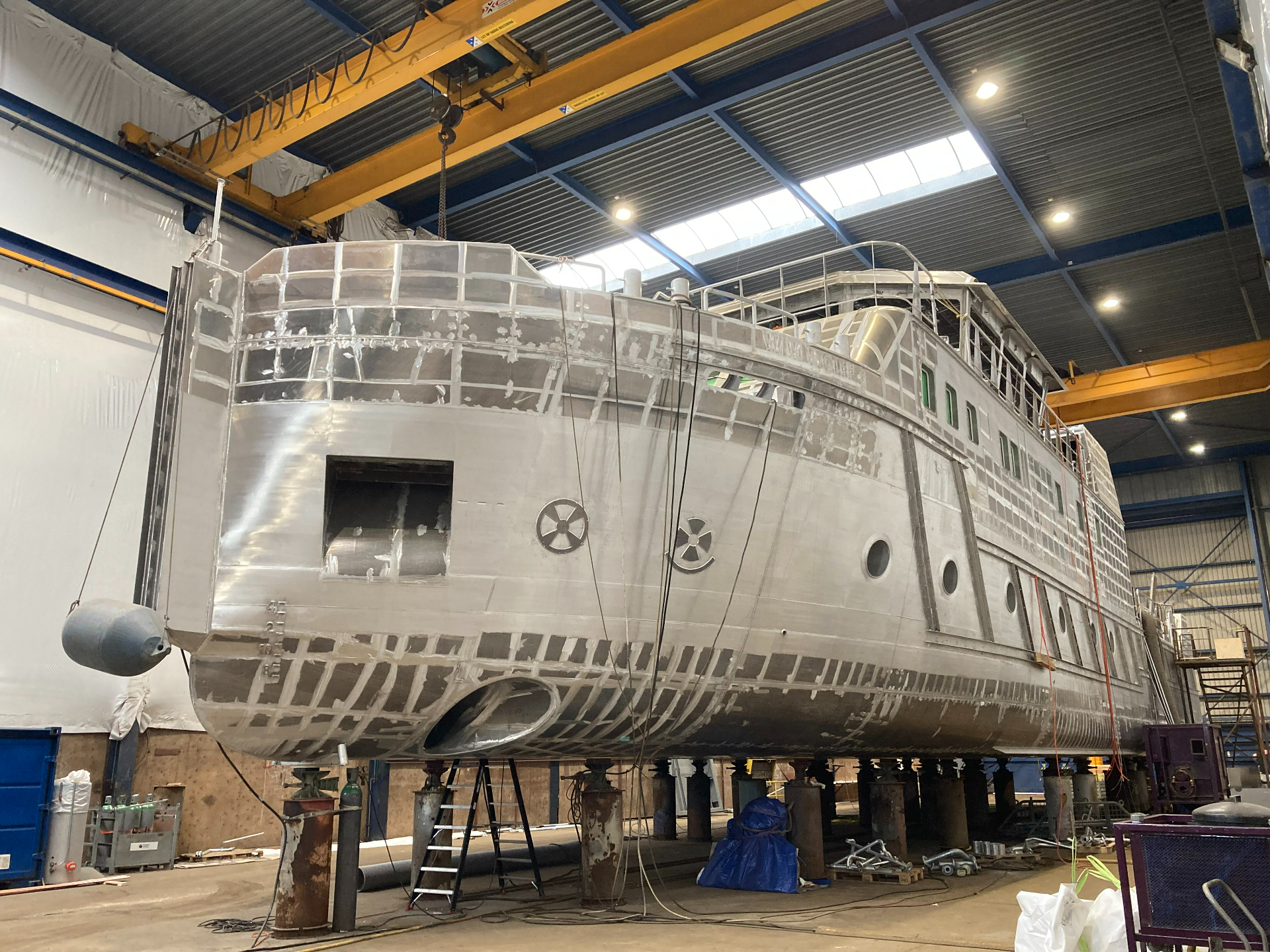 Oil from pressed green waste
A very important factor in sustainability is the energy source. Van de Burgt: "At the moment, there are many developments in that field that are also entering the shipping industry. Eventually, the Wim Wolff should be able to sail on methanol, which causes zero pollution." Nevertheless, methanol as a fuel has not been chosen at this stage. "Right now, methanol engines are still in the development phase and different technologies are being developed. For our purpose - a unique research vessel - we need to start from a proven concept before the conversion to methanol engines will take place."
Therefore, Wim Wolff will first sail on HVO, Hydrotreated Vegetable Oil. Van de Burgt: "This type of oil has been pressed from plants and vegetable waste. Its CO2 emissions are not zero, but they are extremely reduced. The engines must comply with IMO Tier III with regard to exhaust emission standards. Moreover, particulate emissions are minimised by first injecting urea into the exhaust and then filtering it. That also takes out the nitrogen. So we are certainly going to meet our sustainable emissions target."
In addition, the ship contains a large battery pack. "Batteries are switched on during peaks in energy demand. So-called peak shaving allows the engines to keep running at their optimal efficiency. So we not only have fewer emissions, but also fewer running hours of the engines and therefore lower maintenance costs. And we also use the batteries when we are working on sandbanks. We then don't need a diesel generator and can thus save the environment locally."
Extend the ship by four meters for methanol
NMF aims to be able to switch to methanol as a fuel in ten years' time, making the Wim Wolff emission-free. However, methanol has a lower calorific value than HVO does and therefore, a larger volume of fuel will have to be carried in the fuel tanks, taking up space. "The ship is already designed in such a way that we can cut it in half and extend it four meters so that fuel tanks and equipment for using methanol can be placed in it," says Van de Burgt.
To be truly sustainable, Van de Burgt adds that not just the right materials and equipment are important. " As a crew, you have to continuously optimize the processes. The captain will be able to monitor from the bridge exactly how to use the systems in the ship as efficiently as possible." Moreover, specific knowledge is needed to operate the equipment in the engine room. "To prepare the crew for that, we are drawing up a training programme together with the shipyard, the site team and equipment suppliers, which will start in May. It will be an exciting period and we are looking forward to it with enthusiasm."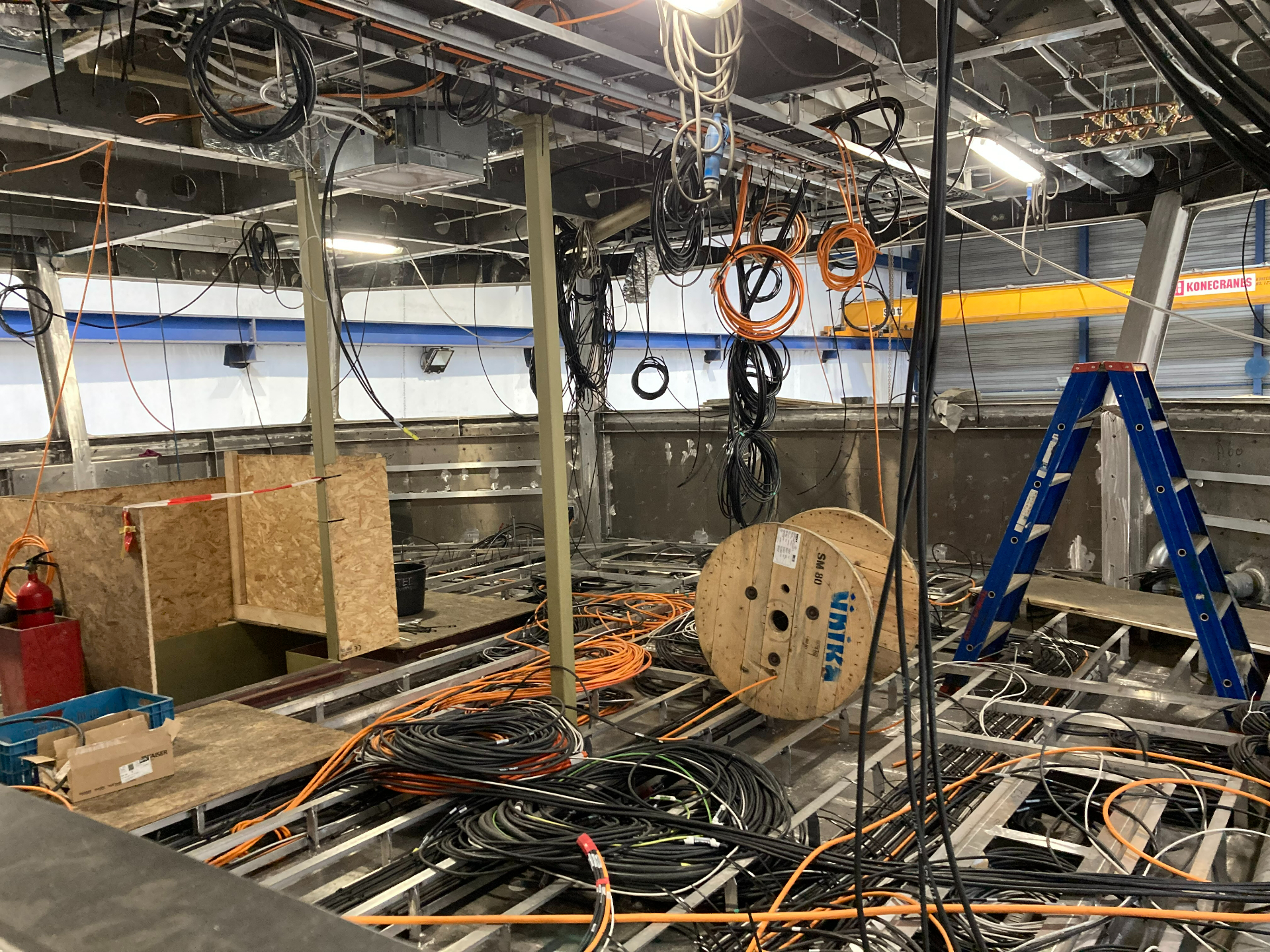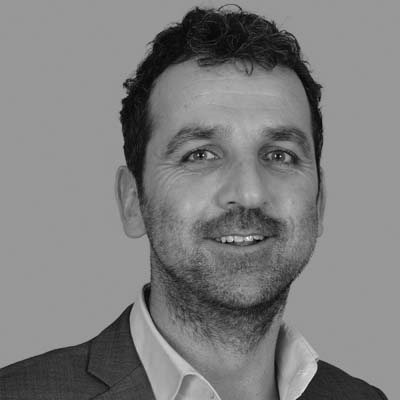 Aarnoud van de Burgt
Video impression of RV Wim Wolff (March 2023)