Project SIBES start 12de seizoen bemonsteringsklus bodemdieren op het wad
Publication date: Tuesday 25 June 2019
Het NIOZ Koninklijk Nederlands Instituut voor Onderzoek der Zee is met het project: Synoptic Intertidal Benthic Survey of the Wadden Sea, kortweg: SIBES, voor het twaalfde opeenvolgende jaar gestart met het bemonsteren van alle droogvallende delen van de Nederlandse Waddenzee. Een monsterklus, want deze zomer worden meer dan zesduizend punten bemonsterd, die deels ook op het Duitse wad liggen. Het NIOZ krijgt voor het bemonsteringsprogramma financiele steun van niet alleen de Nederlandse Aardolie Maatschappij maar dit jaar voor het eerst ook van Rijkswaterstaat.
Essentieel onderzoeksprogramma
Het op langetermijn bemonsteren van de bodem van de Waddenzee vormt een belangrijke component in onderzoeksprogramma's naar hoe vogels en vissen de Waddenzee gebruiken als voedselbron en hoe zij zich verspreiden over het wad. Daarnaast kan met de onderzoeksgegevens van ruim tien jaar bodembemonstering met een behoorlijke betrouwbaarheid voorspeld worden of bepaalde veranderingen in het Waddengebied door menselijke ingrepen, zoals gaswinning, zoutwinning, of door natuurlijke variatie worden veroorzaakt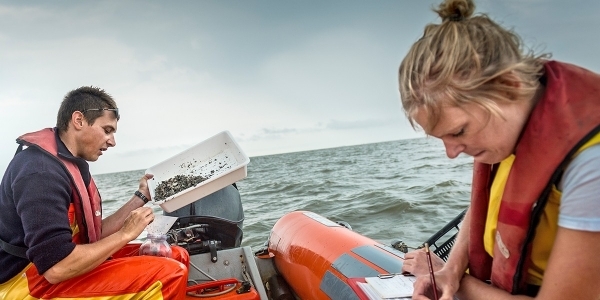 Nationaal exportproduct
Het door het NIOZ ontwikkelde SIBES bodembemonsteringsprogramma voor de Waddenzee is in ruim tien jaar ook geadopteerd als standaard methode voor andere getijdengebieden in de wereld. Daarmee is SIBES een nationaal exportproduct. In een boekje 'Tien jaar SIBES' vertellen initiatiefnemers van het project, wetenschappers, mensen in het veld en beleidsmakers over het belang van SIBES voor hun dagelijkse werk.