Opwarming Russische toendra treft kanoetenkuiken
Publication date: Monday 13 August 2018
Kanoeten, of kanoetstrandlopers, zijn Arctische trekvogels, net als brandganzen en drieteenstrandlopers. Ze trekken vanuit hun zomerbroedgebied in het Noordpoolgebied via de Waddenzee naar hun overwinteringsgebied in de West-Afrikaanse tropen. Onderzoek van het NIOZ laat zien dat de gevolgen van een opwarmende toendra in het Noordpoolgebied een flinke aanslag pleegt op de kuikens van de kanoet. Door de opwarming komt de insectenpiek veel vroeger in het seizoen, zo vroeg dat de kanoeten hem mislopen. Er ontstaat dus een voedselgebrek waardoor de kuikens niet goed groeien of zelfs sterven.
Eind mei van dit jaar vertrokken NIOZ onderzoekers Jan van Gils, Thomas Lameris, Mikhail Zhemchuzhnikov en Job ten Horn naar het Russische schiereiland Taimyr, het broedgebied van een flink aantal trekvogels, waaronder ook kanoeten. Een Russische expeditie verzamelde 25 jaar geleden voor het laatst gegevens over steltlopers in dit gebied. Het Nederlandse team wil weten wat er sinds die tijd is veranderd. Lameris: "We weten dat het klimaat flink is opgewarmd en zelfs dat de opwarming in het Noordpoolgebied bijna twee keer zo hard gaat."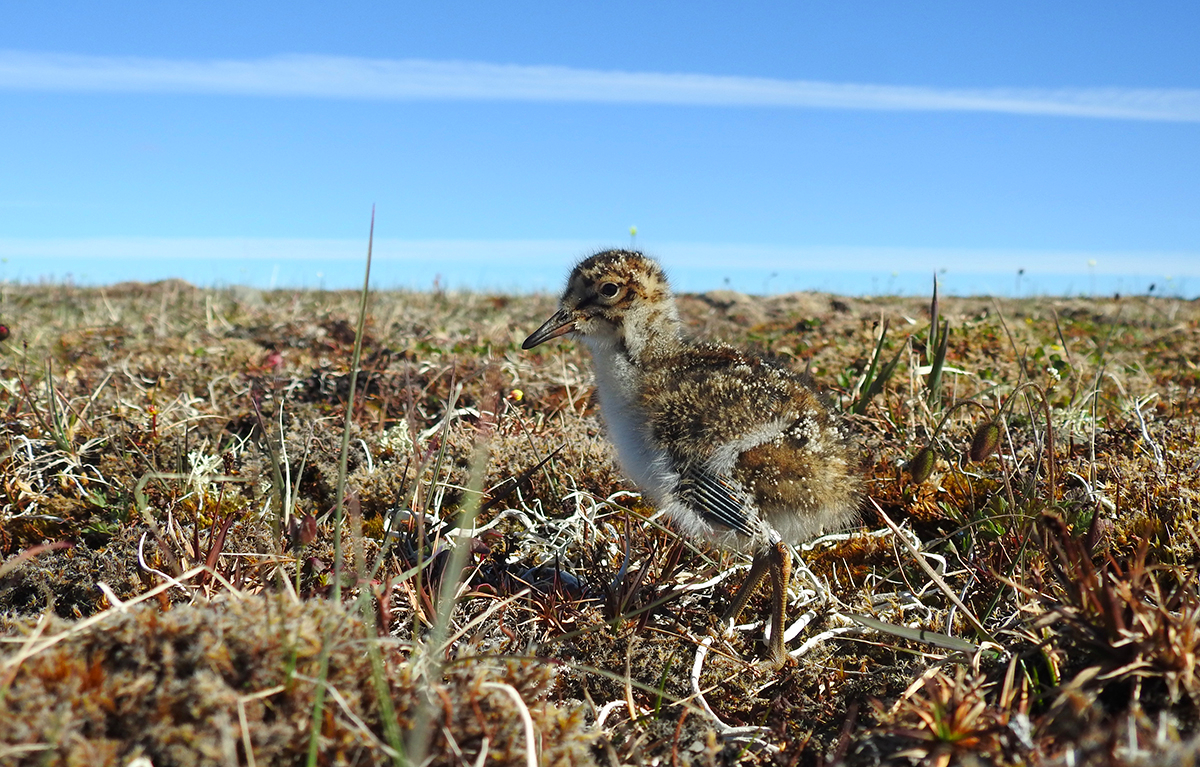 Insecten
De onderzoekers van het NIOZ willen weten hoe opwarming effect heeft op de groei van kanoeten. Bekijk hun projectpagina hier. NIOZ onderzoeker Jan van Gils ontdekte eerder dat kanoeten in de winter steeds kleiner worden als gevolg klimaatopwarming. Insecten zijn belangrijk voedsel voor de kuiken van kanoeten, maar doordat de sneeuw vroeger smelt en de opleving van planten en insecten eerder begint, zijn er te weinig insecten op het moment dat de kuikens uit hun ei kruipen. "Wat we nu zien in vergelijking met 25 jaar geleden is dat heel veel kuikens vroeg dood gaan. Ze zijn na een paar dagen al niet meer te vinden in het veld en de kuikens die er nog wel zijn, zijn minder zwaar", vertelt Lameris bij Vroege Vogels.

'Doodse stilte'
In Taimyr vond het team van het NIOZ eind juli slechts nog enkele steltlopers. "We dachten, we moeten naar huis, hier is niets meer. Het was één grote doodse stilte", aldus Lameris. Het krimpen van de vogellichamen door de warmte is een steeds bekender wordend fenomeen. Op die manier passen de dieren zich aan. Zo krijgt de brandgans steeds kleinere vleugels en worden de snavels van de kanoeten steeds ietsje korter. Dat levert de vogels vervolgens weer problemen op in Afrika als ze diep in de grond hun voedsel moeten zoeken. Onderzoekers zagen dat de kortsnavelige vogels noodgedwongen zeegras aten, voedsel met een veel lagere voedingswaarde. Ook hollen de aantallen kanoeten flink achteruit. Zo waren er in de jaren 80 nog een half miljoen kanoeten, nu zijn dat er nog maar een kwart miljoen.
Beluister hier het interview met Thomas Lameris bij Vroege Vogels op NPO Radio 1.