Onafhankelijke methode voor klimaatreconstructies
Publication date: Friday 26 April 2019
Promovenda Eveline Mezger ontwikkelde een nieuwe, onafhankelijke manier om het zoutgehalte van de zee in het verleden te reconstrueren. Deze informatie is van belang voor klimaatvoorspellingen.
" Zoet, zout, warm, koud, neem het met een korreltje zout"
Hoe het klimaat in het verleden varieerde en de rol van de oceaan daarin levert belangrijke informatie over het klimaatsysteem. Door te kijken naar het verleden kunnen we begrijpen hoe de verschillende processen met elkaar samenhangen. Dit is belangrijk om veranderingen in het klimaat van de toekomst beter te voorspellen.
Reconstructies van het klimaat zijn gebaseerd op onder andere de chemische samenstelling van de schelpjes van micro-organismen, de foraminiferen. In dit proefschrift wordt beschreven hoe de inbouw van Na in deze kalkschelpjes kan helpen om het zoutgehalte van de zee (saliniteit) te reconstrueren. Iets wat tot nog toe vrijwel onmogelijk was. Niet alleen heeft Mezger gekeken of dit een geschikte methode is om saliniteit te reconstrueren, maar ook hoe Natrium (Na) wordt ingebouwd en of andere chemische of fysische factoren ook een rol spelen.

Het bleek daarbij dat foraminiferen een sterke invloed uitoefenen, niet alleen op de vorm van de schelpjes, maar ook op de chemie. Grote contrasten werden ontdekt tussen elementen en tussen verschillende delen van de schelpjes. Experimenten waarin de vorming van kalk werd nagebootst in het laboratorium lieten zien dat de snelheid waarmee kalk vormt van grote invloed is op de inbouw van Na. Dit verklaart mogelijk de hoge waardes voor Na die in dit onderzoek gevonden werden in de stekels van de foraminiferen.
Deze vondst draagt bij aan een mechanistisch begrip van element inbouw in foraminiferen en daarmee betere reconstructies van het klimaat.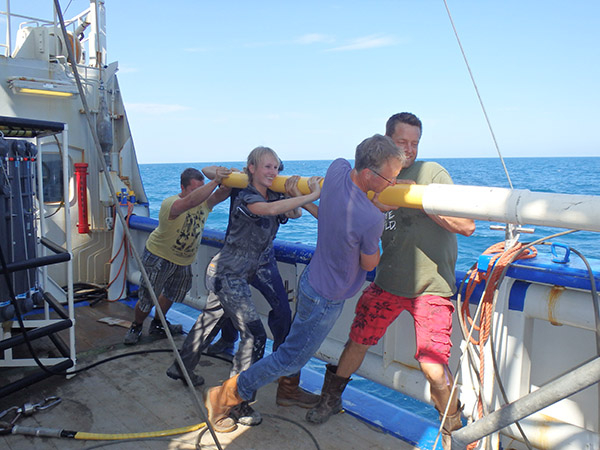 Controls on sodium incorporation in foraminiferal calcite
Investigating past climate change and role of the oceans therein provides valuable information on climate functioning. By looking at the past, the interplay of processes can be studied to better predict the future of our planet. Climate reconstructions are often based on the chemical composition of calcite shell remains of microorganisms, so-called foraminifera.
This PhD research project focused on incorporation of sodium (Na) into foraminiferal shell carbonate as a potential tool to reconstruct past sea water salinity. Sea water salinity, the amount of salts dissolved in seawater, is considered one of the most important, but challenging parameters to reconstruct in paleoceanography. Not only has Mezger studied the potential of this method, but also how Na is incorporated and the role of other physical and chemical factors.
It is found that foraminifera exert a strong biological control not only on the shape of their shells, but also on shell chemistry. Large contrasts were discovered in incorporation of elements between different shell parts. Furthermore, experiments mimicking foraminiferal calcification showed the importance of mineral growth rate on incorporation of Na. This could potentially explain the high Na values found in foraminiferal spines. Together these findings contribute to a mechanistic understanding of element incorporation in foraminiferal shell calcite and hence to a better knowledge of past climate variations.