Met kleine fossiele kalkskeletjes klimaatverandering reconstrueren
Publication date: Friday 06 December 2019
In de zee leven talloos veel ééncelligen die een schaaltje van kalk maken: deze organismen heten foraminiferen. De samenstelling van deze schaaltjes wordt beïnvloed door de omgeving en precies daarom zijn de fossielen van deze schaaltjes bruikbaar gereedschap om klimaatveranderingen van vroeger te reconstrueren. Als de temperatuur van het zeewater bijvoorbeeld hoog is, komt er meer magnesium terecht in hun schaaltje. De relatie tussen magnesium (een zogenaamde 'proxie') en temperatuur kan bepaald worden door het doen van experimenten en het nemen van veldmonsters. Esmee Geerken heeft tijdens haar promotieonderzoek niet alleen gekeken naar de oceaanvariabelen maar ook naar de invloed die foraminiferen zelf uitoefenen op de bouw van hun kalkskelet. Met de nieuwe kennis die dat heeft opgeleverd zijn nog nauwkeurigere klimaatreconstructies, en daarmee klimaatvoorspellingen, mogelijk. Esmee verdedigt haar proefschrift aan de Universiteit van Utrecht op vrijdag 13 december 2019.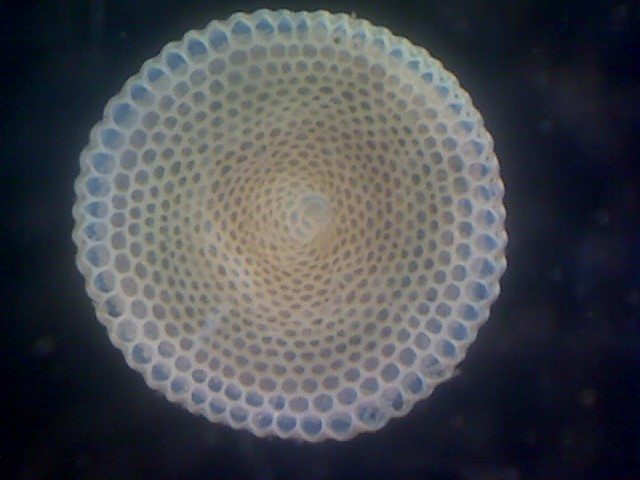 Foraminifeer bepaalt eigen kalkskelet
Temperatuur, zoutgehalte en zuurgraad in oceanen zijn van invloed op de vorming van kalkskeletjes in foraminiferen. Als er meer CO2 in de oceanen oplost en de oceanen daardoor zuurder worden, is het voor foraminiferen moeilijker om kalk te vormen. Op het NIOZ heeft Geerken onder gecontroleerde omstandigheden in aquaria gekeken hoe foraminiferen de bouw van hun 'huisjes' beïnvloeden door te kijken naar de chemische samenstelling van de kalkskeletjes. Met een laser-ablatie-techniek zijn kleine gaatjes geboord in de skeletwanden waarna met massa spectrometrie de exacte compositie van de skeletjes is geanalyseerd. Het blijkt dat foraminiferen onverwacht snel calcium kunnen inbouwen in skeletwanden wat vervolgens sterk bepaalt hoe andere elementen nog ingebouwd kunnen worden. Dit proces van biomineralisatie is net zo belangrijk om mee te nemen in klimaatreconstructies als de invloed van oceaanvariabelen.
Op het NIOZ wordt al langer onderzoek gedaan naar de vorming van schelpjes door foraminiferen. Zij zijn niet enkel een belangrijke bron voor klimaatreconstructies, maar spelen ook een essentiële rol in de mondiale koolstofcyclus. Door de toenemende CO2-uitstoot verzuurd de oceaan en wordt het moeilijker voor organismen om kalk te maken. Omdat kalkvorming zelf ook CO2 produceert, bestaat er een wisselwerking tussen de hoeveelheid CO2 in de lucht en de vorming van schelpjes in de oceaan.
Dit onderzoek is gefinancierd door het NESSC, het Netherlands Earth System Science Center, dat een virtueel onderzoekscentrum is waaraan vijf verschillende instituten meewerken: de Universiteit Utrecht, het Koninklijk Nederlands Instituut voor Onderzoek der Zee (NIOZ), de Radboud Universiteit Nijmegen, de Vrije Universiteit en Wageningen Universiteit. Het NESSC is een Zwaartekrachtprogramma dat wordt gefinancierd door het ministerie van Onderwijs, Cultuur en Wetenschap en als doelstelling heeft om vast te stellen wat de gevoeligheid van de temperatuur op aarde is voor veranderingen in pCO2.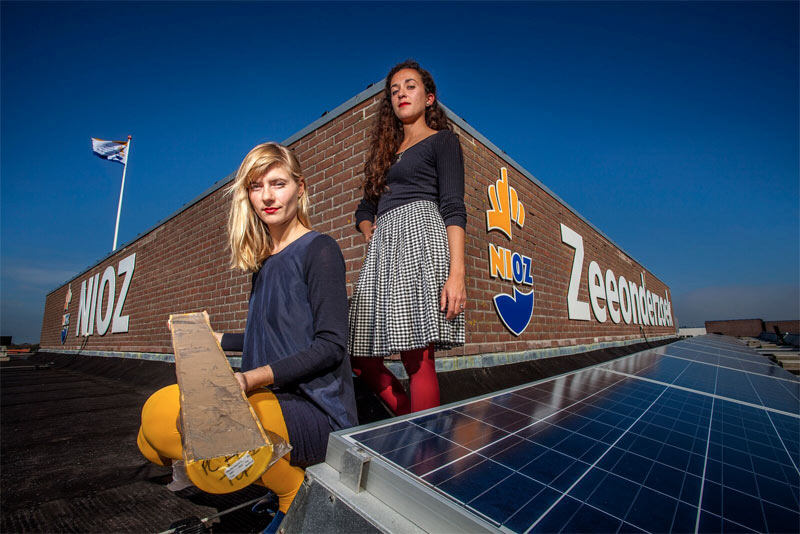 Reconstructing climate change with tiny fossil calcium shells
The ocean is filled with countless of single-celled organisms of which some make a tiny shell of calcium carbonate: the foraminifera. The chemical composition of these shells are determined by environmental conditions and therefore, the fossil remains of foraminifera are popular tools to reconstruct climate change throughout Earth's history. If, for example, seawater temperature is high, more magnesium is incorporated in their shells. The relation between magnesium (in this context called a 'proxy') and temperature can be determined by culturing or field studies. During her PhD research, Esmee Geerken not only looked at the ocean variables, but also at the influence that foraminifera exert on the construction of their lime skeleton. With the new knowledge that this has yielded, even more accurate climate reconstructions, and therefore climate predictions, are possible. Esmee will defend her dissertation at the University of Utrecht on Friday, December 13, 2019.
The research of Esmee Geerken targeted these three components of foraminifera as reconstruction tools: she developed new proxies, applied them back in time and aimed at understanding why the environment influences the chemistry of foraminiferal shells. The latter resulted in the discovery that they precipitate their shells remarkably fast, even so fast that they thereby exert a strong control on the concentration of incorporated elements. This newly found influence on the chemical composition foraminiferal shells will need to be taken into account when using these shells for climate reconstructions.
The formation of shells by foraminifera has been a focus at the NIOZ for years. These shells are not only an important source for climate reconstructions, but also play an essential role in the global carbon cycle. Because of continuing CO2 emissions, the ocean is steadily acidifying, thereby hampering the production of shells and skeletons by organisms. Since this production also produces CO2, there is a feedback loop between atmospheric carbon dioxide and calcification. This research was funded through the NESSC, the Netherlands Earth System Science Center, which is a virtual research center with participating experts from the NIOZ Royal Netherlands Institute for Sea Research, Radboud University Nijmegen, Utrecht University, VU University Amsterdam and Wageningen University. NESSC is funded through a Gravitation grant from the Dutch Ministry of Education, Culture and Science and has the goal to discover the sensitivity of the Earth's temperature to changes in pCO2.