De Blauwe Route | The Blue Route
Publication date: Wednesday 17 May 2017
The 'Blue Route' for the Dutch National Research Agenda: water as a pathway to innovation and sustainable growth. The Blue Route focuses on understanding, using and protecting oceans, seas, deltas and rivers, as well as managing salt water, fresh water and ground water systems, in order to improve sustainability, well-being and prosperity worldwide.
[Dutch version below]
More than seventy per cent of the Earth's surface consists of water. Water is vital to every known form of life. It is essential to many aspects of life, and to life itself. Water is essential to food production, to waste disposal and to transportation. It is also important to energy generation and to the circular economy.

The Blue Route addresses urgent issues. Sea levels are rising, climate change is impacting the oceans, water is polluted by plastic waste, clean drinking water is scarce, and habitable land areas are overcrowded. And it is precisely at the vulnerable interface between water and land that we find fertile soil and ever-growing populations.
In 2016, NIOZ initiated and coordinated the 'Blue Route: Water as a pathway to innovation and sustainable growth'. This new route was added to the ~25 routes defined within the context of the National Research Agenda (NWA); this agenda aims at pointing the way for Dutch research over the next ten years. It identifies and emphasizes the strengths of Dutch research, pertaining to the challenges facing society and the economic opportunities.
Unifying approach
The Blue Route, on the one hand, it is about gaining a better understanding of interconnected aquatic, terrestrial, atmospheric and marine processes and ecology; on the other hand, we want to make sustainable use of the water by developing new technology and production systems and by creating new residential and commercial spaces. To do that, we need to protect the water, and to protect ourselves against it.

NIOZ, together with Deltares, MKC, MARIN, TNO, TU Delft/KWR, Ministry of Infrastructure and the Environment, and Utrecht University, prepared a founding meeting with a much wider group of stakeholders, resulting in an innovative and unifying approach. The Blue Route encourages close and coordinated collaboration between science, technology and the social sciences, between basic and applied research, and between economics and ecology.

The Blue Route aims to answer questions about the unknown. Humankind has been to the moon and is en route to Mars, but we still know little about our own oceans. To explore them, we must understand the links between ecology, life cycles and biochemical processes in deep and shallow waters. For example, the Atlantic Ocean drives the climate processes that determine the dynamics of the Dutch Delta. The North Pole region is similar in that respect. We need to know more about how these systems work.
The Blue Route entails a shift from 'the fight against water' to 'building with water' and on to genuinely 'living with water'. This offers us new prospects for food, energy, raw materials, transport and housing along, on and in the water.

The Blue Route breaks with the traditional linear innovation process: innovations are created in open networks, with all the stakeholders in science, society and enterprise engaged in co-creation. We prefer a 'living lab' approach whereby specific regions – the Amsterdam-Rotterdam agglomeration, the south-western delta, the Wadden Sea Region and the North Sea – function as experimental sites for understanding the overall system.

Gamechangers
The following four lines of approach will produce four game changers:
Living in the Delta
How can we develop a Sustainable Urban Delta in which different populations can live, work and eat together safely, healthily and sustainably?
Water as a source
How can we make sustainable and economically responsible use of water and of energy, natural resources and food located on, in and under that water?
Water as a blue pathway
How can we redesign vessels with carbon-neutral and autonomous navigation systems and 'future-proof' our ports and waterways in making shipping sustainable and safe?
Living on water
What opportunities do floating homes and businesses, aquaculture, and hydropower offer at a time when the sea level is rising, the climate is changing and we are running out of space?

~~~~~~~~~~
De Blauwe Route van de Nationale Wetenschapsagenda: water als weg naar innovatieve en duurzame groei
Water als bedreiging en water als kans
Meer dan de helft van de wereldbevolking leeft in delta's, kust- en riviergebieden. Deze delta's hebben een enorm potentieel, maar zijn tegelijkertijd ook enorm kwetsbaar voor zeespiegelstijging, verontreiniging en natuur- en weersinvloeden. Tegelijkertijd biedt water ook nieuwe kansen, als bron voor energie, grondstoffen, voedsel en transport. Nederland is groot geworden aan het water. Nu kunnen we verder groeien op, aan en in het water. We kunnen het ons niet permitteren om stil te staan. Door het watersysteem te begrijpen kunnen we het optimaal beschermen, en combineren we economie en ecologie.
Living labs
De Blauwe Route is uitgewerkt in vier toekomstperspectieven:
'Leven in de Delta': hoe ontwikkelen we een 'Sustainable Urban Delta' waarin grote bevolkingsgroepen veilig, gezond en duurzaam samen wonen, werken, eten en leven?
'Water als bron': hoe benutten we water en de energie, grondstoffen en voeding op, in en onder dat water duurzaam en economisch verantwoord?
'Water als blauwe weg': hoe kunnen CO2 neutraal en autonoom varen en een toekomstgerichte inrichting van onze havens en vaarwegen bijdragen aan duurzaam en veilig vervoer?
'Leven op het water': welke mogelijkheden biedt drijvend wonen, werken, voedselkweken, energie opwekken in een tijd van zeespiegelstijging, klimaatverandering en ruimtegebrek?
Deze vier toekomstperspectieven bieden ruimte voor een 'living lab aanpak' waarbij wetenschappers, bedrijven, overheden, studenten en burgers concreet samenwerken aan (en zelfs samenleven in) een nieuwe werkelijkheid. Zo'n living lab combineert wetenschappelijke, sociale en technologische innovatie in één programma: er worden nieuwe producten ontwikkeld en tegelijkertijd wordt het gedrag van de eindgebruikers beïnvloed doordat ze direct betrokken zijn en nieuwe mogelijkheden krijgen.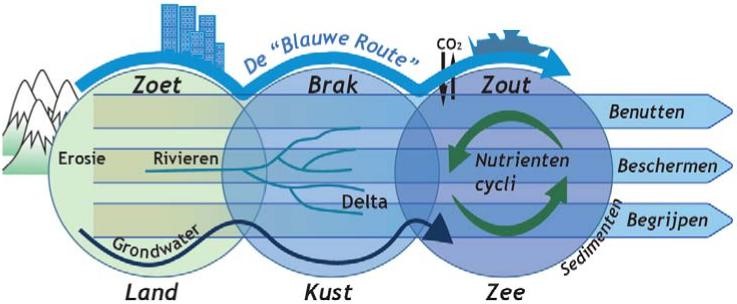 In de Nationale Wetenschapsagenda vindt u de onderzoeksvragen waar de wetenschap zich de komende jaren op gaat richten. De Nationale Wetenschapsagenda bundelt de krachten van verschillende partijen en stimuleert daarmee samenwerking tussen wetenschappers, het bedrijfsleven en maatschappelijke organisaties.