Construction of new research fleet starts with keel laying of RV Adriaen Coenen
Publication date: Thursday 08 July 2021
On 8 July 2021, the festive keel laying of the RV Adriaen Coenen took place at Next Generation Shipyards in Lauwersoog. Symbolically, a coin was welded on the keel beam 'for good luck'. This was done by Henk van der Veer (former head of NIOZ Coastal Systems Research and member of the Taskforce Fleet Replacement) and Wim Jan Boon, future skipper of the RV Adriaen Coenen, in the presence of guests from NG Shipyards and NWO/NIOZ, the national oceanographic institute managing the research fleet for the marine science community in The Netherlands.
~~~~for Dutch scroll down~~~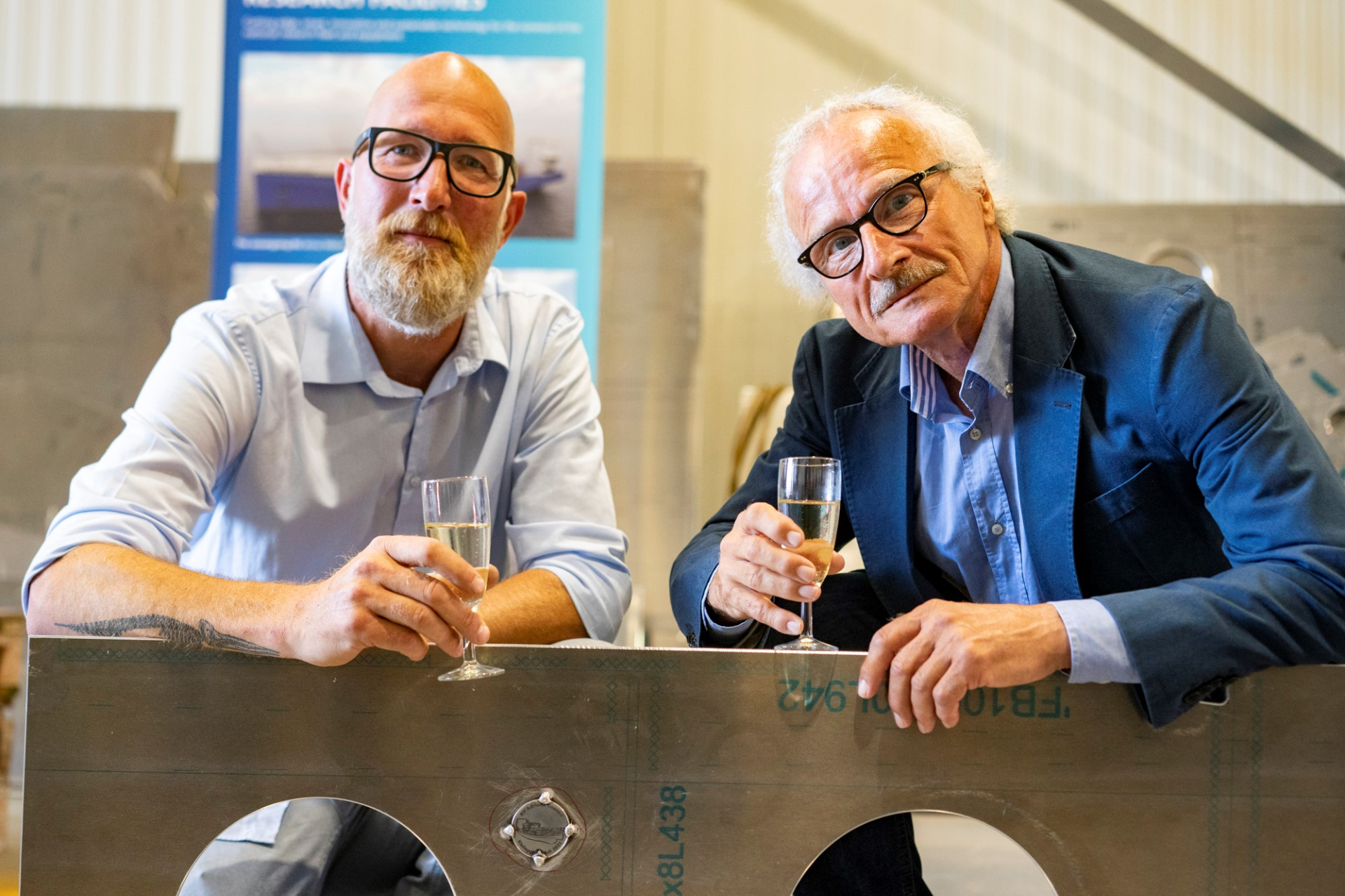 With its shallow draft of 1m, the research and support vessel Adriaen Coenen is specifically aimed at day trips for research in the Wadden Sea and possibly in the Southwestern Delta (Zeeland). Following the tender procedure in 2020, NIOZ commissioned NG Shipyards early this year to build the Adriaen Coenen. Next spring, the ship will be delivered and put into service in mid-2022. Director of NG Shipyards, Albert Keizer, states: "The location of Next Generation Shipyards, close to UNESCO Wadden Sea World Heritage Site, is decisive for our mission and way of working. We are constantly looking to the future, the next generation, and are looking for sustainable solutions for the maritime world, and this fits in perfectly with the objectives of NIOZ". From the very beginning, the parties have been working together very well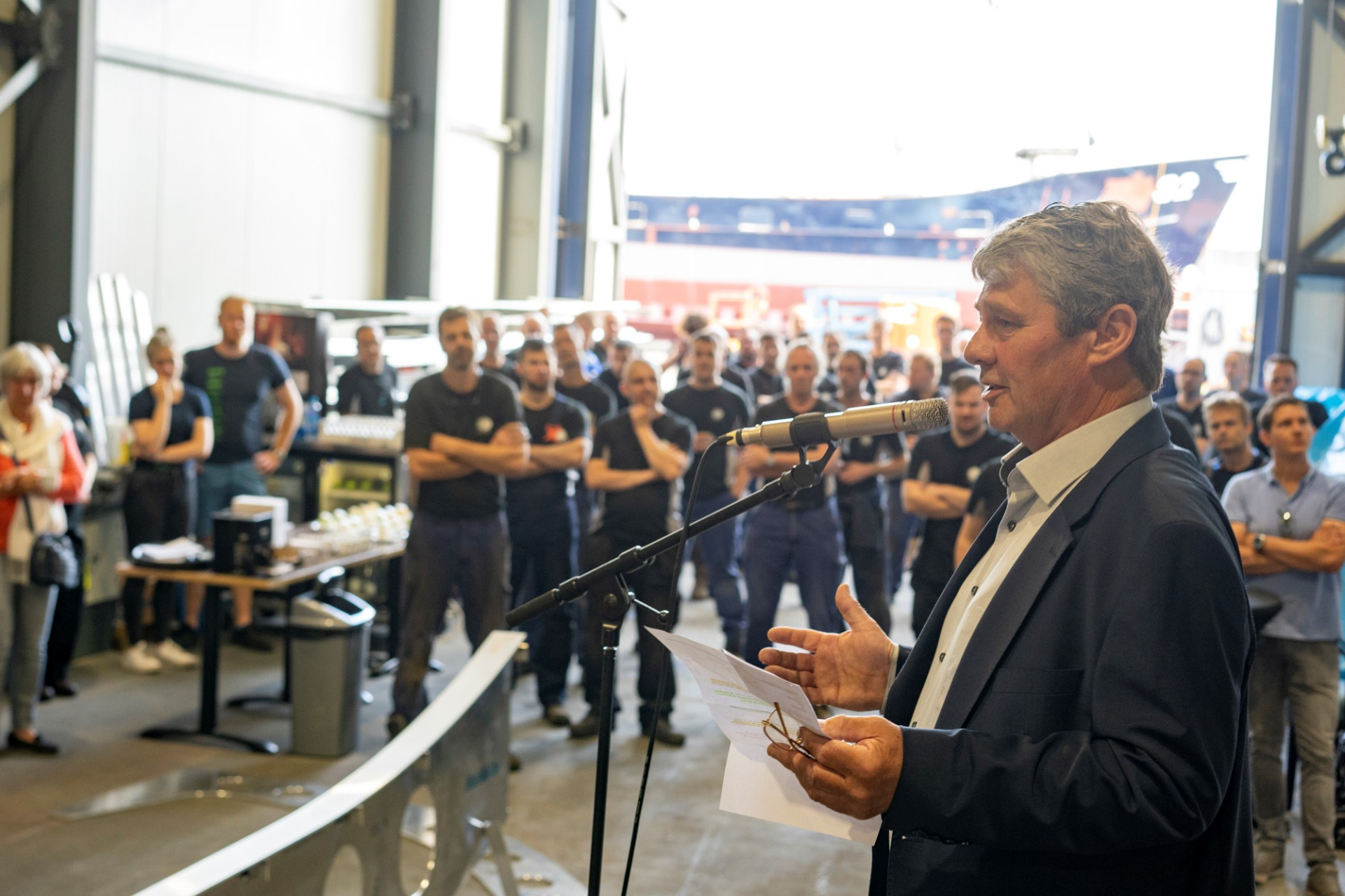 According to Alex Cofino (head of National Marine research Facilities and project leader Fleet Replacement) it gives the project team enormous satisfaction and pride that after a long period of preparation, the construction can start today. Not only of the state-of-the-art and sustainable RV Adriaen Coenen, but also with the actual replacement of the entire national research fleet of three ships. The new ships will ensure that not only NIOZ, but also universities and other research institutes will continue to have access to the Dutch and European marine infrastructure.
Henk van der Veer felt honoured to weld the coin together with Wim Jan Boon. "We are impressed by the way NG Shipyards is working on optimisation and efficiency of the design. Not only me, but all future users are looking forward to the construction and to see the ship grow. Of course, we are looking especially forward to its commissioning in the middle of next year!".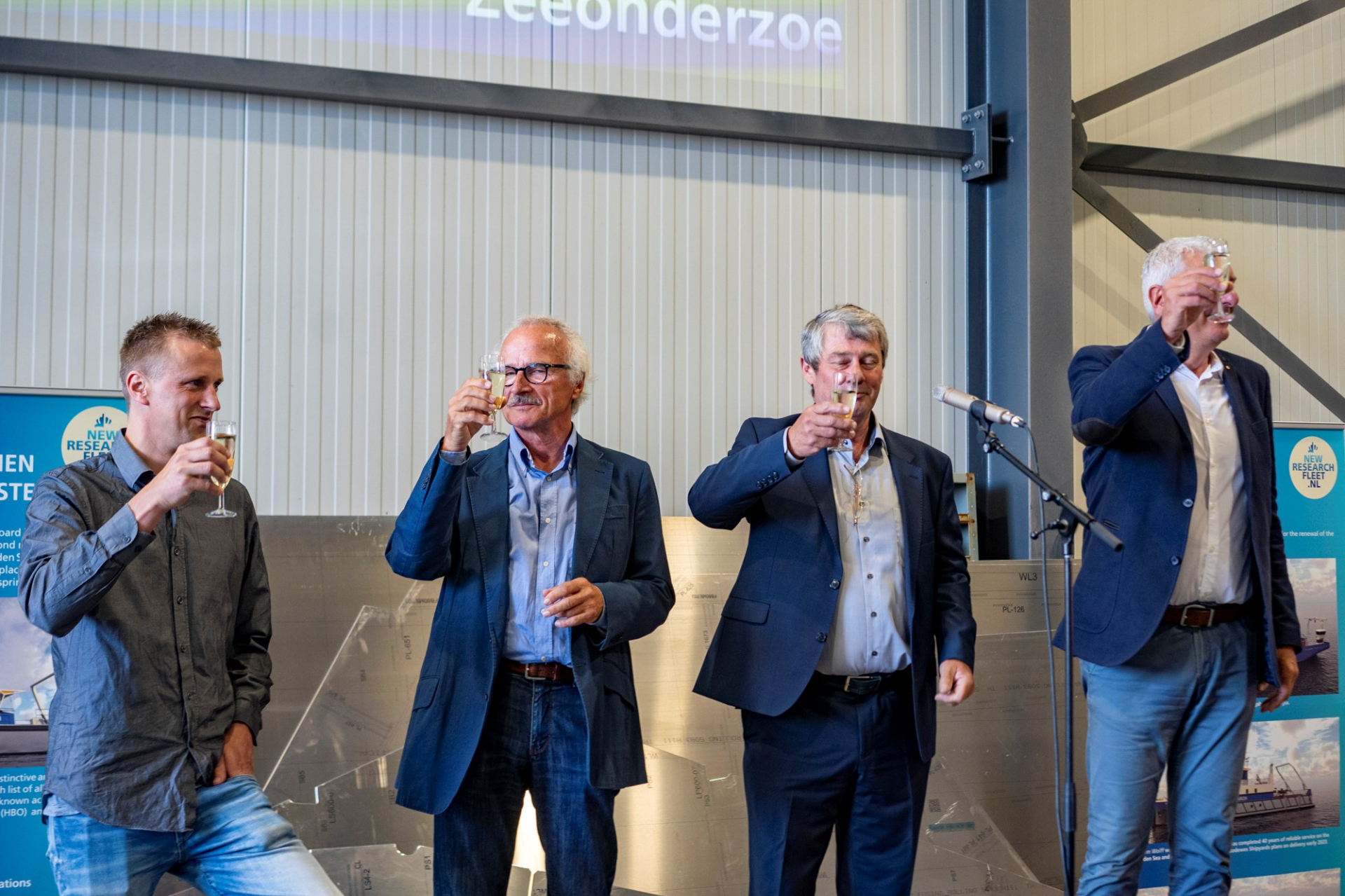 ---
Bouw nieuwe onderzoeksvloot start met kiellegging RV Adriaen Coenen
Op 8 juli 2021 vond bij Next Generation Shipyards in Lauwersoog de feestelijke kiellegging van RV Adriaen Coenen plaats. Symbolisch werd op de kielbalk een muntje 'voor goed geluk' gelast. Dit gebeurde door Henk van der Veer (voormalig hoofd NIOZ Coastal Systems Research en lid van de Taskforce Fleet Replacement) en Wim Jan Boon, toekomstig schipper van de RV Adriaen Coenen, in aanwezigheid van genodigden van NG Shipyards en NWO/NIOZ, het nationale oceanografische instituut dat de onderzoeksvloot beheert voor de mariene onderzoekers van Nederland.
Met zijn geringe diepgang van 1m is het onderzoeks- en ondersteuningsvaartuig Adriaen Coenen specifiek gericht op dagtrips voor onderzoek in de Waddenzee en eventueel in de Zeeuwse delta. Na de aanbestedingsprocedure in 2020 heeft het NIOZ begin dit jaar opdracht gegeven aan NG Shipyards om de Adriaen Coenen te vervaardigen. Directeur van NG Shipyards, Albert Keizer, geeft aan: "De locatie van Next Generation Shipyards, nabij UNESCO Waddenzee Werelderfgoed, is bepalend voor onze missie en werkwijze. Wij kijken voortdurend naar de toekomst, de volgende generatie, en zoeken naar duurzame oplossingen voor de maritieme wereld, en dit past uitstekend bij de doelstelling van NIOZ. Vanaf de voorbereidingen werken de partijen dan ook uitstekend samen".
Volgens Alex Cofino (hoofd National Marine research Facilities en projectleider Vlootvervanging) geeft het enorme voldoening en trots bij het projectteam dat er na een lange periode van voorbereiding vandaag gestart kan worden met de bouw. Niet alleen van de state-of-the-art en duurzame RV Adriaen Coenen maar tevens met de daadwerkelijke vervanging van de gehele nationale onderzoeksvloot van drie schepen. De nieuwe schepen zorgen ervoor dat niet alleen NIOZ, maar ook de universiteiten en andere onderzoeksinstituten toegang blijven behouden tot de Nederlandse en Europese mariene infrastructuur.
Henk van der Veer voelde zich vereerd om samen met Wim Jan Boon de munt en eerste las te mogen leggen. "We zijn onder de indruk van de wijze waarop NG Shipyards bezig is met optimalisatie en efficiency van het ontwerp. Niet alleen ik, maar alle toekomstige gebruikers verheugen zich op de bouw en het zien groeien van het schip, maar vooral op de ingebruikname ervan medio volgend jaar!".
Linked centre of expertise:
Short impression of the event.