Are sponges threatening Caribbean Reefs?
Publication date: Friday 27 September 2019
For coral reefs to persist, constructive processes must be greater than the destructive ones to enable positive growth. Due to global change (ocean acidification and warming) and local stressors (pollution, overfishing), opportunistic organisms such as cyanobacteria and sponges are taking over at the expense coral.
This shift from reef building organisms to opportunistic ones is threatening the delicate balance between accretion (building of reef framework) and erosion to tip. This is especially relevant for Caribbean reefs which today bear very little resemblance with their reefs pre-1980 in terms of species composition, structural complexity and coral cover. Coral-excavating sponges can contribute up to 90% of the total macroborer activity on these Caribbean reefs and they profit from the conditions that are harmful to corals, including warming, eutrophication and acidification. Despite their ecological relevance, the mechanisms by which these sponges dissolve the carbonate substrate remain unknown.
Alice Webb will defend her thesis entitled "Reef dissolution: rates and mechanisms of coral dissolution by bioeroding sponges and reef communities" on the 4th of October at Utrecht University. Her research shows that the underlying mechanism used by sponges involves acidification of specific sites to dissolve the corals' skeleton. A series of incubation experiments showed that the rate at which these sponges are capable of dissolving corals, is enhanced at higher carbon dioxide concentrations and pollution. The acidification by dissolution of CO2 helps the pH regulation of the sponges, which implies that with ongoing rising atmospheric carbon dioxide concentrations, corals will be more vulnerable to dissolution by sponges. Incubations at the community level showed that the building effort on reefs of the Caribbean is barely able to compensate for reef dissolution.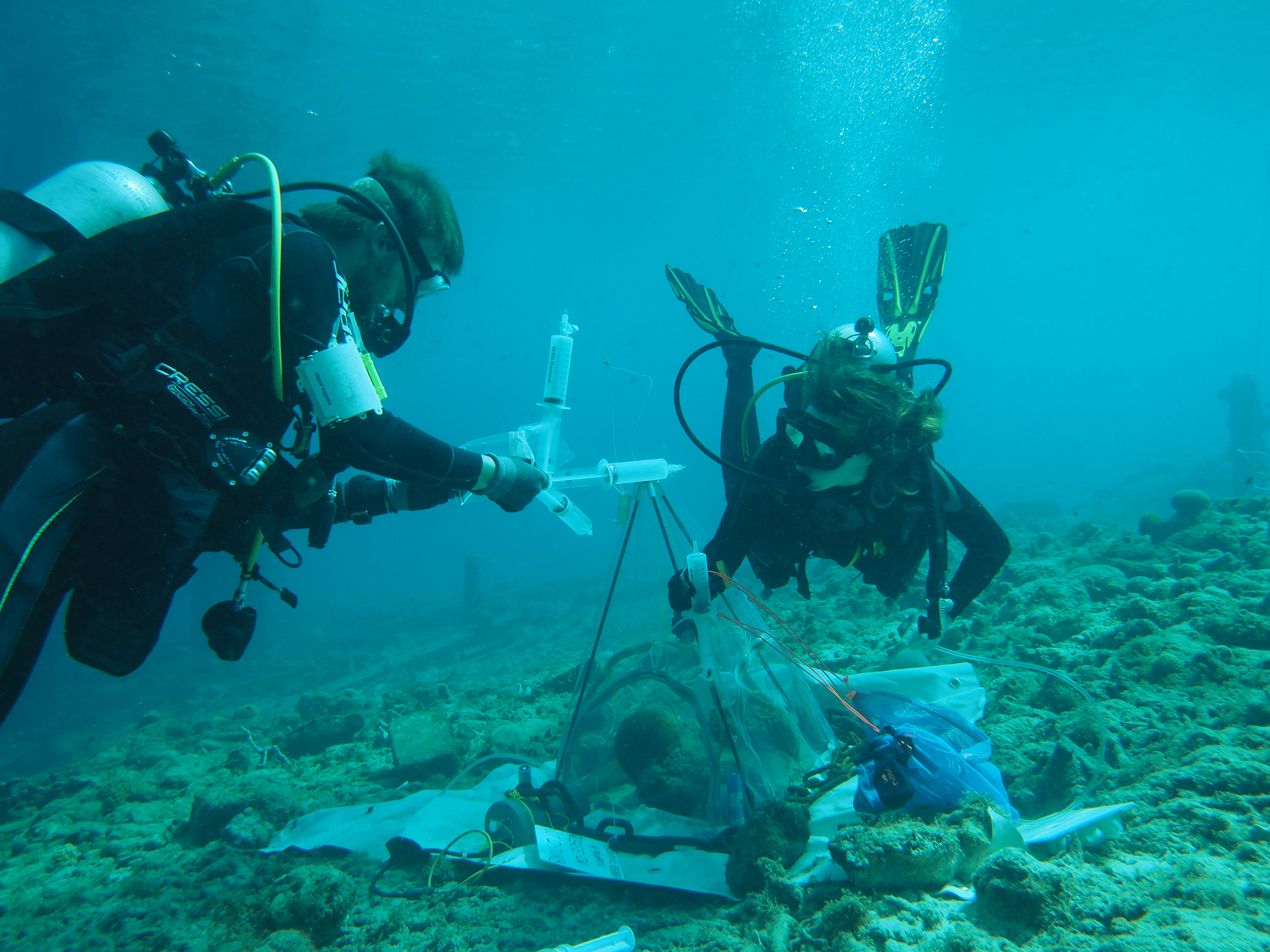 Bedreigen sponzen koraalriffen?
Koraalriffen bestaan omdat de bouw van kalk groter is dan de afbraak daarvan. Door klimaatverandering (oceaanverzuring en opwarming) en lokale bedreigingen (vervuiling en overbevissing) zijn opportunistische organismen zoals cyanobacteriën en sponzen de koraalriffen aan het overnemen. Sterker nog, deze ecologische opeenvolging van dominante soorten heeft op veel plekken de balans doen omslaan naar een verdwijning van het koraalrif.

Met name in de Caribische Zee is dit proces goed zichtbaar: waar veel plekken 40 jaar geleden door gezond koraal werden gedomineerd, is het koraal en de daarmee gepaard gaande biodiversiteit, nu vaak verdwenen. Een groot gedeelte van de bioerosie die op het rif plaatsvindt, wordt gedaan door een specifieke groep sponzen, die makkelijker koraal kunnen oplossen onder omstandigheden die nadelig zijn voor de groei van koraal. Ondanks hun ecologische relevantie, is nauwelijks bekend welke mechanismen zij gebruiken om het kalk van koralen op te lossen.
Alice Webb verdedigt haar proefschrift getiteld "Het oplossende rif: snelheden en mechanismen van het oplossen van koraalriffen door boorsponzen en rifgemeenschappen" op 4 oktober aan de Universiteit van Utrecht. Haar onderzoek laat de onderliggende mechanismen zien waarmee boorsponzen kalk kunnen oplossen: zij kunnen heel gericht de omgeving verzuren. Hierdoor lost het skelet van een koraal plaatselijk op waardoor er nieuwe ruimte ontstaat voor de spons om in te kunnen leven. Een serie van incubatie-experimenten laten zien dat de snelheid waarmee zij dit doen, toeneemt als de hoeveelheid kooldioxide en voedingsstoffen in het water toenemen. De verzuring die gepaard gaat met een toename van kooldioxide helpt het oplossen door de spons, wat inhoudt dat in de nabije toekomst het effect van deze sponzen op koraalriffen alleen maar zal toenemen. Incubaties met bodemgemeenschappen laten zien dat de mogelijkheid om nieuwe skeleten te bouwen nauwelijks in staat is om te compenseren voor de toename in oplossend vermogen.