Arctic seals photographed from space
Publication date: Monday 04 April 2022
Around this time of year, the Arctic would normally be slowly awaking from its deep winter slumber. This year however, the annual ice melt started sooner than usual. Record breaking heat waves in both Polar regions – reaching up to 40C above normal in some places – made headlines last month. Future perspectives look grim as well: it is predicted that the Arctic will be free from sea-ice in Summer as soon as 2035. As part of a study into the effect of this disappearing sea ice on seals in the Arctic, researchers from NIOZ and Wageningen Marine Research have now for the first time managed to collect satellite images of Arctic seals, allowing better monitoring of this hard-to-reach species.

The disappearance of the sea-ice could spell disaster for hooded seals – known for the peculiar red balloon-like sac that adult males can inflate from their nostrils – and harp seals. Both species use the sea-ice for resting, moulting and giving birth to their pups, which have been hunted extensively for their flawless coats. Currently, an estimated 650,000 hooded, and a staggering 7.6 million harp seals inhabit the Arctic. These population estimates however, are surrounded by large uncertainty margins.
This year, for the first time since 2018, a large-scale census was made east of Greenland, in an area where huge groups of hooded and harp seals gather during the pupping season. Finding the seals is extremely challenging, as the sea-ice continuously moves due to currents and winds. In March a team of Norwegian scientists (Institute of Marine Research) meticulously searched the area, using a large ship, drones and a helicopter. Additionally, an airplane departed from Greenland to make reconnaissance flights, searching for seals. Whenever large aggregations of seals were discovered, special GPS beacons were deployed on the sea-ice to track the colony. After the researchers felt confident that they had located most major seal haul-outs, the seals were photographed from the plane using the GPS beacons as a guide. By counting the pups in these photos, the population size can be estimated.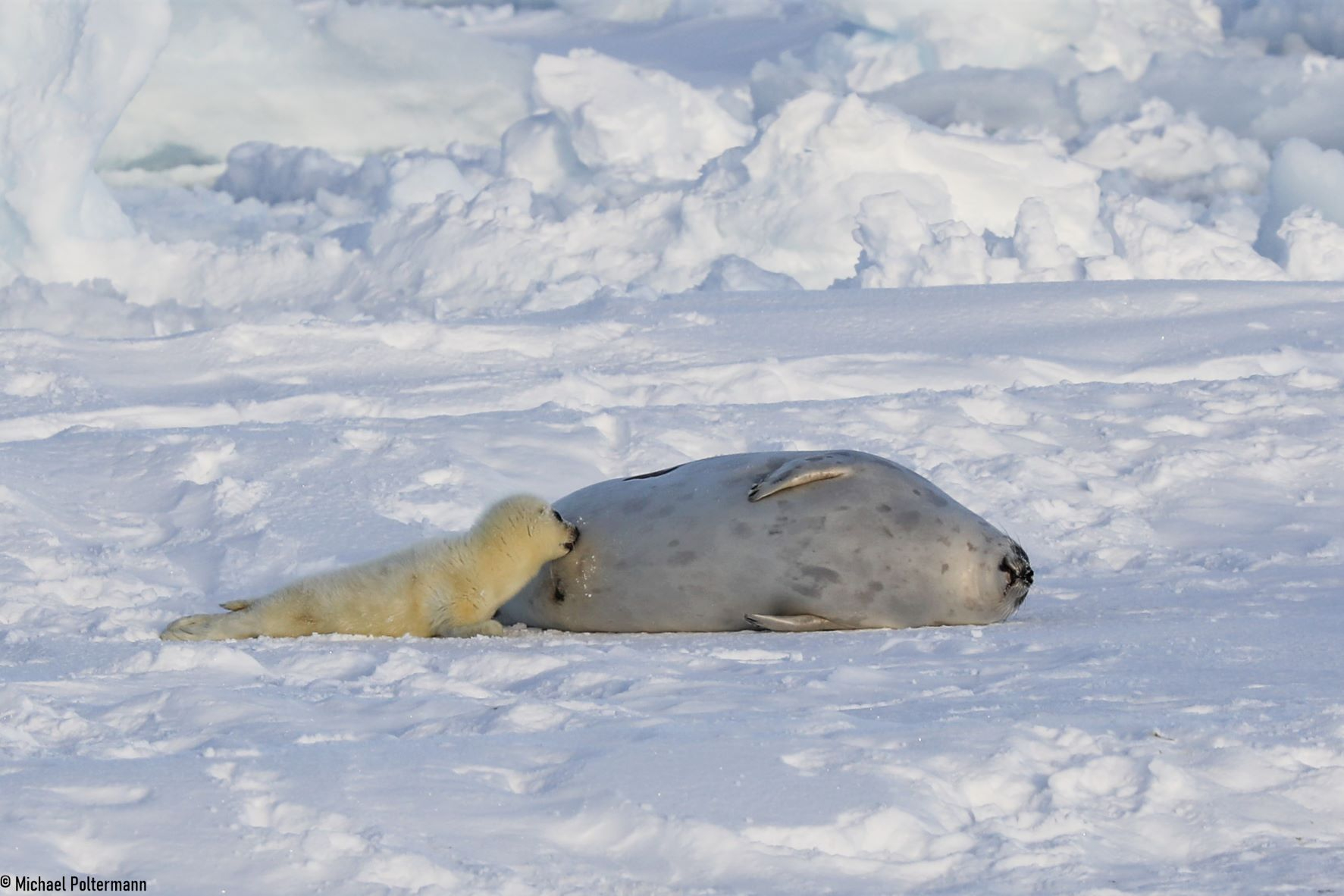 Aided by the observations of the Norwegian team, researchers from the Royal Netherlands Institute for Sea Research (NIOZ) and Wageningen Marine Research have now succeeded to obtain photographs of these enigmatic species from space for the first time. The obtained satellite images were provided by space technology company Maxar, and have a 30 cm resolution, meaning that an A4 sized object can be detected, even though the satellite is flying at a height of over 600 km.
With the disappearance of the sea ice, the haul out sites are expected to move, making it even more challenging to locate the seals. By collecting these unique images, the researchers have shown that it is possible to detect and count hooded and harp seals from space, which provides new opportunities to survey larger areas in the remote and inaccessible Arctic. Next, they hope to automate this process using the latest AI techniques, thereby providing a valuable tool to monitor seal populations and study the effects of the rapidly disappearing sea ice.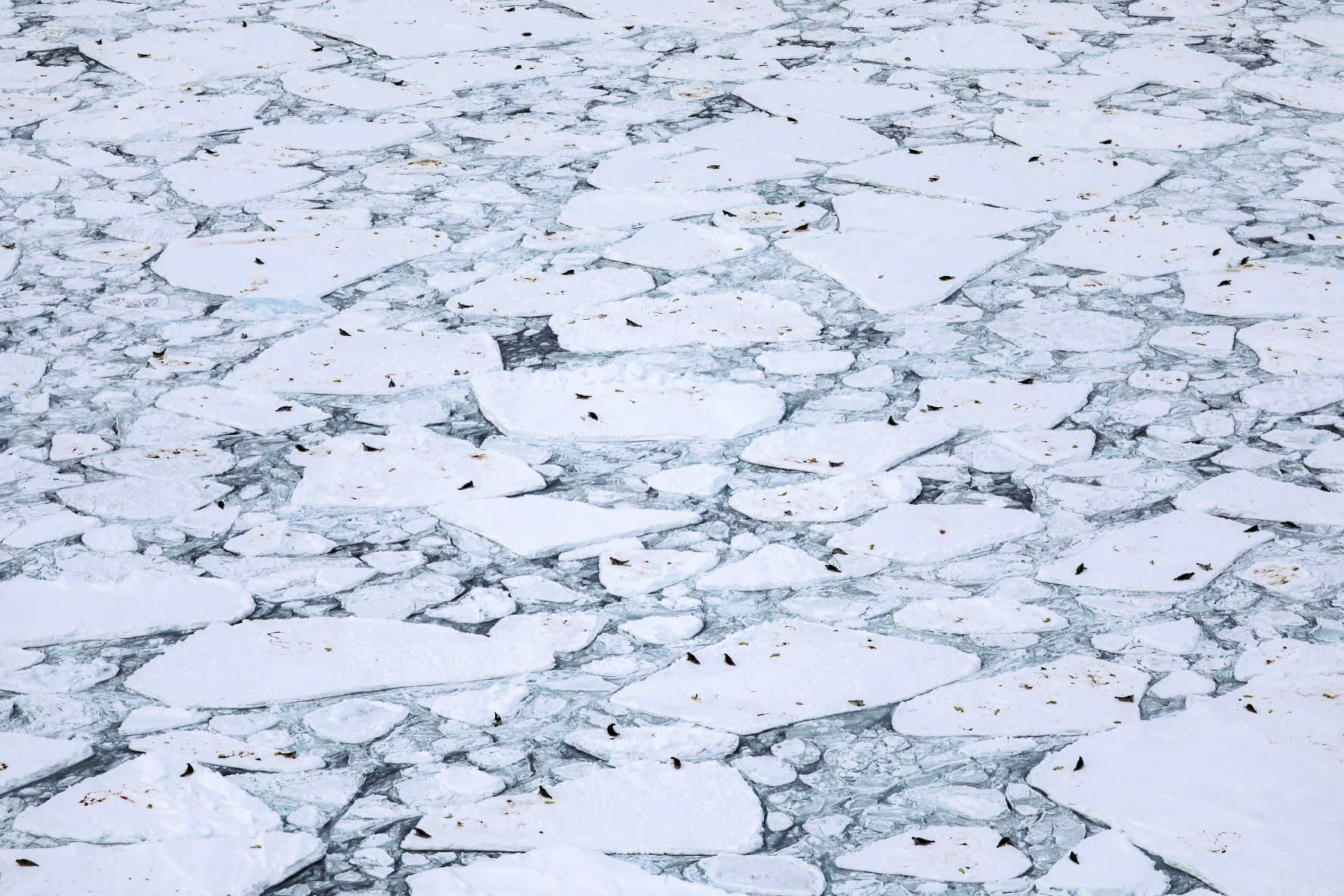 ---
Onderzoekers fotograferen zeehonden vanuit de ruimte
Terwijl het Arctisch gebied in deze tijd van het jaar geleidelijk uit haar winterslaap zou moeten ontwaken, is het zee-ijs dit jaar al veel eerder dan normaal begonnen te smelten. Vorige maand klonken alarmerende berichten, waarbij verschillende weerstations in de poolgebieden recordtemperaturen noteerden, tot wel 40 graden boven normaal. De verwachtingen voor de komende jaren schetsen een nog grimmiger beeld: in 2035 is er in de zomer mogelijk al geen zee-ijs meer in het noordpoolgebied. Als onderdeel van een onderzoek naar het effect van dit verdwijnende zee-ijs op zeehonden in het Noordpoolgebied, is het onderzoekers van het NIOZ en Wageningen Marine Research nu voor het eerst gelukt om satellietbeelden van Arctische zeehonden te verzamelen, waardoor deze moeilijk te bereiken diersoort beter gemonitord kan worden.

Het verdwijnen van het zee-ijs is slecht nieuws voor klapmutsen en zadelrobben – twee Arctische zeehonden soorten – die het ijs gebruiken om te rusten, te ruien en hun pups ter wereld te brengen. De klapmuts dankt zijn naam aan de grote rode ballon die uit het neusgat komt wanneer mannetjes hun neustussenschot opblazen. Zadelrobben zijn vooral bekend vanwege de jacht op de witte donzige pups van deze soort. Naar schatting leven er zo'n 650,000 klapmutsen en 7.6 miljoen zadelrobben in het Arctisch gebied, maar deze aantallen zijn omgeven door grote onzekerheidsmarges. Om de populatie te monitoren worden er periodiek tellingen uitgevoerd tijdens de geboorte en zoogperiode. Ook dit jaar vond er een grootschalige telling plaats ten oosten van Groenland, in een gebied waar eind maart grote groepen klapmutsen en zadelrobben samen komen om op het ijs hun hun jongen te werpen.
Omdat het zee-ijs onder invloed van stromingen en wind continu in beweging is, is het erg lastig om de zeehonden te traceren. Een schip met aan boord Noorse onderzoekers speurde het gebied af, waarbij ook gebruik werd gemaakt van drones en een helikopter. Daarnaast vertrok een vliegtuig vanaf Groenland om verkenningsvluchten uit te voeren. Wanneer de onderzoekers grote groepen zeehonden vonden, werden speciale gps-bakens op het ijs uitgezet, zodat de positie van het drijvende ijs met daarop de zeehonden live gevolgd kon worden. Nadat de onderzoekers een goed beeld hadden van waar de zeehonden zich bevonden, hebben ze vanuit het vliegtuig de gehele zeehonden kolonie gefotografeerd. Aan de hand van deze foto's kunnen nieuwgeboren pups worden geteld, om op die manier de populatiegrootte te schatten.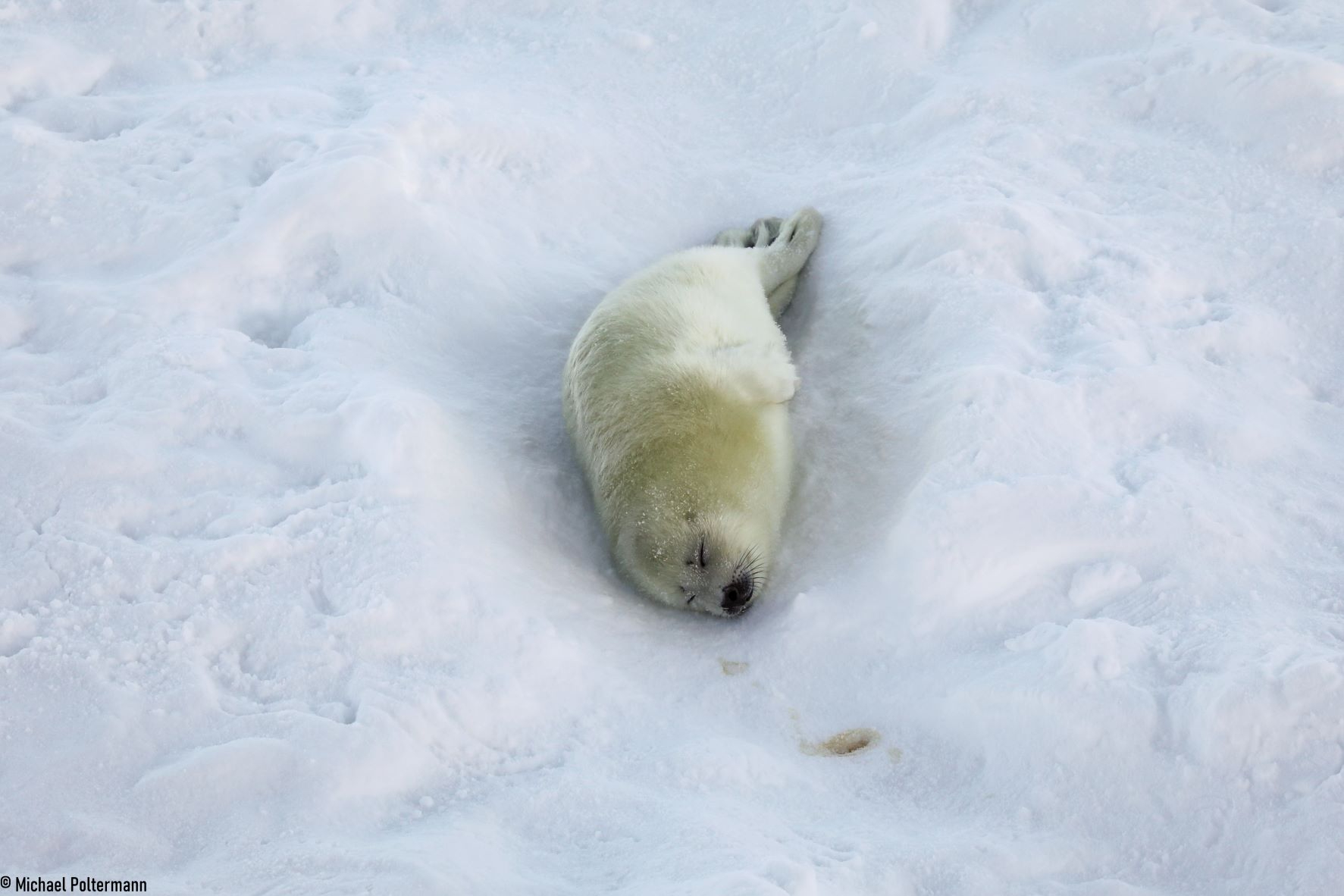 Nu het zee-ijs steeds sneller verdwijnt, is de verwachting dat de zeehonden zich zullen verspreiden en dat het complexer wordt om de dieren te lokaliseren en te monitoren. De nieuw verkregen satelliet foto's zijn van een hoge resolutie: een pixel is 30 bij 30 centimeter groot, wat betekend dat je zelfs een object ter grootte van een A4tje zou kunnen zien op de opnames, terwijl de satelliet op een hoogte van maar liefst 600 km vliegt. Met behulp van deze beelden hopen de onderzoekers aan te tonen dat het mogelijk is om de zeehonden vanuit de ruimte te lokaliseren en te tellen. Dit proces hopen ze vervolgens te automatiseren waardoor de zeehonden populaties in het snel veranderende en uitgestrekte noordpoolgebied toch gemonitord kunnen blijven worden.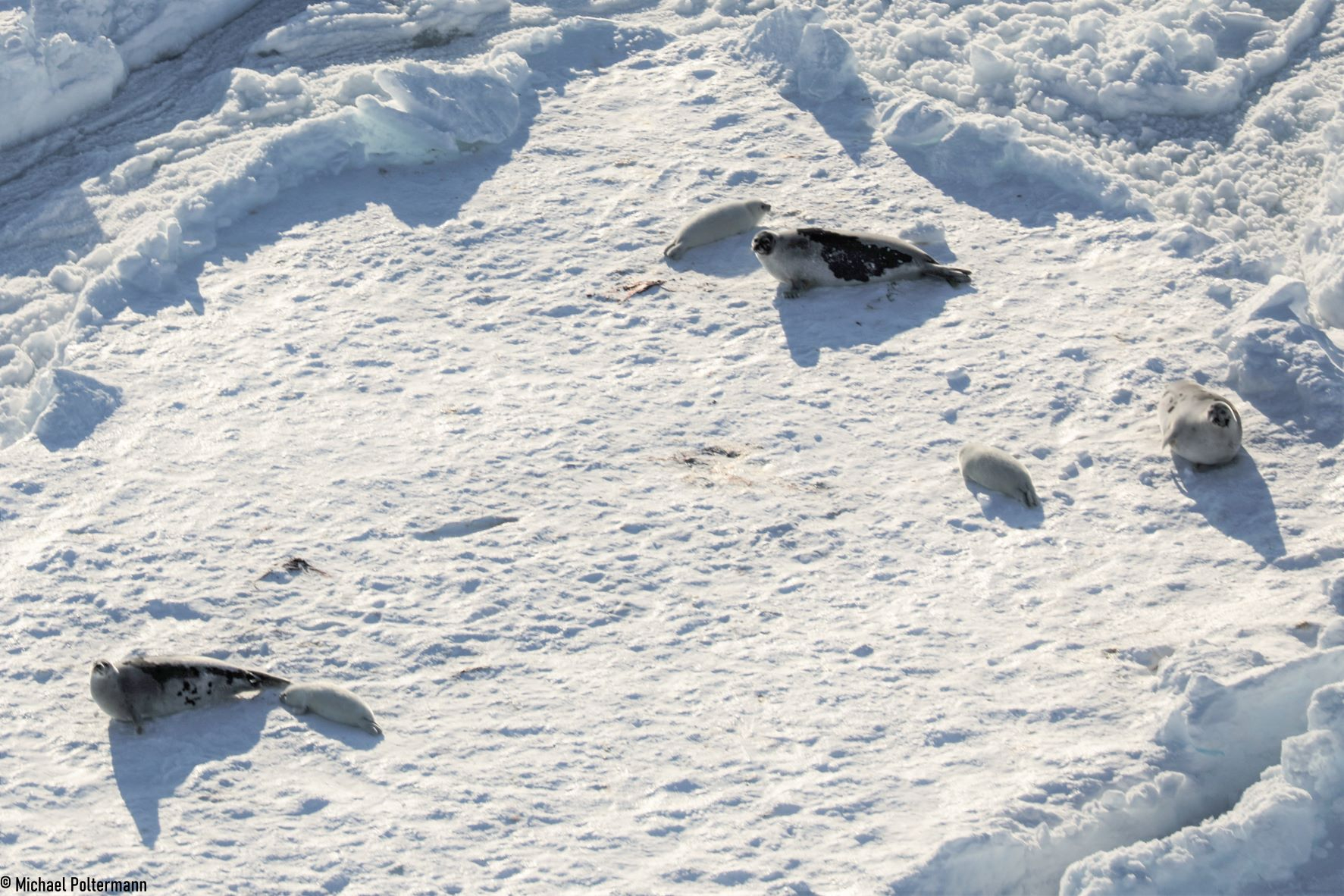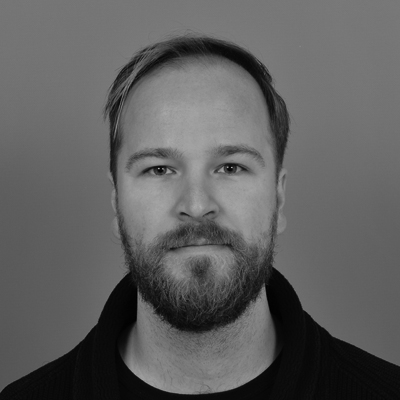 Jeroen Hoekendijk