Samenwerkingsplatform 'Slimme Delta Oplossingen' gelanceerd op Vlaams-Nederlandse regeringstop
Publication date: Tuesday 06 November 2018
Op 5 november ondertekenden Vlaamse en Nederlandse bedrijven, kennisinstituten en onderwijsinstellingen een intentieverklaring voor het samenwerkingsplatform 'Slimme Delta Oplossingen'. Dat gebeurde tijdens de regeringstop in Middelburg die in het teken stond van samenwerking op het gebied van infrastructuur en klimaat. Wetenschappers van het NIOZ en minister Cora van Nieuwenhuizen (Infrastructuur & Waterstaat) luidden het innovatieve samenwerkingsplatform in door een demonstratie te geven van een stroomgoot waarmee onderzoek wordt gedaan naar natuurlijke vormen van kustverdediging.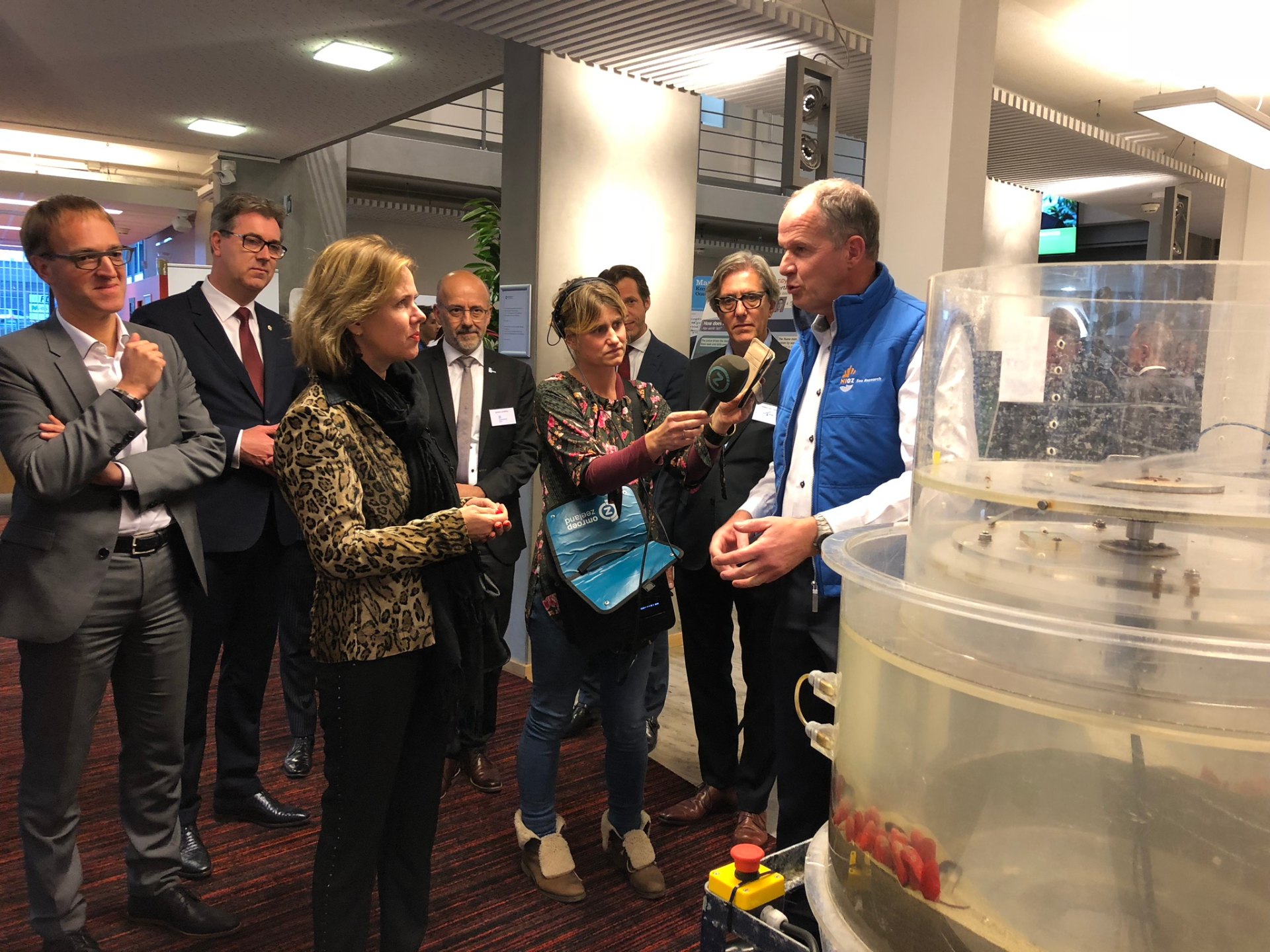 Door klimaatverandering neemt de kwetsbaarheid van de Vlaams-Nederlandse Delta toe. Verzilting en periodes van droogte zullen een toenemende invloed hebben op veiligheid, natuur en welvaart. Het is daarom van groot belang om de krachten en expertise te bundelen. Dat gebeurt in het samenwerkingsplatform 'Slimme Delta Oplossingen'.
Het NIOZ onderzoekt de dynamische omgeving van estuaria en delta's. Wetenschappers Klaas Timmermans en Tjeerd Bouma, beiden ook lectoren aan HZ University Of Applied Sciences, onderzoeken de waterveiligheid en duurzame voedsel- en energieproductie in deltagebieden. "De NIOZ locatie in Yerseke fungeert daarmee als het perfecte 'living lab' om te experimenteren met innovatieve oplossingen om een veilige, welvarende en klimaatbestendige Delta regio te behouden en te creëren", aldus Timmermans.
Stroomgoten
Ook met mobiele labs doet het NIOZ onderzoek naar de complexe interactie tussen organismen zoals mosselen en zeegrassen met de stroming en golven. Met stroomgoten kan de wisselwerking tussen organismen (bio-bouwers) en hun fysische en chemische omgeving precies worden gemeten. "Deze kennis geeft inzicht in de rol die bio-bouwers spelen bij het beperken van de effecten van zeespiegelstijging. Deze fundamentele kennis is van belang voor de Deltaregio van Vlaanderen en Nederland, maar ook wereldwijd", aldus NIOZ-onderzoeker Tjeerd Bouma. De ronde stroomgoot die wordt gedemonstreerd tijdens de opening is een voorbeeld van een klein systeem dat meet hoe bodemdieren de stevigheid van de bodem beïnvloeden. Het NIOZ heeft diverse 'mobiele' stroomgoten ontwikkeld die in het veld kunnen worden gebruikt. "Dit zijn unieke faciliteiten waarmee NIOZ wereldwijd voorop loopt."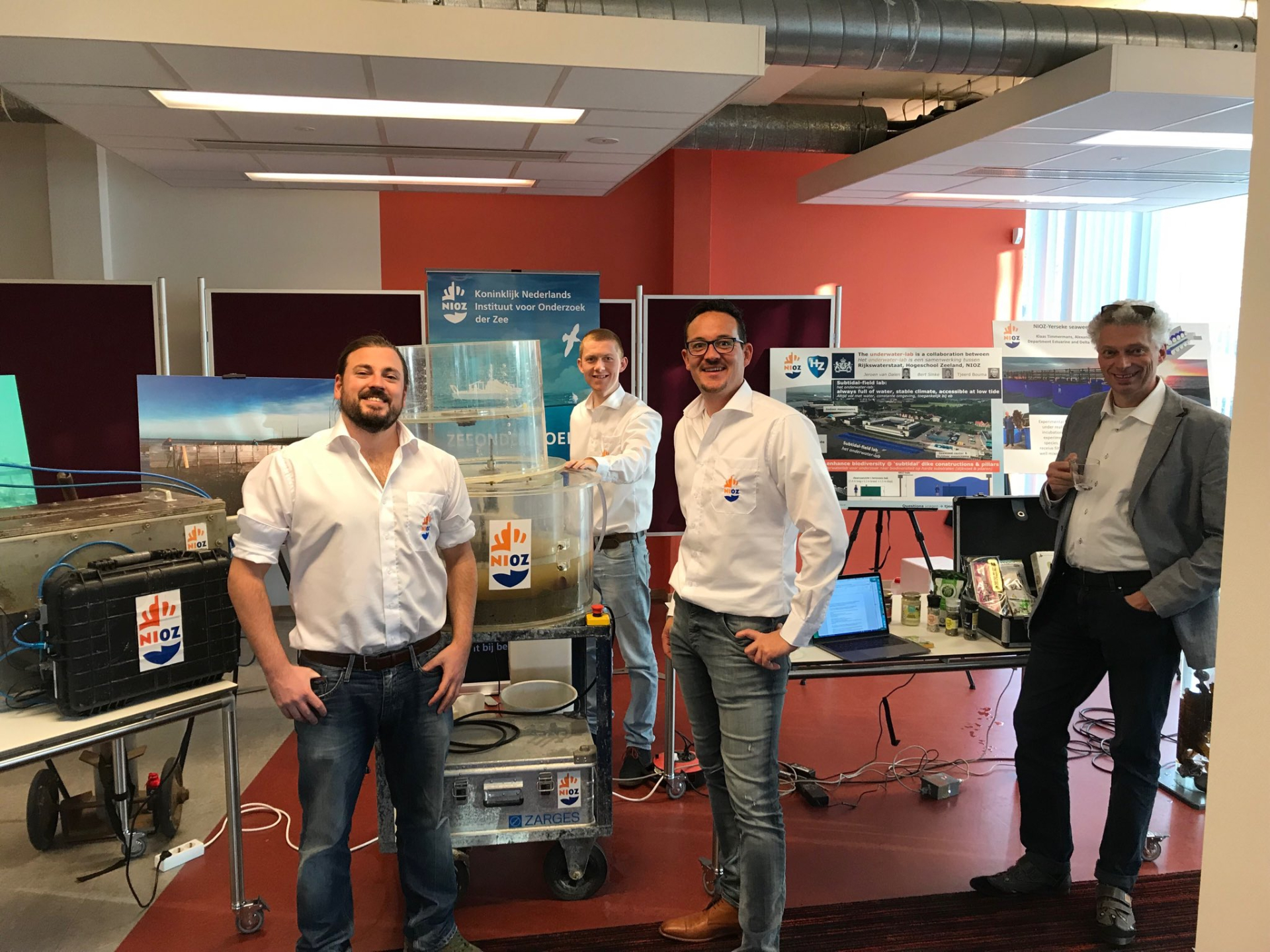 Linked centre of expertise:
Over 'Slimme Delta Oplossingen'
In het 'living lab Zeeland - Vlaanderen' is al veel expertise opgebouwd over de relatie tussen zee, verzilting en voedsel en de relatie tussen water en energie. Het platform brengt aanwezige kennis van binnen en buiten de regio bij elkaar met een gezamenlijke programmering en uitvoering van onderzoek rond de genoemde grote vraagstukken.