Research on Red Knots
In 1998 the shorebird group of Royal NIOZ launched a colour-ring program for Red Knots. Since the late eighties Red Knots has been studied by our research group which is based on the island of Texel in the Dutch Wadden Sea. We work on two subspecies Calidris canutus islandica and C. c. canutus co-occuring in the Wadden Sea but with contrasting flyways: islandica migrates from the Nearctic to temperate wintering areas in NW Europa, canutus breeds on breeds on the Taimyr peninsula in the Russian Arctic.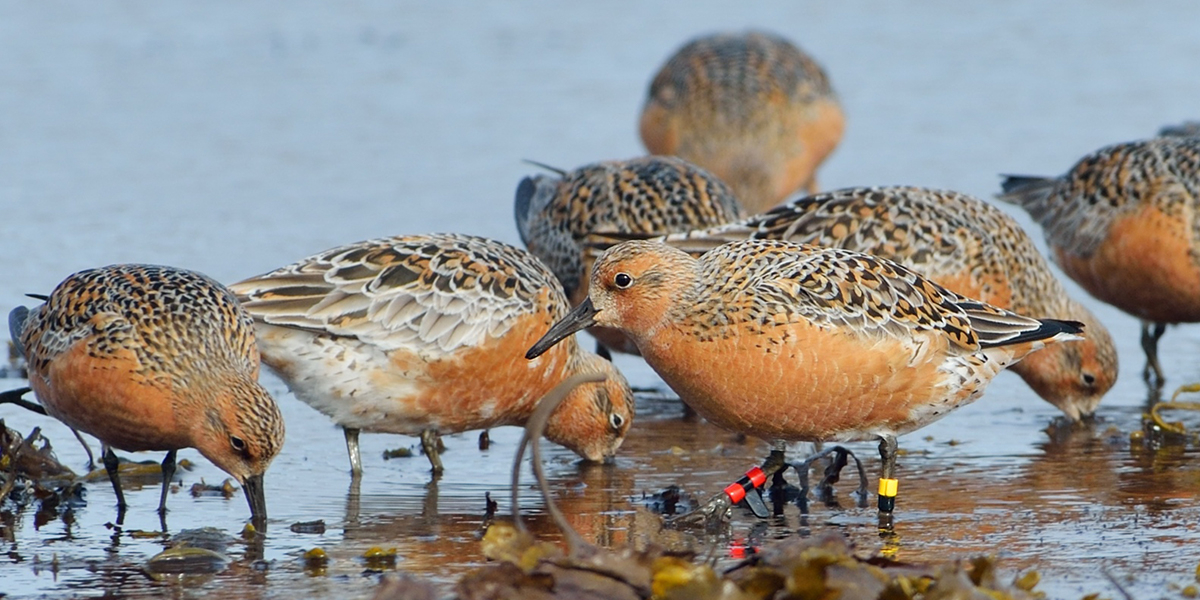 Colour-ring program
As of November 2017, 8.270 Red Knots have been captured and provided with colour-rings in the Dutch Wadden Sea, 3.330 birds at the Banc d'Arguin in West Africa (Mauritania), 133 in the Wadden Sea of Schleswig-Holstein (Germany), 645 along the Atlantic coast of France and 21 in southern Portugal. The aim for the coming years is to colour-ring approximately 500 Red Knots annually in the Netherlands and 200 annually in Mauritania. From 2015 onwards, Red Knots will also be colour-ringed (again) on the mudflats in the vicinity of La Rochelle in southern France.
Study results
Our study of individually marked Red Knots has provided us with a wealth of information a broad range of subjects: drivers of demography and annual survival, feeding ecology, predator-prey interactions, spatial use and trophic interactions in the Dutch and German Wadden Sea and on the Banc d'Arguin in Mauritania.
Since 1998 our studies of the individually marked Red Knots have featured in dissertations from PhD students in the NIOZ shorebird group. They all graduated at the University of Groningen. You can find them on Global Flyway.
Red Knots

Team
Dutch bird ringing groups:
You can here find a description of the colour-ring scheme as shown below