Terms of collaboration with companies involved in collaborative research projects
NIOZ, the Royal Netherlands Institute for Sea Research, is the national oceanographic institute and the Netherlands' centre of expertise for ocean, sea and coast. NIOZ is part of NWO-I, the institutes organization of NWO.
We advance fundamental understanding of marine systems, the way they change, the role they play in climate and biodiversity and how they may provide sustainable solutions to society in the future, by means of scientific excellence and by facilitating the Netherlands and international scientific community with state-of-the-art research vessels and equipment.
In these crucial decades for the planet, NIOZ, with its unique blend of science and seagoing operations, plays an important role in advancing our fundamental understanding of changes in marine processes, the stability of marine systems, possible tipping points and potential solutions to address the big societal questions that are posed by the climate and biodiversity crises. There is no (sustainable) mitigation or adaptation without an improved insight in the interacting biological, chemical, physical, and geological processes of marine systems and how they can be harnessed.
Society today faces several big transitions which are generally aimed at moving away from a largely extractive and exploitative strategy of using the earth. Where these transitional activities intersect with the marine environment, important knowledge gaps exist. For instance, in the energy transition, the building of new windfarms in the North Sea poses a large number of questions related to its impact on marine biodiversity and ecosystem functioning, as well as physical and biogeochemical processes – all key aspects of NIOZ research.
Within the outlines of its mission statement NIOZ' has a role as knowledge producer for society to ensure that the best possible science is executed and made available, including research addressing the current societal problems and transitions. We are an independent research institute, largely public funded; independence, openness, transparency, and critical thinking are part of our core values.
We prefer to work with companies that have a credible net zero strategy for a carbon emission-free society by 2050 and conform to the UN Sustainability Goals, "meeting the needs of the present without compromising the ability of future generations to meet their own needs". Collaboration happens always under the conditions of full compliance to our mission and aforementioned core values. We therefore will
evaluate each specific project in terms of its contribution to a more sustainable planet. Such evaluation may result in our right to terminate a collaboration if it becomes clear that our mission/core values are at risk.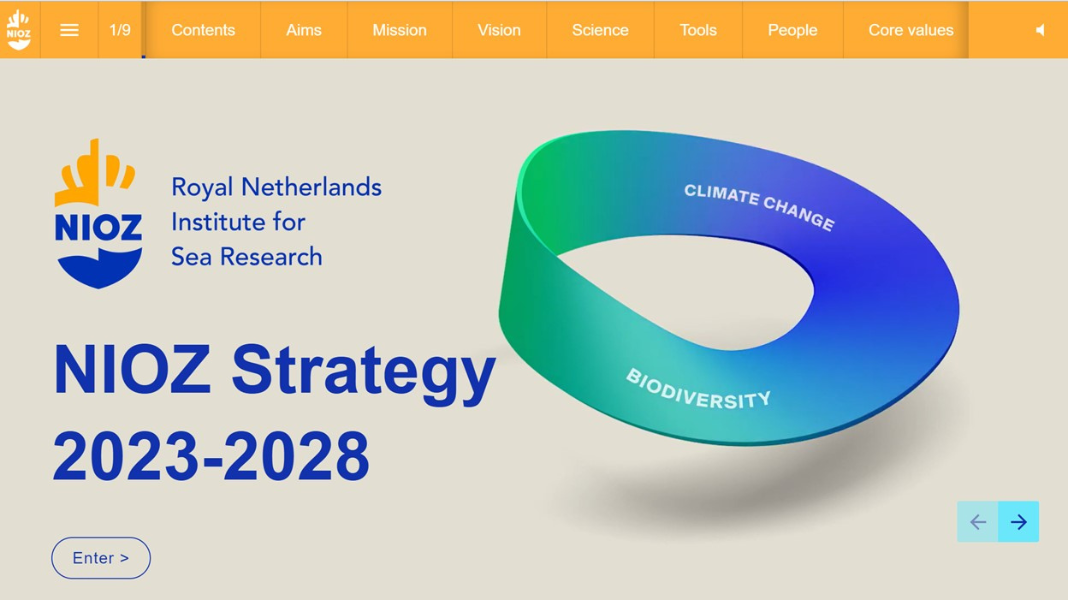 Download the full terms of collaboration of Royal NIOZ