Research Interest
My main research interest is how phytoplankton and benthic microalgae acclimate to varying environmental conditions, especially with regard to the interplay between light and nutrient conditions, and if regulation patterns are partly dictated by taxonomic affiliation. As acclimation to fluctuation and excess irradiances involve quite a variety of quickly operating processes my research depends a lot of variable fluorescence techniques like Fast Repetition Rate fluorometry (FRRF) and PAM-fluorescence combined with other techniques to measure photosynthesis like 14C or 13C uptake and oxygen techniques like the Membrane Inlett Mass Spectrometry (MIMS) which allow to measure oxygen uptake in the light.
Research Statement
I'm a firm believer that in order to understand the functioning of an aquatic ecosystem knowledge of primary production is a must. We substantiated this view in the OSPAR project EcApRHA where primary production is now accepted as candidate indicator. Unfortunately, measurements of primary production are declining globally, certainly as year-round monitoring activity. Being an optical technique, FRRF seems an ideal tool to replace the conventional 14C-technique, as it can be automated and measurements can be carried out autonomously. We are pioneering this at two location: at the NIOZ jetty in the Wadden Sea where photosynthetic activity is monitored continuously and in the MONEOS program, where we monitor primary production using an automated FRRF in the Westerschelde estuary during the monitoring campaings carried out by Rijkswaterstaat (RWS, Ministry of Infrastructure and Environment). Applying this technique requires knowledge of the electron requirement for C-fixation, and understanding this relationship is a main part of my research.
Short CV
In 1983 I completed my MSc in Biology at the University of Amsterdam. I continued my PhD there in the group of Prof. dr. Luuc Mur where I received my PhD in 1987 on a study of the mechanisms and kinetics of buoyancy regulation in two freshwater cyanobacteria. I continued this study, adding some molecular biology into gene expression studies as a postdoc in the Lab of Prof. Anthony Walsby at the Univeristy of Bristol (UK). In 1989 I moved to the Delta Institute, which became the Center for Estuarine and Marine Ecology of the Netherlands Institute of Ecology. The CEME which merged in 2012 with the NIOZ.
Other activities
Member of the international commitee of the Group for Aquatic Primary Productivity
Member of the workgroup of Biological Observations of the European Marine Board
Member of the editorial board of Journal of Plankton Research
Member of the Wetenschappelijke Raad Zeeland
Project information
This project aims to improve and innovate the cooperation in coastal observatories in Europe by implementing the coastal part of a European Ocean Observing System and to cooperate with other European initiatives. This requires knowledge about the interplay between physics, biogeochemistry and biology and to realize this new technological developments are necessary allowing continuous monitoring of a larger set of parameters. My contribution is aimed at developing techniques to measure primary productivity with high resolution in time and space, and I do this by applying Fast Repetion Rate Fluorometery (FRRF), a technique which measured photosynthetic electron transport (ETR). However, in ecosystems Carbon is the currency, so for succesful application of FRRF, it is necessary to know how much electrons you need to fix a CO2 molecule, and measuring and understanding the relationship between FRRF and C-fixation is part of my main research. To further understand the regulation of primary production and the relationship between ETR and C-fixation we also look at the role of phytoplankton composition, by combining FRRF measurements with automated flow cytometry. On the Dutch EEZ of the North Sea, I closely cooperate with Rijkswaterstaat for this.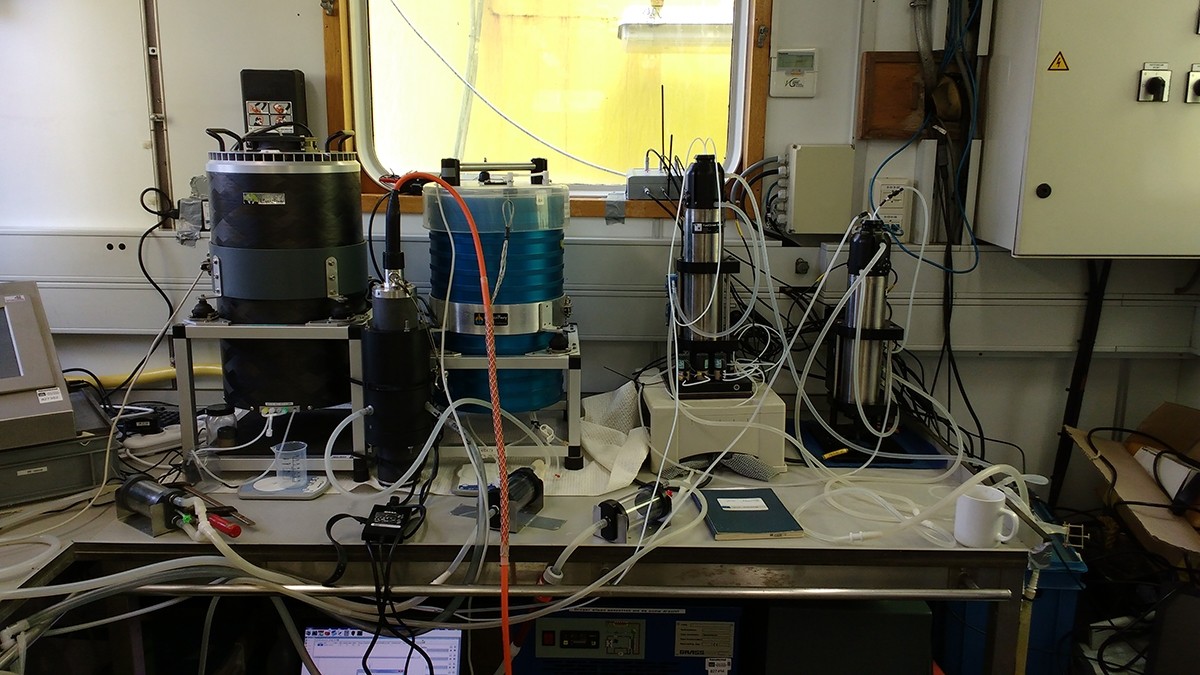 This pictures shows the setup during a Jerico-NEXT cruise on the RWS ship Zirfaea and it shows to CytoSense Flow cytometers and two FastOcean/Act2 sensors
OMES: primary production in the Scheldt river
The aim of OMES is to get up to date information about the tidal Scheldt river and the Scheldt estuary as a whole. A large monitoring program was developed, and with the information of the monitoring program the effects of change occuring in the river, in large part due to deepening of the estuary, should be obtained. This information is crucial to a good governance of the system. Part of this program is to obtain primary production estimates of phytoplankton and microphytobenthos. Despite that the Scheldt river is very turbid, quite high annual phytoplankton productivity is measured upstream in the tidal part of the river near Gent, which is due to the fact that the average depth is vary shallow, leading to quite favourable photic zone : mixing depth ratios. Interestingly, more upstream, the microphytobenthos on the intertidal areas bordering the river is dominated by the green alga Euglena sp.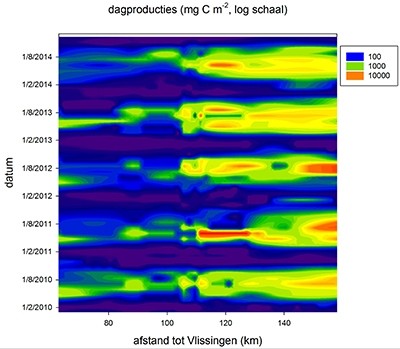 Contourplot showing variability in daily primary productivity upstream from the Dutch-Belgium border (63 km).